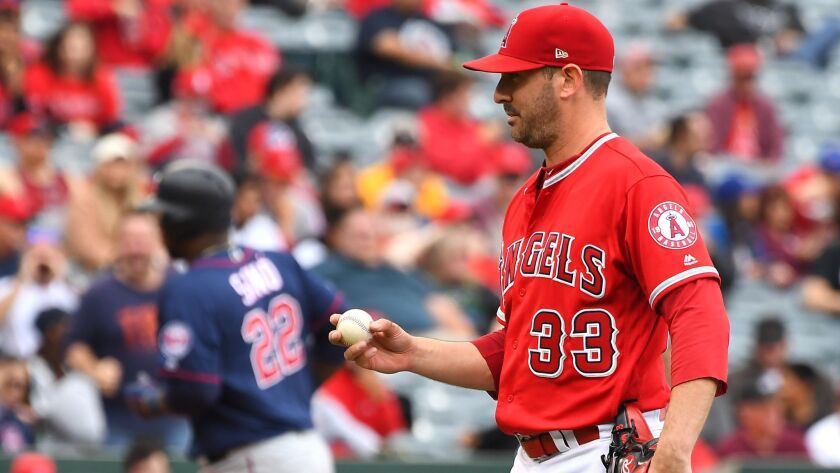 With blood stains on his white pants, Angels starter Matt Harvey walked off the Angel Stadium mound Thursday in the third inning of a 16-7 loss to the Minnesota Twins to a chorus of boos.
Harvey had surrendered eight earned runs on seven hits and one walk in 2 2/3 innings. He gave up four home runs for the second time in his career.
The few of the announced crowed of 30,992 who showed up for this makeup game — a game the Angels had hoped they wouldn't play Thursday because it meant they would begin a stretch of 20 contests in 20 days — serenaded Harvey with jeers.
"It's probably one of my worst innings ever, one of my worst starts ever," Harvey said after the Angels dropped to 22-27 and 10 1/2 games behind the first-place Houston Astros in the American League West. "It's frustrating. There's a lot that this team and this organization has wanted me to do, and I just haven't been able to do that. Especially today, that was pretty embarrassing for me."
The Twins tied a franchise record with eight home runs in the game. It also equaled an Angels record — for the third time in their history their pitchers gave up eight homers in a game.
Harvey set them up. Sometime between his perfect first inning and a two-run third, the veteran bled — figuratively and literally, as his thumb dripped crimson from a cut he said didn't impact his ability to pitch.
The Twins sprayed balls all over the field. In the second inning, Eddie Rosario singled on a comebacker that deflected off Harvey's glove. Two batters later, Luis Arraez drove in former Angels first baseman C.J. Cron on a pop-up that sent shortstop Zack Cozart backpedaling into shallow center field. Jonathan Schoop hit his first of two home runs, this one a two-run line drive that clanged around the empty seats in left field after soaring 467 feet.
"It just kind of completely unfolded," Harvey said. "I was terrible."
Harvey has wobbled all season. Outside of two starts against the Kansas City Royals in which he gave up three earned runs in 12 innings, Harvey yielded 37 earned runs in 36 innings spanning eight other starts.
Among American League pitchers with at least 40 innings, Harvey's 7.50 ERA in 48 innings is the worst ERA.
Sign up for our daily sports newsletter »
"He's been trying to find it since spring training," catcher Jonathan Lucroy said. "There's flashes of it. He's just trying to find a way to be consistent with it right now. … If we can get to a point where he can repeat those deliveries and repeat those mechanics to where his stuff is nasty like when I see him make a great pitch, he's going to be successful."
Harvey endured a stretch this rough in 2017. Over a span of 10 starts, he gave up a .523 slugging percentage, issued 30 walks and gave up 40 earned runs in 47 innings. He wound up on the injured list in June of that season with a stress fracture in his right shoulder, which was treated with a platelet-rich plasma injection.
An extreme velocity drop clued Harvey and the Mets in on the injury. There was no such indication for Harvey on Thursday, except that his fastball — which averaged 92.8 mph in his last outing — hovered around 91 mph. It never dipped below 90 mph.
"That's the frustrating part," Harvey said. "I feel good, I feel healthy. It's just the ball's not coming out right."
The Angels entered spring training under the impression starting pitching might be a strength for them this season. Left-hander Andrew Heaney, who led the team with 30 starts last season, was expected to carry the load again before he ended up sidelined with elbow inflammation. Tyler Skaggs seemed poised to reprise his first-half performance from the 2018. Harvey and fellow one-year contractor Trevor Cahill were signed to fill in the back end of the rotation with quality innings.
All went backward. Angels starters own baseball's worst ERA at 5.86.
"There's some concern, for sure," manager Brad Ausmus said. "Pitching is a big part of winning baseball games. And Harv is big part of our pitching staff. We need guys to pitch well to win games. And when they don't pitch well, we generally lose them. So it's a concern."
The Angels have not cashed in on their $11-million experiment. Harvey, signed to a one-year contract in December, came to them with promise. He was an intriguing figure, someone who after being shipped away from the New York Mets team he led to the 2015 World Series still possessed weapons like a swing-and-miss slider and a low-to-mid-90s fastball.
But Harvey was a Cy Young Award finalist and All-Star six seasons ago in 2013. He hasn't looked like that version of himself since 2015.
"I think the expectations are probably more on my end than anything," Harvey said. "I'm very hard on myself. Obviously, I want to do everything I can to help this team win. Right now, I'm just not doing that. I have to figure it out."
As Harvey continues to search for a solution, the Angels remain handcuffed. They can't afford to move him out of their ailing rotation — they may need to implement a six-man corps to accommodate the impending return of left-hander Andrew Heaney, a decision that could alleviate some stress on the overtaxed bullpen — and they can't reassign him to the minor leagues without his consent because he has more than five years of service time at the MLB level.
"That hasn't even been discussed," Ausmus said. "And even if it had, I probably wouldn't tell you."
So all that is left is for Harvey to keep tinkering.
"There's a lot of answers I wish I could give you," Harvey said. "I'm searching, myself. Just have to watch video and keep figuring it out, keep working in the bullpens and just figure out a way to get it done."
---