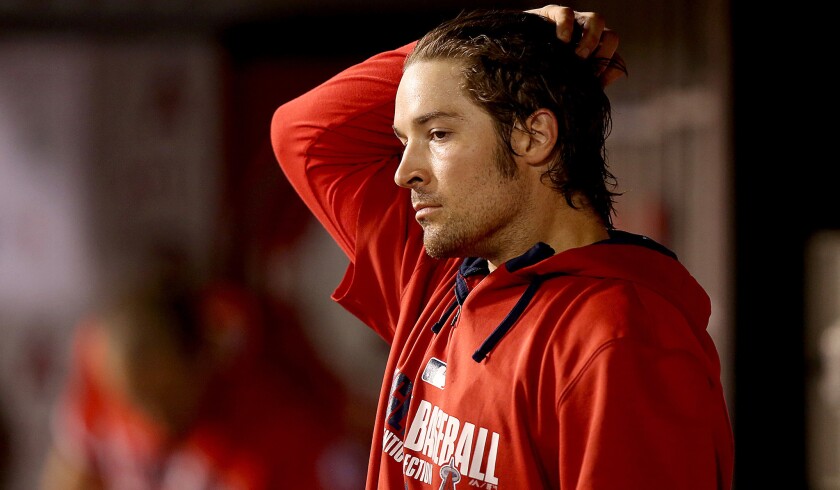 Reporting from TEMPE, Ariz. —
C.J. Wilson's 2014 season began with a blow to the head, a batting-practice line drive that hit him in the face early in spring training.
It ended with a blow to the ego when he was pulled from his playoff start after six batters, a three-run, three-hit, 23-pitch meltdown that sent the Angels spiraling toward an 8-3 loss and an American League division series sweep at the hands of the Kansas City Royals.
In between were plenty of forgettable moments that led to Wilson's worst year as a starting pitcher, the erratic left-hander going 13-10 with a 4.51 earned-run average, 151 strikeouts and 85 walks in 175 2/3 innings.
"Game 3 wasn't even the half of it," Wilson said after reporting to camp with pitchers and catchers on Thursday. "I didn't have a good season. It was odd because I'd have really good games, and some of my games were terrible."
None was worse than the loss in Kansas City that brought a sudden end to a season in which the Angels went a major league-best 98-64 and won their first division title since 2009.
Wilson gave up two singles, a walk and a two-out, three-run triple to Alex Gordon that brought Manager Mike Scioscia to the mound with a quick hook and left Angels fans cursing at their televisions.
"I got yanked in the first inning — there's nothing for me to say about that," Wilson said. "I didn't ask to come out of the game."
Nor did he ask Scioscia for a clear-the-air meeting afterward.
"I think you guys overestimate the camaraderie factor in things like that," Wilson said. "There's a player and a coach. The coach says this is how it is, the player says, OK. There's not this constant dialogue back and forth where you're sending a bottle of wine and trying to make everything OK.
"I showed up to work and I didn't play well that day, and our season was over. He made a drastic move he felt would give us a shot to get back in the game. I don't have many emotions about it."
Wilson, in the fourth year of a five-year, $77.5-million deal, was the team's best pitcher in 2013, going 17-7 with a 3.39 ERA. He attributed his 2014 struggles to his attempt to pitch with severe flu-like symptoms on June 3, when he gave up five runs in 2 2/3 innings in a loss at Houston, and a right-ankle sprain that sent him to the disabled list in July and hindered him in August and September.
"When you start making adjustments to just throw the ball because you feel like you can't even get it there, that just throws you off," Wilson said of his June illness. "I lost a lot of feel, and my body felt terrible after a while."
Wilson said he "probably came back a little bit too quick" from the ankle injury, but he didn't think he'd fully recover during the season.
"When you tear something," Wilson said, "it doesn't heal."
Wilson's goal this season is to be better than he was in 2013, and he began throwing off a mound a lot earlier this winter in hopes of finding a consistent delivery and release point.
But he will not use the bitter taste of 2014 or the boos he sometimes heard in Angel Stadium as motivation. He doesn't need to.
"I've always had a chip on my shoulder; that's why I got here," Wilson said. "I wasn't a first-round pick. I wasn't a can't-miss prospect. I'm a regular-sized white dude playing baseball. That's why I'm so competitive.
"But at the end of the day, results are all that people care about. … Fans have short memories. If I have a good season, they'll like me just as much as they disliked me last year."
Twitter: @MikeDiGiovanna
---