Expect Angels to keep an eye on pitcher and catcher markets during MLB winter meetings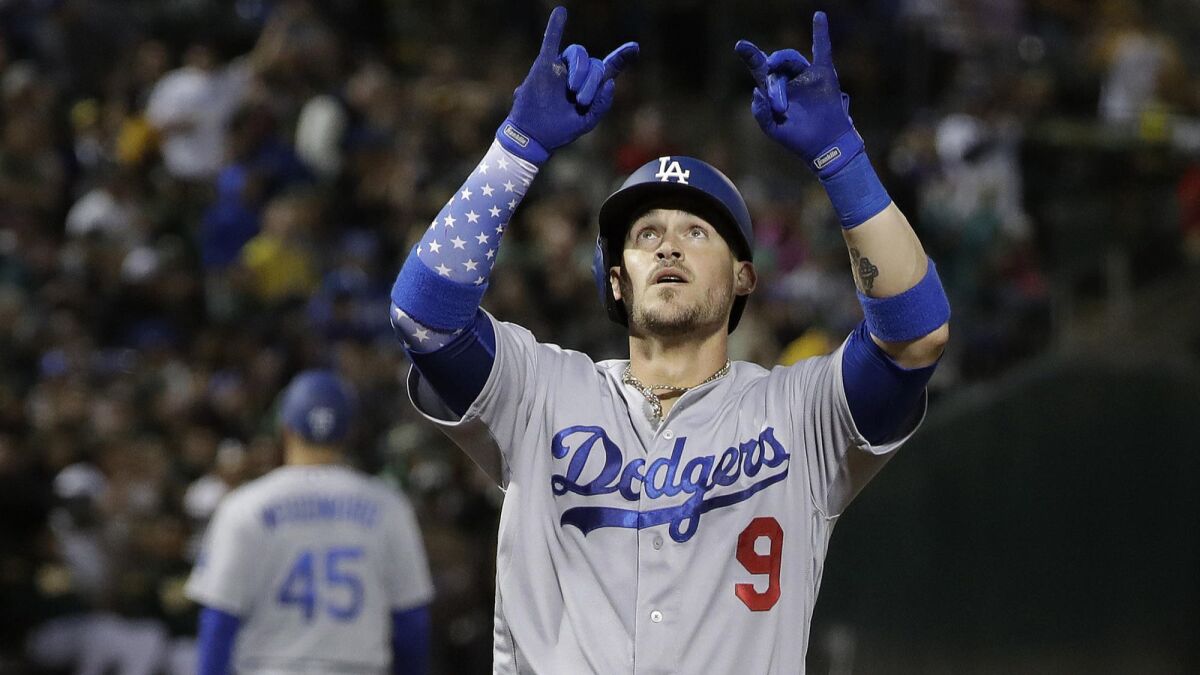 Two months ago, on the day after his team wrapped its third straight losing season, Angels general manager Billy Eppler sat on the dais in the Angel Stadium interview room and announced his commitment to bolstering a pitching staff that has combusted often during his tenure.
He has honored that promise, but the pitching moves Eppler has made since October have appeared from a surface-level to be lateral. They have not been so transcendent as to require formal ceremonies, like the signing that took place last week in Washington, D.C., when the Nationals introduced former Angels farmhand Patrick Corbin as the newest addition to one of baseball's staunchest rotations.
So as the Angels' contingent joins the baseball industry at the Mandalay Bay Resort and Casino in Las Vegas for the annual winter meetings beginning Monday, expect Eppler to remain active in the same sector on which he declared his intentions earlier in the offseason. He'll also continue to look at catchers, as the Angels haven't solved that conundrum in the wake of releasing Francisco Arcia in November.
Who can the Angels afford?
If payroll is going to hover around the $165-million mark under which Eppler has operated since becoming general manager in October 2015, the Angels have about $30 million to meet their needs. It's unlikely they can compete for the services of free-agent starter Dallas Keuchel, who is poised to land a multiyear contract with an average annual value above $20 million.
Based on free-agent contract predictions from MLB Trade Rumors and Fancred Sports, there are a few starters whose projected salaries would work for the Angels: Left-handers J.A. Happ, who benefited from a July trade to the New York Yankees, and Gio Gonzalez, whose 4.16 earned-run average last year was an outlier. There's also right-hander Trevor Cahill, who had a 53.4% groundball rate and a 3.76 ERA. But Cahill, 30, has dealt with multiple injuries since debuting with the Oakland A's in 2009.
As for catchers, the Angels have engaged with free agents Wilson Ramos and Yasmani Grandal. Both could command yearly salaries in the $10-million to $13-million range.
Eppler said during last month's general manager meetings that the Angels' offseason plan isn't "catchers at all cost." If they go the bargain bin route, there could be room for Eppler to upgrade the bullpen with a proven free-agent. Relievers Joe Kelly, Zach Britton, Brad Brach and Adam Ottavino fit the high-velocity, bat-missing mold Eppler prefers.
The Angels could also manufacture trades, as long as it doesn't compromise the long-term health of their farm system.
Do the Angels need a fielder?
At last check, veteran Albert Pujols was progressing in his rehab from the knee surgery he had in August. He should be ready to play first base in spring training.
Still, the Angels perhaps could use someone like Marwin Gonzalez, the 29-year-old free agent who spent the last seven seasons as the Astros' super utility guy. He can play everywhere; he can spell Pujols and prospects Matt Thaiss and Jared Walsh, both of whom seem ready to earn major league playing time next season, at first base; and he can provide consistent offense. Gonzalez, a switch hitter, had a down year in 2018, batting only .247 with 68 RBIs and 126 strikeouts. But he improved from the right-hand side and batted 10 points better than his career average from that side (.258).
What have the Angels already done?
They traded for right-handed pitcher Luis Garcia and left-hander Dillon Peters and claimed right-hander Austin Brice off waivers. They added catcher Kevan Smith on a waiver claim and acquired infielder Tommy La Stella in a trade with the Cubs. They cleared space on the 40-man roster to add prospects Luis Rengifo, Jose Suarez and Luis Madero. And they opened up two spots on the 40-man roster by declining to offer contracts to arbitration-eligible veteran pitchers Matt Shoemaker and Blake Parker.
They have also agreed to sign a group of minor leaguers — infielder Jhoan Urena, right-handers Forrest Snow and Yelmison Peralta and outfielder Caesar Puello — and brought aboard major leaguers Peter Bourjos, Jarrett Parker and Dustin Garneau on minor league contracts.
Get the latest on L.A.'s teams in the daily Sports Report newsletter.
You may occasionally receive promotional content from the Los Angeles Times.