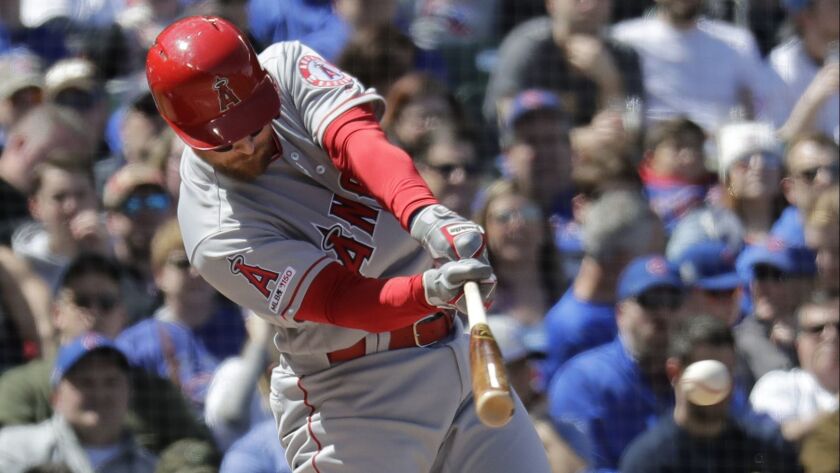 The return of Shohei Ohtani put the Angels in a jam. The most controversial was getting first basemen Albert Pujols and Justin Bour to accept reduced roles, with Ohtani getting the majority of at-bats as the Angels' designated hitter.
Another complication has also emerged: finding at-bats for veteran infielder Zack Cozart because of the strong production from David Fletcher and Tommy La Stella.
Only three days after rejoining the team in Detroit and getting a hit in each game against the Tigers, Cozart did not start Friday at Camden Yards, where the Angels began a weekend series against the Baltimore Orioles. That may become the norm.
During Cozart's two-week absence caused by a neck strain, the Angels used infielders Stella and Fletcher almost daily. La Stella and Fletcher combined for 16 hits in 55 at-bats, two home runs, 14 RBIs and seven walks. Both continued to tap into unanticipated power.
Now the Angels must strike a balance between playing hot hands and allowing Cozart, who had only seven hits in his first 23 games of the season, to regain form.
"It is a little difficult because you want him to get back to the Zack Cozart that he was," manager Brad Ausmus said, "but we still have to win games."
For as long as he has been with the Angels, Cozart has struggled to find a groove at the plate. He was batting .219 with a .296 on-base percentage as the Angels' everyday third baseman when he sustained a season-ending shoulder injury last June. Now in the second season of a three-year, $38 million contract, Cozart has a .132 average and .169 OBP.
Sign up for our daily sports newsletter »
The Angels are encouraged by how Cozart hits the ball when he makes contact — he is hitting the ball slightly harder and at a higher angle than in previous years, according to MLB's Baseball Savant database — but Ausmus has said performance will dictate playing time.
Short hops
Albert Pujols does not want back the home run ball that got him his 2,000th RBI. "I heard the guy wanted to give it back, but he can keep it," Pujols said of the fan who collected the ball in the Comerica Park stands Thursday and declined to exchange it for anything. "I said what I had to say. I think he deserves it. He's a fan. Or he can give it to the Hall of Fame." .... Left-hander Andrew Heaney (elbow inflammation) threw 44 pitches over three innings in an extended spring training game Friday in Arizona. He voiced no complaints, the team announced. . . . The Angels requested unconditional release waivers for outfielder Peter Bourjos, who was designated for assignment earlier this week to make room for the returns of Ohtani, Cozart and reliever Cody Allen.
---