Peter Bourjos is back with Angels, six years after pushing Mike Trout out of center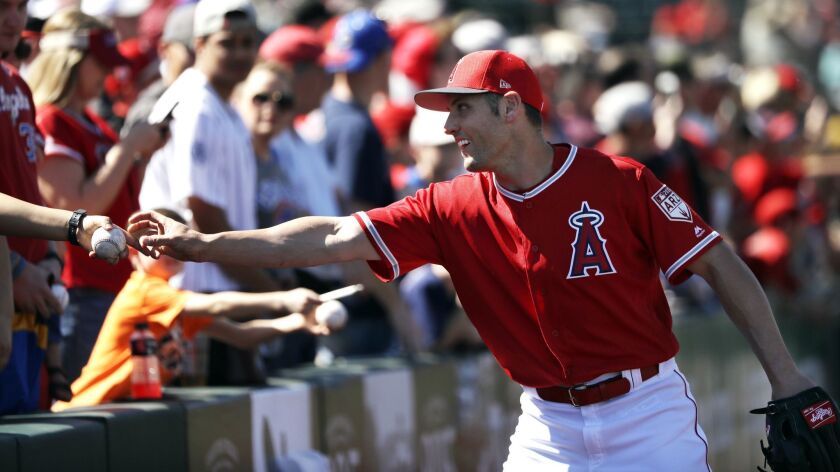 Reporting from Tempe, Ariz. —
It was not long ago that Mike Trout checked the Angels lineup every day to find out which outfield position he was going to play.
That seems unfathomable now. Trout is a perennial candidate for the league's most valuable player award, the highest-paid position player in baseball and a three-time Gold Glove finalist in center field.
But the Angels of 2012 possessed some of the finest outfielders in the game: Trout, a still serviceable Torii Hunter and defensive whiz Peter Bourjos, then 25.
The Angels loved Bourjos' skill set. After his debut in 2010, he logged eight outfield assists in his first 26 starts, most by a rookie in that span in the previous 40 years, according to Elias Sports Bureau. In his first full major league season in 2011, his 21 runs saved on defense ranked second in baseball, according to FanGraphs.
Trout, of course, proved frequently during his rookie-of-the-year campaign in 2012 that he was as good, if not better, in center. Bourjos was traded after the 2013 season, a year that began with Trout's agent, Craig Landis, declaring Trout was disappointed to learn he wouldn't be the Angels' starting center fielder.
Five seasons later, Bourjos has found himself back where he started as a 10th-round draft pick in 2005, in a Tempe Diablo Stadium clubhouse that has received some cosmetic upgrades but mostly remained the same.
"This is like home," the 31-year-old from Scottsdale said last week, "… like coming home."
Bourjos is in the thick of a competition against fellow non-roster invitee Jarrett Parker and injured rookie Michael Hermosillo to be the Angels' fourth outfielder.
The irony of this situation is not lost on Bourjos. For so long, the Angels had thought of him as a sure thing in center field. His first steps were quick, his arm was good and his defensive instincts were on point. He was too talented to relinquish his natural position to Trout. In the Angels' view, it was best to put one of baseball's top prospects in left field.
Bourjos was considered so good defensively that he replaced Trout in center field for "defensive purposes" in the same game that Trout made one of the best home run-robbing catches this decade, racing into the right-center field gap at Camden Yards in Baltimore and leaping high above the wall to rob J.J. Hardy in 2012.
"Our defense went to another level," Hunter said from his home in Texas last week. "We went from me in center, Bobby [Abreu] in right and Juan Rivera in left, and then at the end of the season balls didn't fall. I mean we had everything covered; and then 2012, it was impressive."
But Bourjos' list of injuries — hamstring strains and a fractured wrist limited him to 156 games in 2012 and 2013 — forced the Angels to reconsider. Trout had acquitted himself capably in Bourjos' absence, displaying home-run-robbing, shoestring-catching potential of his own.
"With anybody else except Mike, you might think about [Bourjos'] future playing center field," said Eddie Bane, who oversaw the Angels' scouting department from 2003 to 2010 and brought Bourjos and Trout into the organization. "But with Mike there, that just stops everything."
The Angels moved on. They had a surplus of outfielders. Trout was on the cusp of winning two American League MVP awards. Kole Calhoun was a strong-armed, hard-nosed player whom the Angels believed could handle Angel Stadium's high fence in right field with ease. Josh Hamilton had just played 151 games in 2013, the first year of his $125-million, five-year contract.
Jerry Dipoto, then the Angels' general manager, needed a third baseman. He flipped Bourjos and outfield prospect Randal Grichuk to the St. Louis Cardinals for 2011 World Series hero David Freese and pitcher Fernando Salas.
Bourjos' offense was inconsistent. He went from hitting 26 doubles and 11 triples, ranking second in baseball with 17 bunt hits and fourth in the American League with 36 infield hits while stealing 22 bases in 2011, to assembling a subpar .312 on-base percentage over the next two seasons.
Hunter thought Bourjos would follow a path similar to the nine-time Gold Glove winner's career: Bourjos would establish himself as a defender and let his offense catch up later.
"One thing about defense," Hunter said, "it can keep you in the game a long time."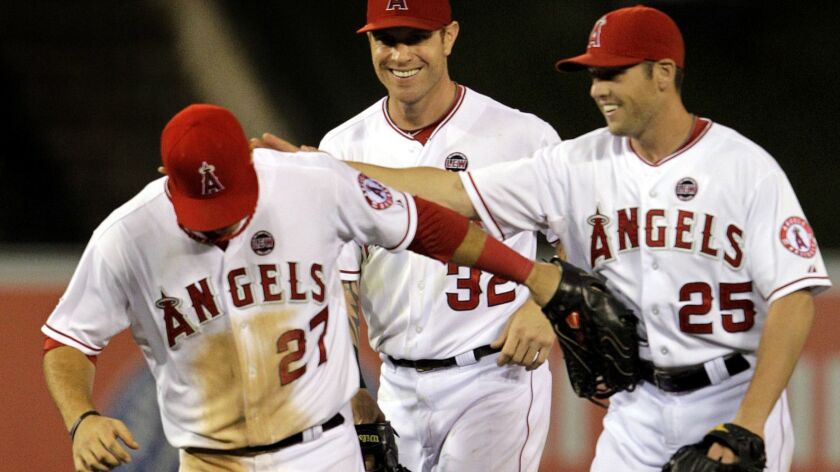 Bourjos, now a few weeks shy of his 32nd birthday, has continually made himself valuable from a defensive standpoint. He has played for seven organizations in the last five years, but in four of those seasons, he played in 100 or more major league games despite batting .231 with a .288 OBP.
The Angels, led by a different front office than the one that traded him, recognized the value in Bourjos, too. After he was released by the San Francisco Giants at the end of last season, the Angels signed him to a minor league contract in November.
With two weeks left in spring training, Bourjos seems as though he is on track to win the Angels' outfield competition. He's played as advertised in the outfield, displaying his gap-to-gap range and fleet-footedness at all three positions. And he's made his presence known at the plate. Through Sunday, he was batting .478 (11 for 23) with a .957 slugging percentage and a team-leading nine RBIs.
Bourjos' emergence is the product of six weeks spent retooling his swing at the Angels' spring training complex before the team's first full-squad workout in mid-February.
"Those six weeks I felt like I didn't sleep at night," Bourjos said. "It was a lot. You get used to something. And it was somewhat scary because I'm older and trying something new at this age is scary. You're so ingrained in your ways. But you could see it was right."
Sign up for our daily sports newsletter »
The adjustments have paid dividends. Now that he's able to get his swing moving in the right direction — he used to move backwards, he said — Bourjos is better able to get his bat on plane with a pitch. He can hit baseballs with more power. He has charged baseballs toward the warning track, a few of which have fallen in for three doubles and a triple.
"He's hit the ball very consistently hard since spring training started," manager Brad Ausmus said. "A couple of home runs, both to center field, which I don't know that I would have predicted he'd have two to center field."
If Bourjos makes the roster, he will earn a base salary of $1 million with up to $250,000 in bonuses, according to a person with knowledge of the contract.
It's all kind of funny. Bourjos once pushed Trout out of center field. Now there's a chance Bourjos will spend 2019 serving as Trout's backup.
"I think it was cool playing next to him and just learning from him," Trout said. "He's got a great mindset, a great attitude. I think every ballclub needs someone like Petey."
---
Get the latest on L.A.'s teams in the daily Sports Report newsletter.
You may occasionally receive promotional content from the Los Angeles Times.