Vladimir Guerrero keeps Hall of Fame acceptance speech short and sweet
Reporting from cooperstown, n.y. —
It took 58 years for the Angels to witness the Hall of Fame induction of a player wearing their cap, and when that moment finally came on a sun-splashed Sunday afternoon in baseball's ancestral home, it lasted about as long as one of the famously free-swinging Vladimir Guerrero's at-bats.
After accepting his plaque and posing for pictures with Commissioner Rob Manfred and Hall of Fame executives Jane Forbes Clark and Jeff Idelson, Guerrero strode to the lectern wearing a light-blue suit and bright-red tie, the colors of the Montreal Expos and Angels, the teams with which he spent most of his 16-year career.
"Buenas tardes," Guerrero said, wishing a crowd estimated at 53,000, believed to be the second-largest in induction-day history, a good afternoon.
The slugger, speaking through interpreter Jose Mota, thanked God, his mother and father, Montreal and Canada "for giving me the first opportunity to be a big league player." He thanked Angels manager Mike Scioscia and all those in Anaheim "who have influenced my career."
Guerrero saluted fellow inductees Chipper Jones, Jim Thome, Trevor Hoffman, Alan Trammel and Jack Morris, turning to them and saying "how happy I am to be a part of this group."
He thanked the hundreds of people who traveled from his tiny hometown of Don Gregorio on the Dominican Republic's southern coast to attend the ceremony, many of whom waved Dominican flags, blew air horns and chanted his name.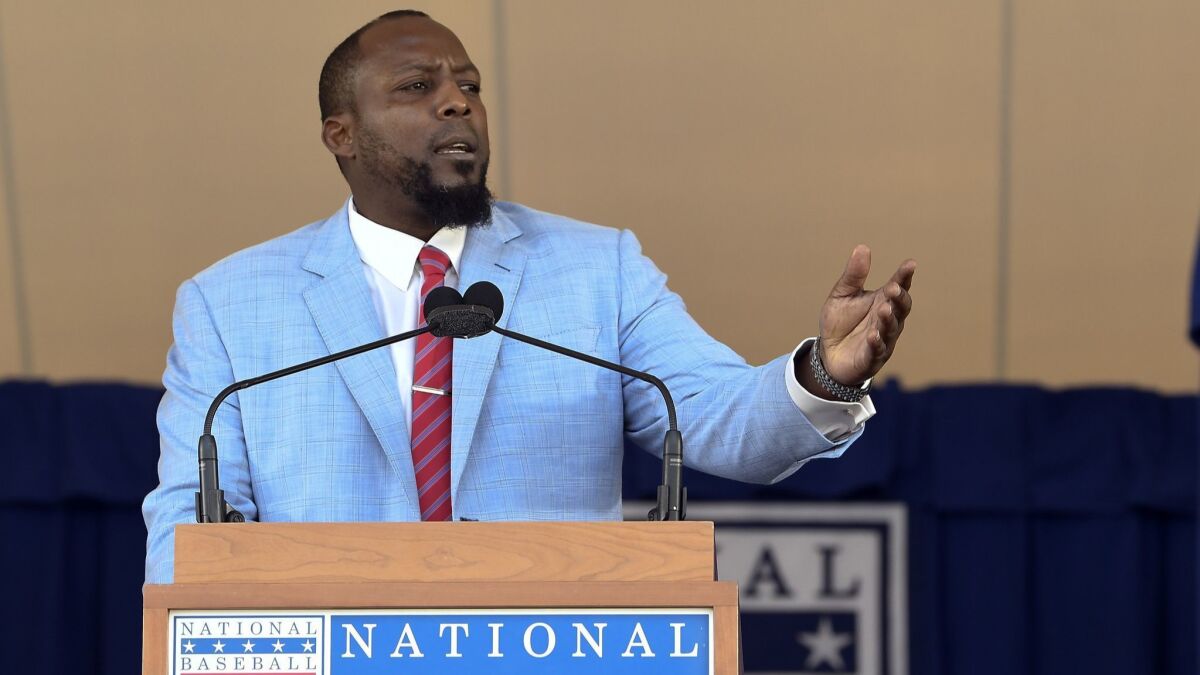 A father of eight, Guerrero, the first Dominican-born position player in the Hall of Fame, noted that his induction fell on Father's Day in the Dominican, making the day "even more special."
Then Guerrero wished a "Happy Father's Day to all the Dominican pops," flashed his huge trademark grin, waved to the crowd and walked back to his seat, the entirety of his speech, including time for translation, lasting four minutes, one of the shortest induction speeches ever.
"It was actually longer than I thought it would be," former Angels general manager Bill Stoneman, who signed Guerrero to a five-year, $70-million deal in 2004, said with a chuckle. "He's a man of very few words. He shows you how to do things. He doesn't tell you how to do things. And that's what you call a good teammate."
Angels owner Arte Moreno, who led a contingent of about two dozen team executives, former players and broadcasters in Cooperstown, had a similar reaction.
"I've been around Vladdy for a lot of years," Moreno said, "and like he said, he's a man of few words who let his bat do the talking."
That bat produced a career average of .318 with 2,590 hits, 449 home runs and 1,496 runs batted in, and fueled the most dominant six-year run in Angels history, the team following its 2002 World Series title by winning five division titles and reaching two American League Championship Series in six seasons (2004-09) with Guerrero.
The outfielder hit .337 with a .989 on-base-plus-slugging percentage, 39 home runs, 39 doubles, 126 RBIs and a league-high 124 runs in his first season in Anaheim, and was selected the 2004 AL most valuable player. He hit .319 with a .927 OPS, 173 home runs and 616 RBIs as an Angel.
Guerrero was a superstar in Montreal, hitting .323 with a .978 OPS, 234 home runs and 702 RBIs from 1996 to 2003, but he never reached the postseason with the Expos.
He chose to be enshrined in an Angels cap because he enjoyed his most team success in Anaheim, adding that the decision was made easier by the fact that the Expos no longer exist.
But as big as this moment was for the Angels, Moreno found his emotions tugged more by the player under the cap on that Hall of Fame plaque, not the team logo on the cap.
"It's about Vladdy and his career," Moreno said. "He's an unbelievable player, a great human being, and we're just so proud of him. I think it's great for the Angels. He was a great player for us, the fans loved him, and we won a lot of divisions and playoff games with him.
"But this is more about Vladdy and his family and what he means to his country. I think it's such a bonus for us to have an opportunity to have a player like that represent us."
Still, the significance was not lost on former Angels outfielder Tim Salmon, who spent his entire 14-year career (1992-2006) in Anaheim and was a teammate of Guerrero's from 2004 to 2006.
"You know what? It's pretty cool," Salmon said after the three-hour induction ceremony. "I was walking through the Hall of Fame [Sunday] morning and they had an Angels jersey with all these Hall of Famers on it.
"It dawned on me that none of them went into the hall as Angels, and now they're finally gonna be able to have a shirt with a Hall of Famer who went in as an Angel."
The permanence of the honor, that Guerrero's plaque will stand in the Hall of Fame gallery alongside Babe Ruth and Ted Williams and the greats of the game — there were 51 returning Hall of Famers behind him on stage Sunday, including Hank Aaron, Johnny Bench, Rod Carew and Brooks Robinson — impressed Moreno.
"To me, it's almost like you're being immortalized," the owner said. "He will be in the Hall of Fame forever. He's going somewhere where no one can take it away. He will be there, and generations and generations of people will be able to go in there and see that plaque."
If Guerrero wasn't as eloquent or as effusive or as emotional as his fellow inductees, whose speeches ranged from 15 to 20 minutes and were filled with moments of poignancy and humor, so be it.
"Vladdy is not much for words, but I thought he did a great job in his way of addressing and thanking the people who meant so much to him," Salmon said.
"The biggest thing is he got up there and showed off that amazing smile a few times, and that, to me, is Vladdy. That speaks more words than he can probably ever say."
Get the latest on L.A.'s teams in the daily Sports Report newsletter.
You may occasionally receive promotional content from the Los Angeles Times.