Home Run Derby: Some sluggers would just as soon sit than swing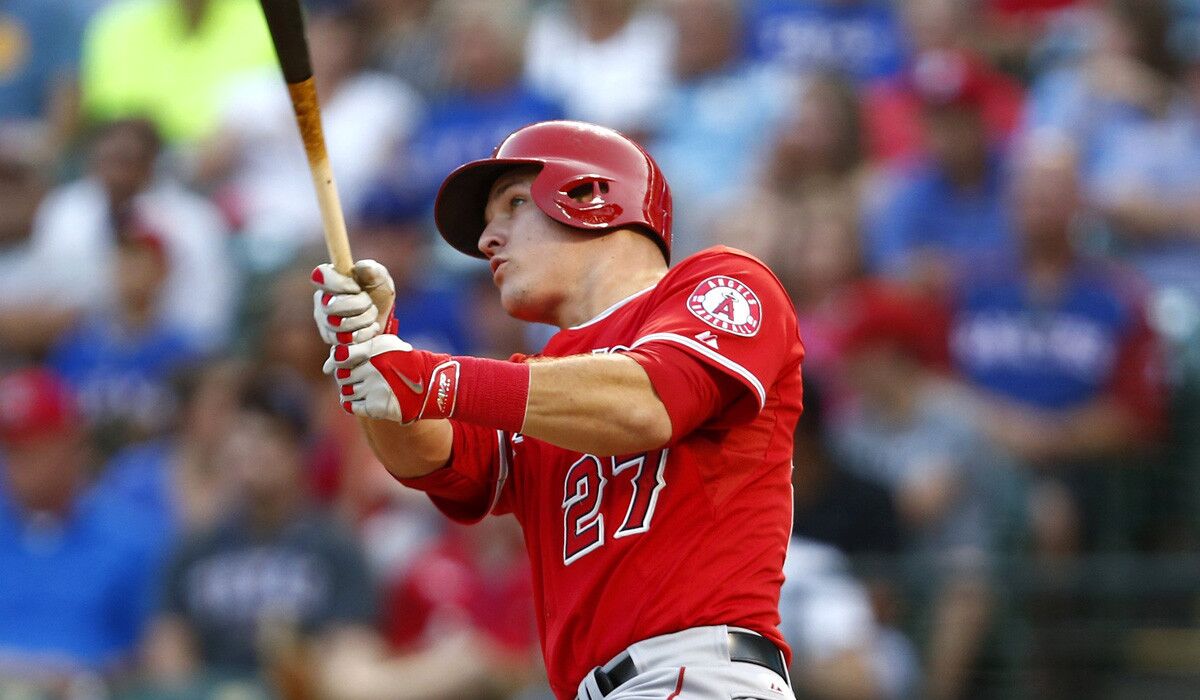 It's supposed to be fun, and entertaining.
Gather some of Major League Baseball's most feared sluggers, surround them with All-Star teammates egging them on, pump up the volume on the stadium music, and tell the participants to hammer the ball as long and high as possible for the enjoyment and amazement of all.
That's the Home Run Derby, the centerpiece of festivities leading up to baseball's annual All-Star game.
But as simple as it sounds, plenty of debate has swirled around the competition. Some players and coaches fear too many big swings can lead to bad habits, fatigue and even injury.
This year, the Dodgers and Angels each had one player invited to participate.
Yasiel Puig of the Dodgers accepted; Mike Trout of the Angels declined.
Trout said he took part in a home run contest when he was playing at the Class-A level in the minor leagues, and he conceded that "it didn't affect my swing." But he did express concern about the toll the competition could take on him.
"The biggest thing is just the big swings you take over a period of time; you can get beat up a little bit," he said. "It's tough on your body …"
Don Baylor, the Angels' hitting coach, agreed. "The way they do it, it's a lot of swings," he said. "… and guys are not accustomed to taking that many swings in that amount of time."
The Dodgers and Manager Don Mattingly have no such concerns about Puig.
"You can't mess our kid up," Mattingly said. "I think he might have a chance to win that thing."
Research seems to back Mattingly's carefree view.
Of the 20 players who finished first or second in the derby from 2004 to 2013 — which required taking the most swings — several actually improved on their first-half percentages after the All-Star break.
Yoenis Cespedes emerged from winning the 2013 derby with a wrist injury that kept him out of several regular-season games, but even he improved his numbers in the second half. He hit a home run every 20.47 at-bats with a slugging percentage of .420 in the first half and homered every 20.18 at-bats with a .473 slugging percentage thereafter.
In the last 10 years, only two Home Run Derby finalists suffered dramatic declines in production, according to an examination by the Los Angeles Times. In 2005, Bobby Abreu hit .307 with 18 home runs before and .260 with six home runs after. In 2008, Justin Morneau hit .323 with 14 homers before and .267 with nine homers after.
Angels Manager Mike Scioscia said he has seen both success and struggle from players who participated in the derby.
"There's pros and cons to it," Scioscia said. "I don't know if there's any hard rule on who it affects and who it doesn't."
The Times' statistical analysis showed slight decreases in production frequently occurs in participants who have power but weren't necessarily considered home-run hitters in their careers. Such players are sometimes picked for the derby because at the time they were among league leaders in power categories, with numbers well above their career averages.
Their decline to more typical production after the All-Star break could be attributed to the law of averages rather than any adverse affect from taking part in the derby.
For example, New York Mets third baseman David Wright had 20 home runs at the break in 2008, finished second in the derby and hit only six homers afterward. But 26 home runs in a season might be considered a reasonable number for a player whose career high is 33. Wright's numbers dropped, but to a natural level.
The team leaders in home runs from 2004 to 2013 experienced a similar trend. Of teams that led the league in home runs at the break, only the 2009 New York Yankees and 2010 Toronto Blue Jays hit home runs more frequently in the second half than they had in the first half.
Leaders in the other years saw their numbers taper — as extraordinary production often will.
Nevertheless, concerns about the derby's consequences persist, so MLB adjusted this year's format.
Cespedes will return to defend his title in a competition designed to reduce the wear and tear of participating.
Players will receive seven outs each round instead of 10, and the top player from each league in the first round receives a bye to the third (semifinal) round, increasing the amount of rest for the competitors who took the most swings.
But the quantity of swings isn't the only problem.
"I understand they're trying to manage some of that this year, but these guys take so many full, gorilla swings that it would have to affect your swing at some point if you're in that long enough," Scioscia said.
Players typically don't take such monster cuts during a regular-season game, so swinging for the fences in the derby, some people argue, can spur the development of bad habits or cause injury.
Mattingly doesn't buy it, saying a home run derby of sorts takes place before most games, during batting practice.
"You ever watch these guys take BP?" Mattingly asked. "I mean, they're launching all the time."
Get the latest on L.A.'s teams in the daily Sports Report newsletter.
You may occasionally receive promotional content from the Los Angeles Times.