For Clayton Kershaw and Mike Trout, October is the stuff of legacies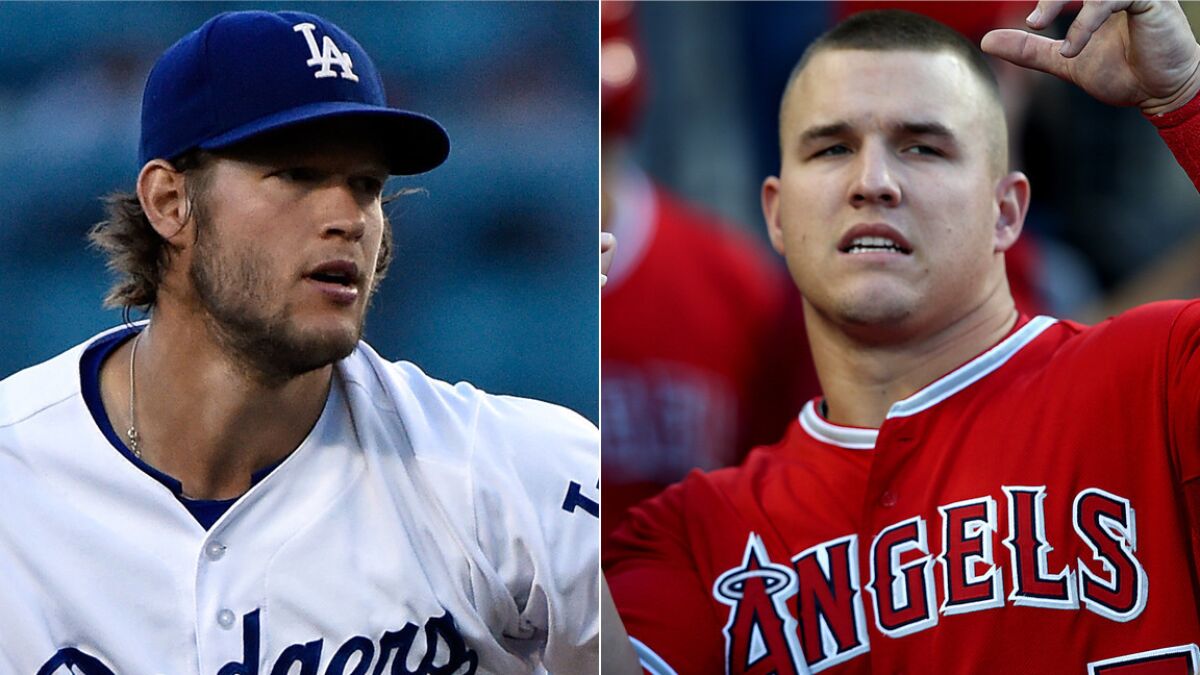 The comparison is all but mandatory now. Try to put Clayton Kershaw into historical perspective, and you are virtually obligated to mention Sandy Koufax.
Koufax, the gold standard among Dodgers pitchers, won the Cy Young Award three times, the most-valuable-player award once. Kershaw should match him on both counts come November.
First comes October, though, and this one is about legacy, for Kershaw and for the Angels' Mike Trout. This is the month when legends are born, images are crafted, identities are sealed.
"I think it's pretty important, honestly," Kershaw said. "People remember teams. They don't really remember players that much. They don't really remember individual success. They remember the World Series.
"You're seeing that with [Derek] Jeter. He's a great player. He hits .300. He has 3,000 hits, all that stuff. But he's got, what, four or five World Series? That's why he's being celebrated the way he is.
"You need that. At the end of the day, if you want to be remembered in baseball, you need that."
When Jeter was 26, he had four of his five World Series rings. Kershaw is 26, and he has yet to see the World Series.
Koufax pitched in the postseason four times, when the World Series was the entirety of the postseason. The Dodgers won the Series three times. This is the fourth postseason for Kershaw.
Koufax gave up a total of six earned runs, in 57 postseason innings. Kershaw gave up seven in his last postseason start, in four-plus innings.
That was the game that eliminated the Dodgers, a 9-0 stunner that sent the St. Louis Cardinals to the World Series and sent the Dodgers home for the winter.
Kershaw draws the Cardinals again, on Friday, in Game 1 of the National League division series. He insists he has not been driven by that one game last October, the one that went so horribly wrong.
"I don't need anything to drive me," he said. "I don't need a loss to make me more motivated."
In his October debut, as a 20-year-old in 2008, Kershaw threw a couple innings in relief. In 2009, he pitched well in the NLDS, not so well in the NL Championship Series. In 2013, he had four postseason starts — three gems, one clunker.
Trout makes his October debut at 23, the consensus best player in baseball, the MVP of this year's All-Star game, the American League MVP-in-waiting.
"Trout is a special player," Angels teammate and three-time NL MVP Albert Pujols said. "Players like him don't come often, maybe once every 30 or 40 years. This city is blessed to see a young player like Trout."
Pujols laughed at the suggestion that the postseason stage would allow the country to see Trout's greatness.
"I think the country knows about Trout right now," Pujols said, "and how special he can be."
Trout grew from a kid with Jeter posters on his wall to a man set to replace Jeter as the face of baseball. And, like Kershaw, Trout is well aware of why Jeter's star shined so brightly.
"He won five championship rings. That says it all right there," Trout said. "He's been a part of some great teams. He wins. It doesn't matter how you get it done. You just win."
The Dodgers did not win either game started by Kershaw in last year's NLCS. They did not score in either game, with Michael Wacha shutting them out into the seventh inning of Game 2 and through seven innings of the decisive Game 6.
The Cardinals beat Kershaw twice in a postseason series.
"It's probably something that won't happen again," said David Freese, the third baseman for the Cardinals then and the Angels now. "He's that type of pitcher."
Of the 24 batters Kershaw faced in Game 6, 12 reached base. When he needed one out to end the third inning, five consecutive Cardinals got on base.
"It's never fun to have that be your last memory of pitching that year, for sure," Kershaw said.
"It's tough to get it out of your head until the next time you pitch. Once the season started, I really haven't thought about it. In the off-season, yeah, every once in a while."
Dodgers co-owner Magic Johnson, the former Lakers great, had that kind of experience in the 1984 NBA Finals against the Boston Celtics — he dribbled out the clock with the score tied in Game 2, committed a turnover that sent Game 4 into overtime and then missed two free throws that would have given the Lakers the lead, then committed a turnover in the final minute of Game 7.
"It made me a better basketball player," Johnson said. "We came back in '85 and beat them, so I got a chance to redeem myself, and as a team, we got a chance to beat the team that beat us. It wasn't just the summer, it was the whole year until I beat them that got that monkey off my back."
That is the stuff of legacies and legends. Freese said he does not believe Kershaw needs to flourish in October to cement his legacy, but then again the Dodgers have not appeared in the World Series since 1988, with a guy named Orel Hershiser playing the role now filled by Kershaw.
"If the Dodgers, especially in this market, can get to the World Series and Kershaw can carry them," Freese said, "that just adds to how powerful what he does on the field is."
Tens of thousands of fans chanting "M-V-P!" for Kershaw at Dodger Stadium — or for Trout at Angel Stadium — sounds pretty cool. Hundreds of thousands of fans chanting "M-V-P!" at a championship parade, well, that would be a legend in the making.
Times staff writers Mike DiGiovanna and Dylan Hernandez contributed to this report.
---
Get the latest on L.A.'s teams in the daily Sports Report newsletter.
You may occasionally receive promotional content from the Los Angeles Times.