Clayton Kershaw and Mike Trout: A fresh take on marketing baseball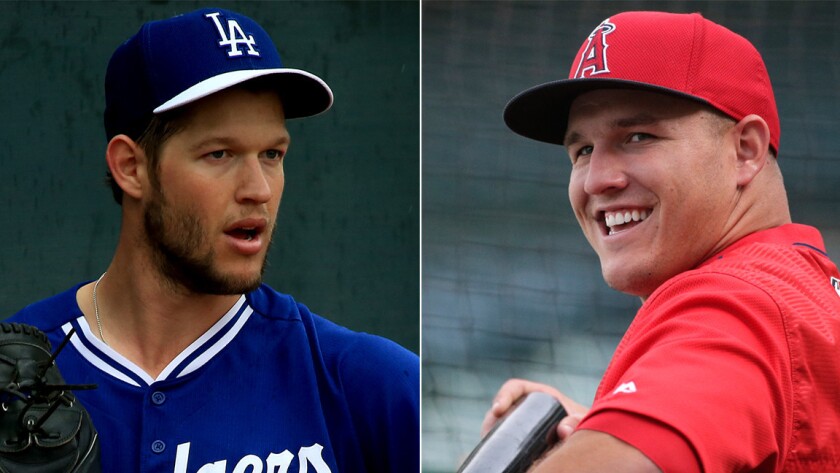 Reporting from Tempe, Ariz. —
Mike Trout is receptive to coaching, but this seems a bit much. He cannot eat his chicken sandwich until someone tells him how to do it.
"Now take a bite," a voice commands from across the room, "and hold the sandwich in your hand."
There is nothing glamorous about the making of this Subway commercial for TV. The best player in baseball is sitting in the cramped supply room of a minor league clubhouse, an ordinary table in front of him and a gray spit bucket at his feet, a camera inches from his face and a director barking in his ear.
Trout likes his chicken sandwiches with hot peppers, banana peppers and pepper jack cheese. The director calls for another take, and someone comes running with another sandwich.
"We just want to get the last bite," the director says. "Do we have an end of a sandwich we could use?"
We do. Trout holds the end of a sandwich, tentatively. He could eat that last bite — it is, after all, just one bite — but he is not sure what exactly he is supposed to do.
"Do you guys want me to eat that whole thing?" Trout said.
This has gone on for hours. If Trout ate a bite out of every sandwich, on every take, he would be in no shape to play center field for the Angels. He takes bite after bite, smiles for the camera, then spits the remnants into the gray bucket.
Clayton Kershaw takes his turn too. The best pitcher in baseball prefers turkey on wheat, with pickles, peppers, lettuce, cheese, vinegar and mustard.
Opening day is upon us — and not only for Trout, the reigning American League most valuable player, and for Kershaw, the Dodgers star and defending National League MVP and Cy Young Award winner. It is also the opening day for a new commissioner, Rob Manfred, and his lieutenant, Tony Petitti.
Trout and Kershaw are the brightest lights in baseball, but nowhere near as recognized or celebrated as LeBron James. For the best players in the major leagues to be as well known as the best player in the NBA, Petitti has to elevate the conversation beyond what condiments Trout and Kershaw enjoy on their sandwiches.
"Can we do more to get them out there? We can, and we are," Petitti said. "But you're also comparing them to somebody who, on that scale, is kind of at an all-time high now. I think our guys are still pretty big stars."
James earned $53 million in endorsements last year, with Lakers star Kobe Bryant at $31 million, according to Forbes. Derek Jeter, who retired last fall, led baseball players at $9 million, followed by David Ortiz of the Boston Red Sox at $5 million.
James was selected as America's favorite athlete in a Harris Poll last year. Jeter ranked third. The only other baseball players in the top 25: Ortiz, ranked 13th, and his Boston teammate, Dustin Pedroia, ranked 18th.
That kind of data feeds the perception that MLB does not market its stars as well as the NBA does.
"I think there's a little bit of overstatement in that," Petitti said. "Baseball stars are still huge stars in the sports landscape. Having said that, we want to make sure we are doing everything to bring our stars closer to our fans."
James wears two championship rings. Since 1984, only seven teams have won an NBA championship, providing ample exposure for such stars as James, Bryant, Shaquille O'Neal, Tim Duncan, Michael Jordan, Larry Bird and Magic Johnson.
In the same period, 18 teams have won the World Series. The New York Yankees won four times in five years — the first five years of Jeter's career, launching him into the marketing stratosphere. Ortiz wears three championship rings, Pedroia two — and the Yankees and Red Sox attract the highest ratings and thus appear most commonly on baseball's shrinking number of national broadcasts.
Neither Trout nor Kershaw has appeared in the World Series. Buster Posey has led the San Francisco Giants to three championships in the last five years, but he is no more a national figure than Trout or Kershaw.
"The NBA is good at marketing five people," said baseball agent Scott Boras, who does not represent Trout, Kershaw or Posey. "That's all they ever market. When you're talking about the elite of our game, we don't even get that."
Casey Close, the agent for Jeter and Kershaw, identified shoe contracts as "the No. 1 reason" why major league stars do not command the marketing power of NBA stars. The Nike Lunar Vapor Trout cleats look cool, but the biggest bucks go to the players who lend their names to everyday footwear.
"A young kid can wear a LeBron James shoe down the hallway," Close said. "The spikes of Clayton Kershaw or Mike Trout or Derek Jeter are not in the same ballpark, so to speak."
In Jeter, Close represented a high-profile bachelor who relished playing in the largest media market in North America. In Kershaw, Close represents a family man who would rather spend his free time barbecuing at his Texas home than traveling to a commercial shoot.
When Subway got Kershaw and Trout on board, the shoot was scheduled not at a Hollywood studio but at the Angels' training complex in Arizona, a half-hour down the freeway from the Dodgers' training complex. Trout arrived for spring training on a Sunday, did Nike ads Monday, the Subway ads Tuesday and reported to the Angels' camp Wednesday.
Craig Landis, the agent for Trout, said his client would rather spend the off-season hunting, fishing, golfing and spending time with his family in New Jersey than getting on a plane to meet with advertisers. During the baseball season — unlike the NBA season — there are precious few days without a game, or a flight to a game.
"We're very conscious of him getting his rest," Landis said. "All these things come from high performance on the field. If you get distracted by marketing and endorsements to where it affects your performance, they all go away anyway."
As Jeter completed his farewell tour last year, Trout was widely pegged to replace him as the face of baseball.
"He's not the kind of guy that worries about how he is categorized," Landis said. "It's not up to Mike if he is the face of baseball. There's no reward for being the face of baseball."
Kershaw believes his job is to pitch baseballs, not products. If the best baseball players are not as popular as they could be, he says, the sport ought to fix that.
"I think it's baseball's job more than our job," Kershaw said. "There's plenty of things they can do without taking time away from us."
For Petitti and his MLB staff, a major challenge comes as an unintended consequence of baseball's regional television windfall. As teams reap billions in rights fees from local TV outlets, fewer broadcasts are aired to a national audience, where a league can spotlight a prominent player.
"Baseball doesn't have a national stage. It has a regional stage," Boras said. "Without a national stage, it's hard to perpetuate stories."
Boras argued that baseball missed a phenomenal opportunity last winter, when Sandy Koufax presented Kershaw with the MVP and Cy Young awards, followed by an exceptionally gracious speech in which Kershaw saved his last thank you for his playoff tormentors, the St. Louis Cardinals, "for reminding me that you're never as good as you think you are."
The awards dinner was held in January and taped for broadcast on the MLB Network six days later. Boras said baseball should hold an awards gala on the eve of the World Series, on live national television, where marketers could mingle with players like Kershaw, and where MLB could celebrate the season before its grand finale.
"It would become the Oscars of our sport," Boras said.
Petitti ran the MLB Network before Manfred tapped him to become baseball's chief operating officer. In one of his first initiatives, Petitti said, MLB is creating ads designed to stay fresh long after opening day. The ads have built-in templates that allow for immediate digital updates to react to great moments and events.
"It's not just, 'Hey, how do you create a great 30-second ad that you produce in April and you're hoping has legs as long as possible?' " Petitti said.
Kershaw and Trout are included in a new MLB ad that premieres Sunday. Petitti said he is respectful of the time constraints that concern Kershaw and Trout and is convinced baseball's best players can become national stars.
"It's our job to make sure that when we do ask players to do things for us, we're putting them in situations where we minimize our time and maximize our results," Petitti said. "Everybody wants the game to grow and be bigger, and the players are just as vested in that as we are in this office."
In the meantime, three hours into his commercial shoot, someone handed Trout another chicken sandwich. It was time for another bite.
"I'm definitely full," Trout said.
Twitter: @BillShaikin
---
Get the latest on L.A.'s teams in the daily Sports Report newsletter.
You may occasionally receive promotional content from the Los Angeles Times.