Suite rental companies make premium sports experiences more attainable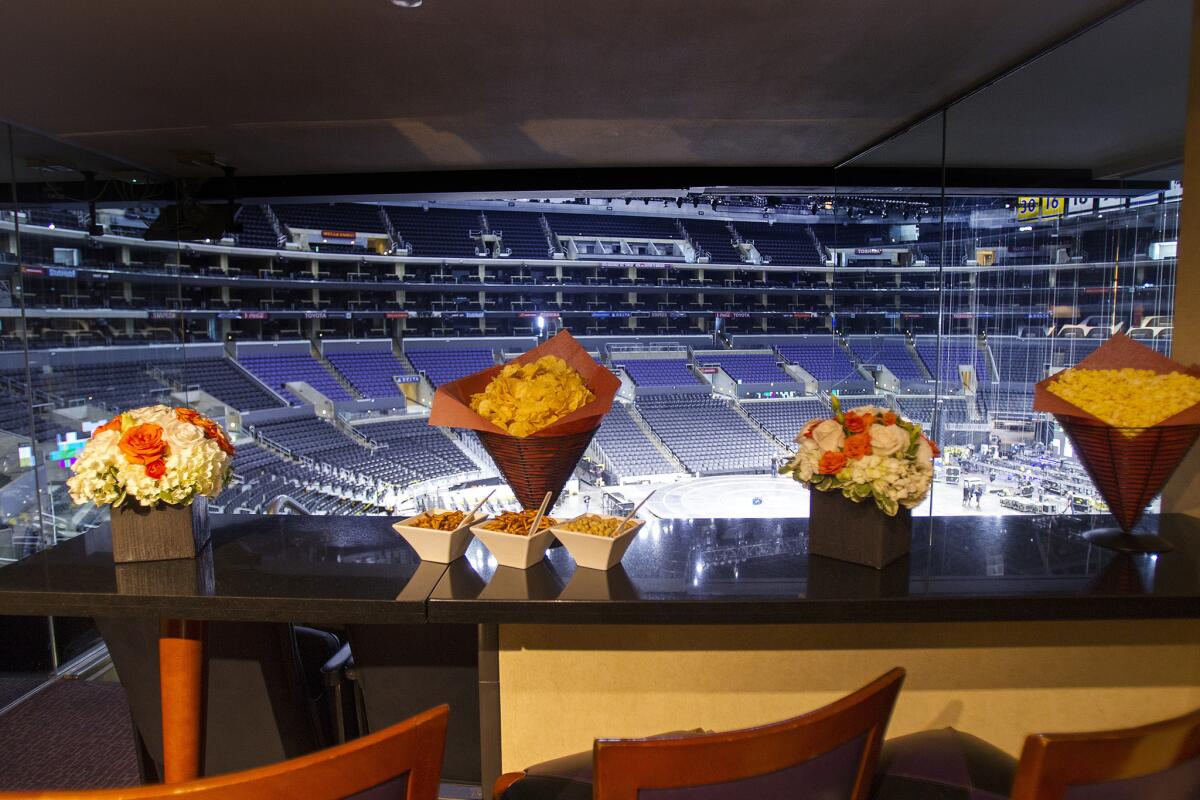 For most sports fans, there is a measure of discomfort in attending a game. Crowded bleachers, public restrooms, long concession lines and exposure to the elements can be unavoidable parts of the experience.
There is, however, a group that does not have to deal with such inconveniences: suite holders, whose experience can seem far different from that of the average fan.
They enjoy air conditioning, padded seats, high-definition big-screen televisions, granite counters and bars, paintings and memorabilia along the walls, refrigerators fully stocked with soda and beer and, if that doesn't suit them, wait staff to bring snacks and drinks.
Such luxuries have long been the domain of the famous and wealthy. But it is not exclusive to them anymore.
Owning a suite may still be an unattainable goal for the average fan, but opportunities to occasionally splurge and enjoy fine comforts are growing, as a thriving secondhand rental market has emerged in recent years.
For example, if you wanted to see the Dodgers play the Oakland Athletics on July 28, the Dodgers' next home game, you could buy a preferred field seat in the lower bowl online for $48, plus a convenience fee of $7.
General parking, beer, hot dogs and ice cream cost $35, and all told, you spend about $90.
Or, you and 19 friends could pony up a total of $3,000 for an evening in a luxury suite.
On the Dodgers' website, single-game suite rentals are priced from $4,500 to $6,500 — and that's about the only game in town that publicly shares that information with fans. The Angels, Lakers, Clippers, Kings and Ducks all require a request to receive pricing for their suites.
However, by using one of a handful of companies that act as the StubHub of luxury suites, fans can secure a suite for less. Suite Experience Group, one of those companies, listed a suite for that Dodgers-A's game for $3,000.
For years, luxury seating could be acquired only by paying premium prices and signing long-term leases. Stadium suites were largely the realm of big business, which used the facilities to entertain well-heeled clients and reward high-producing employees.
Once they were rented, the suites rarely became available again — and then usually at a price far steeper than what they originally went for, based on catering options, location and other terms, of course.
Suites at Dodger Stadium start at $245,000 per season. The Angels' start at about $200,000 per year. The Ducks' lowest price is $175,000, and Staples Center, which hosts the Kings, Lakers and Clippers, starts at $300,000, an arena spokesperson said.
In recent years, availability has improved as the economy weakened. In some instances, companies that signed deals before the recession were liable for millions of dollars. In 2010, the Dallas Cowboys sued 10 area businesses for not paying for their suites. According to the lawsuit, the companies owed the Cowboys $82.3 million in rent.
That's when brokers such as SEG entered the picture. Founded in 2010, the company connects suite holders looking to recoup some of their investment with fans who want a premium seating experience without a long-term commitment.
Even as the economy recovers, more companies are choosing to use their suites more efficiently, said Scott Spencer, founder and chief executive of SEG. Few companies fill their suites for every game or event at a stadium. Making them available for certain occasions makes financial sense.
The Angels offer 12-person suites located midfield starting at $2,700 per game. On SEG, the price is $1,815. Suites located between the dugouts with access to an exclusive lounge area, in-seat catering and a private entrance go for $2,960. Staples Center suites start as low as $2,800 and go up to $6,000, depending on the opponent and day of the week. Ducks suites range from $1,900 to $4,000.
Although fans often reserve suites with SEG up to seven weeks in advance, Spencer said his company can arrange rentals with only three or four days' notice.
"The rich individuals and the companies who want this premium tier of access, they understand that there's a better way to get this than signing up for these long-term commitments or purchasing the asset themselves," Spencer said. "That's the model we're trying to bring to luxury suites. … The goal is to be disruptive in the way that you can access premium inventory."
SEG is one of only a few companies tapping into what Spencer calls a growth market. Exchange sites for general admission tickets have been online a decade or more, but the availability of suites was slower to develop.
Teams have not changed their practice of trying to get long-term leases on as many suites as possible, but more fans are seeking high-quality experiences at sporting events to compete with the comforts of home and the accessibility of high-definition TVs.
The typical suite package now includes not only HD televisions, but also snacks and drinks, concierge service, reserved parking, private entrances and merchandise discounts.
The Dodgers offer early entrance into the stadium, and the Angels include access to exclusive areas such as the teams' batting tunnels. For long-term lease holders, teams also offer priority access to tickets for playoff games and concerts.
But let's say you and your friends don't want 20, or even 12 tickets.
The Dodgers offer the "Ketel One Baseline Club," a group of seats down each foul line with tables in front of them and in-seat food service. The Angels have a Diamond Club 20 rows behind home plate that features a patio and lounge area for which you can buy individual tickets. Staples Center offers a limited number of premier tables and lounges that can host four to six people. They sell for $165,000 to $175,000 per year. The Rose Bowl, which was recently renovated to add 54 luxury suites, now also has almost as many loge boxes — 48 — and 1,200 premium "club seats."
StubHub Center, home to the Galaxy soccer team, has four-person "cabanas" — private, open-air tents located next to the Stadium Club. The Galaxy has also opened another club underneath the stands that allows fans to interact with players as they leave and enter the locker room.
Across the board, these premium seating options are on the rise, according to Tracy Tapp, an interior designer for Populous, an architecture firm that has worked on NFL, Major League Baseball and college stadiums throughout the country.
"If there are some suites that aren't moving in teams' inventory as fast as they would like, sometimes we take those spaces and turn them into a club," Tapp said. "Or we can turn those into loges, which have continued to be a very popular premium amenity because they're a good midlevel price point in the hierarchy of the premium inventory."
A market such as Los Angeles is ideal for premium seating options, Tapp said. The high concentration of celebrities means there will always be demand for luxury at sporting events. And with the possibility of an NFL franchise or two relocating to the Southland, there could be as many as 12 college and professional teams vying to sell their suites in the next few years.
All of this is good for the consumer, said Todd Lindenbaum, CEO of the luxury suite rental website SuiteHop. He expects the cost of suite rentals to continue to drop as competition arises for the limited number of corporate dollars in Southern California.
So let's go back to you and your friends at that Dodgers game.
For about $90 per person, you get a general admission seat with a few beers and hot dogs.
For $108 per person, you get a spot in a loge box, with a countertop area, HD televisions and a dedicated wait staff providing food and beverage service.
Or, for about $150 per person, you can pamper yourself for a place in a luxury suite with all of its amenities.
Your choice.
Get the latest on L.A.'s teams in the daily Sports Report newsletter.
You may occasionally receive promotional content from the Los Angeles Times.