Column: Shohei Ohtani seems unfazed by the hullabaloo surrounding his historic debut with the Angels
Angels star from Japan takes the field for his first day of Spring Training workouts with the team.
Reporting from TEMPE, Ariz. —
Under a light drizzle, through a thin mist, the mystical Angel arrived.
The heavenly choir was the media horde scrambling behind his every step. The celestial sound was countless camera clicks accompanying his every expression.
The mystical Angel had not one moment of peace, yet appeared to be in a world of his own.
"I'm simply very excited to set my feet on the ground,'' Shohei Ohtani said after Wednesday's spring training debut in which expectations soared.
He played catch with a ball that whooshed. He took batting practice with swing that cracked. He took fielding practice from the mound. He hit seven home runs from the cage.
He was everywhere, followed by seemingly everybody — more than 100 eyeballs from the Angels' organization and the media and even some hearty fans huddled under umbrellas in a parking lot just hoping for a glimpse.
It was almost as if Ohtani was Babe Ruth. That, actually, is sort of the point.
Wednesday was the first official big league work of this season's most intriguing big leaguer, a 23-year-old Japanese phenom who could be baseball's first two-way player since Ruth pulled it off more than a century ago.
Ohtani throws 100 mph, he hit 22 homers one season for the Nippon-Ham Fighters, and this winter he stunned the baseball world by turning down flashier markets to sign with the steady Angels, who plan on pitching him every six days and using him as a designated hitter on others days.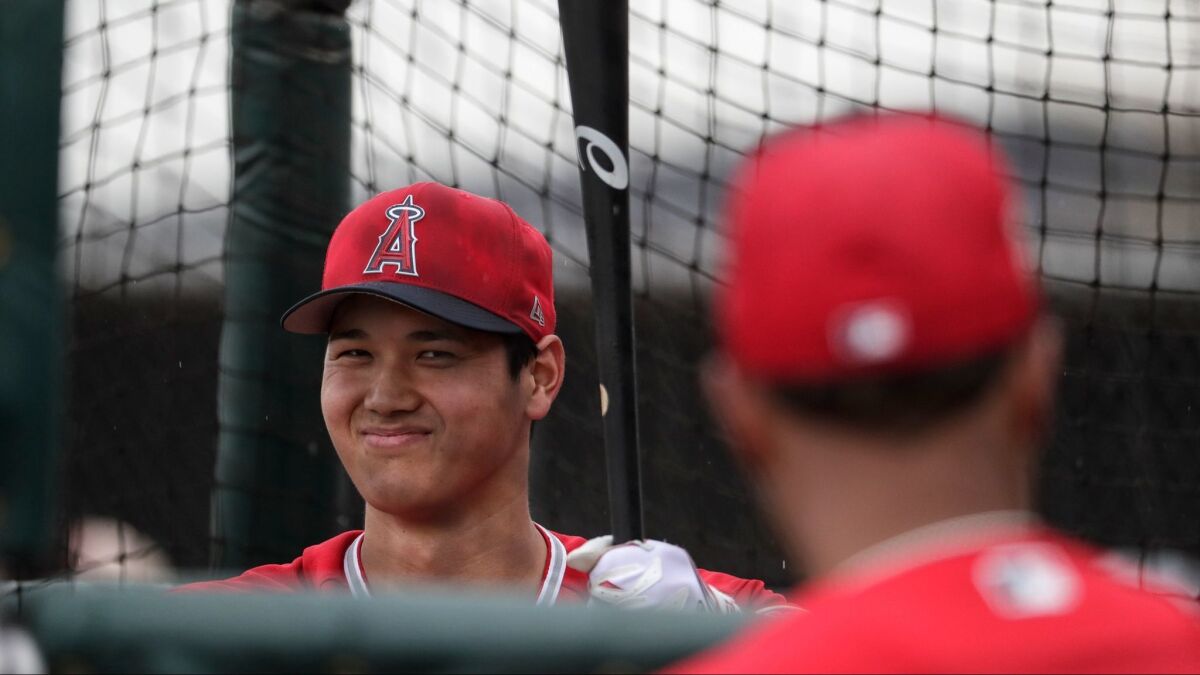 "There's been a buzz around here before, but nothing like this,'' said pitcher Tyler Skaggs.
Ohtani is groundbreaking on more than the diamond. He has broken the internet as Japan's unicorn athlete joining forces with America's most traditional sport. He has broken fantasy baseball, as leagues have to change their configurations to fit his usage.
Even the Angels still seem a little shocked to have him around.
"I was really hoping to see him in real life,'' catcher Rene Rivera said after taking batting practice with Ohtani. "Now that I have … he's special.''
In real life, he looks much younger than 23, and every bit of 6 feet 4. In real life, he is still treated like some sort of imaginary figure, followed closely by what surely will be the largest number of media members focused solely on a single player.
Every morning this week, there have been more than a dozen Japanese media cameras waiting outside the stadium parking lot in hopes of recording Ohtani's arrival. All those cameras then move outside the clubhouse to wait for him to step onto the field. Inside the clubhouse, where Ohtani first unloaded his gear in his locker this week, the Japanese media politely gathered on the other side of the room and just watched him.
Junichi Ito, who has covered Ohtani for the Tokyo Sports Press, said through a translator that he and his colleagues are here to record history.
"He is doing something nobody has done before,'' said Ito. "To borrow a quote, he is walking a path that nobody has walked."
It is this expectation that has given the usually laid-back Angels camp a surreal vibe. Everywhere Ohtani walks, there is the clicking of cameras and rustling of many, many feet. When he hit one of his long home runs in his first batting practice, the air was filled with shrieks. When he hit another one, the sound was the slapping of high-fiving teammates.
When he finally finished his first day of work Wednesday he held his first news conference in a nearby hotel ballroom because there's no corner of the aging stadium that could accommodate the more than 100 questioners. He didn't say much. He didn't reveal much. He smiled a lot. He maintained his image as a friendly, unaffected kid. But he did offer one important glimpse into the danger of these oversized predictions.
When asked how he was adjusting to living on his own after spending his five-year Japanese professional career living in his team's dormitories without even a driver's license, he talked about an unexpected emotion.
"My room is really big. I have a three-bedroom apartment, and I feel kind of lonely by myself in such a big place,'' he said.
To hear this is to remember that he is 23 and trying to do something never done in the modern era. So maybe everyone should pump the brakes.
He could struggle like most rookie pitchers. He could scuffle like many rookie hitters. Both things could happen at once, and it would all be very normal, but the strong focus could paint it like a failure.
"I'm a little worried about how people here take him,'' Ito said. "If he's going to do two-way, he's probably not going to be an MVP batter or Cy Young pitcher … depending on how people take it, he could be successful or not.''
In 2016 for Nippon, he was 10-4 with a 1.86 ERA while hitting .322 in 325 at-bats. So he's done both ways, but in an entirely different league, and who knows what happens here?
One thing for certain is that, first and foremost, the Angels want him to be a pitcher, part of a unique six-man rotation. His hitting will be secondary. He will not play the field.
"We need him to pitch … he's probably going to get the most looks as a pitcher,'' manager Mike Scioscia said. "But that's not to say he's not going to have a chance to make a difference on the offensive end too.''
Second, the Angels will be patient with him, which is perhaps one of the reasons he signed with them.
"He's still developing,'' Scioscia said. "There's still things he needs to grow with as far as his game evolving. Part of it is going to be stamina with his pitching, part of it is going to be getting used to the league, hitting-wise. Lot of factors. He's young.''
Yeah, so young that he admitted he has relaxed during these first days of spring playing … hoops?
"I've been playing golf with my teammates, and playing basketball pretty often and having a good time so far,'' he said.
And when asked about that pressure … he just smiled again.
"Since my days in Japan, I never really felt the pressure that everyone around me talks about,'' he said. "I just want to go out there and do my job.''
That job officially began Wednesday, the mystical Angel forging through the rain and mist and the multitudes to end his news conference with a polite bow. The guy who hit seven homers Wednesday throws his first pitch Thursday. Get there early.
Get more of Bill Plaschke's work and follow him on Twitter @BillPlaschke
---
Get the latest on L.A.'s teams in the daily Sports Report newsletter.
You may occasionally receive promotional content from the Los Angeles Times.