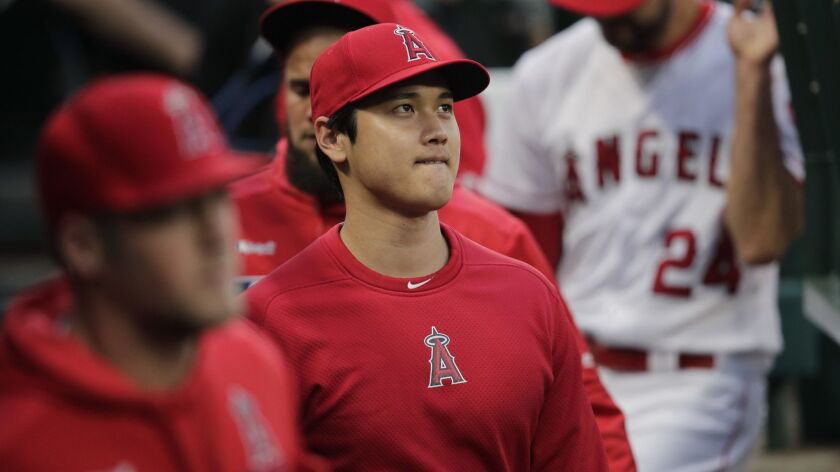 If the end of Shohei Ohtani's hitting rehab is near, the Angels are not copping to it.
Manager Brad Ausmus dodged an inquiry on the date of the next scheduled checkup on Ohtani's surgically repaired right elbow on Wednesday at Angel Stadium by playing coy.
"That's for me to know and you to find out," he said.
Asked if the examination would take place while the Angels are playing out of town during the next week, Ausmus said, "It's going to be a few days. . . . We'll let you know after he has it."
Ohtani, the two-way player who underwent ligament replacement surgery on his throwing elbow in October, has been making steady progress since he first took batting practice on the field about two weeks ago.
Since he won't pitch until next year, Ohtani has focused on hitting. It's already paid dividends. Ohtani said last week that his swing felt more powerful than last year, when he hit 22 homers and was the American League rookie of the year.
Ohtani said Wednesday that he felt physically ready to advance to the next stage in his hitting rehab, which is to face pitchers in the cage instead of taking swings against coaches. From there, he would be available to hit in simulated games or in a minor league rehab assignment.
"I feel like I'm ready to go right now," he said through a translator. "But I still have that medical check ahead of me. I need to clear that first, and we'll see from there."
To this point, Ohtani has not experienced unusual discomfort in his right elbow. He has even begun to throw on flat ground comfortably from a distance of up to 80 feet.
Ohtani has been taking swings in the batting cage for the last two months. At times this spring, he stood at the plate with his bat on his shoulders during his teammates' bullpen sessions so that he could track pitches.
Sign up for our daily sports newsletter »
"[With] the BP outside, tracking everyone's bullpens has been helping me," he said. "I feel like I didn't miss a beat. It should help me out in the live BP too."
Ohtani throws right-handed and bats left-handed, and it's easier on his body for him to return to batting than it is pitching. He isn't expected to return a major league mound until next season, but the Angels have said since February that they plan for Ohtani to rejoin the Angels' lineup as their designated hitter in May.That timeline could conceivably be shortened if Ohtani progresses to live batting practice in the next few days.
Short hops
Angels left-hander Andrew Heaney, who received a cortisone shot to relieve inflammation in his elbow last week, did light throwing for the second day in a row Wednesday.… Third baseman Zack Cozart was not in the lineup so he could mentally reset and work with the team's hitting coaches, Ausmus said. Cozart has been mired in a slump since the season began, with one hit in 30 at-bats. Cozart has struck out six times, including in his final at-bat Tuesday night, when a third strike was called on a fastball that appeared off the plate. Even though he went hitless for an eighth game in a row, Ausmus said he was encouraged. "You can't base it on the results," he said. "In the last at-bat, there was something that felt right. Hopefully it bears fruit. It was something [he and the hitting coaches] had been working on and he felt it." … Before Wednesday's series finale, the Angels recalled right-hander Jaime Barria from triple-A Salt Lake and right-handed pitcher Luke Bard was sent down in Barrio's place. Barria, who made 26 starts for the Angels last year, is expected to pitch out of the bullpen for now. Just like Justin Anderson, who was optioned to Salt Lake for an extra infielder on Monday, Bard's demotion was not performance-related, Ausmus said.
---