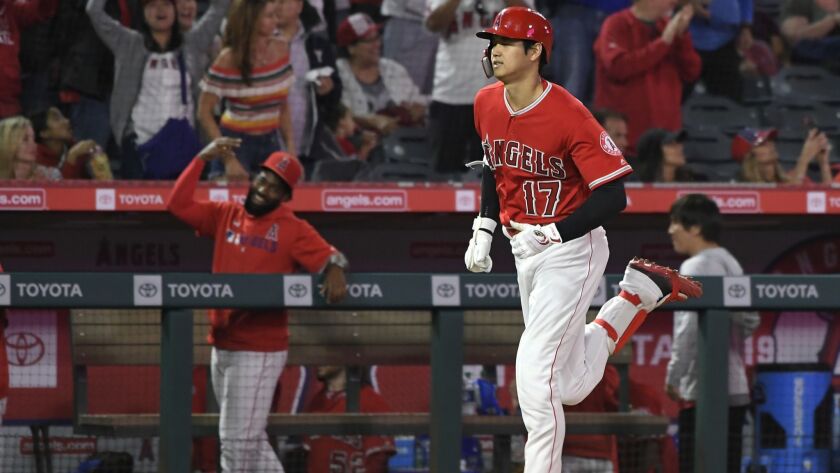 When the pyrotechnics and video board montages stopped casting a red glow across Angel Stadium in the fourth inning Saturday night, three Angels players hovered in one another's orbits after crushing home runs in consecutive at-bats.
One of them slung his arms over the dugout railing, another sat next to a hitting coach a few feet to his right, and the third stood up straight to quickly flex his arm muscles at Kole Calhoun, who was passing by in the Angels dugout.
The moment felt final, and in a way it was. The Angels led by four runs then, and the Seattle Mariners never got any closer. The Angels won 12-3 before an announced crowd of 40,569.
But the entertaining aspect about the man flashing his biceps was that it was Shohei Ohtani, the Angels' two-way player who became an MLB sensation after coming over from Japan last year. He has never been prone to outsized reactions. On this night, he couldn't help it.
Across the field from Ohtani sat a dejected Yusei Kikuchi, the latest marquee Japanese player to join the major leagues, turning his glove over on the bench as he sat in isolation.
The tussle between Ohtani and Kikuchi, who both played at Hanamaki Higashi High in the Iwate prefecture in Japan but were never teammates, had been anticipated by Japanese reporters for months. Ohtani was still on the injured list recovering from Tommy John surgery when Kikuchi first pitched in Anaheim in late April, so the buzz at Angel Stadium was subdued. Nearly a month and a half later, the Angels found themselves issuing about 80 credentials to Japanese media members, double the average.
Ohtani delivered all the highlights.
"I was looking forward to it," Ohtani said through interpreter Ippei Mizuhara.
The Angels had not hit back-to-back-to-back home runs since a game against the Mariners in Seattle on Sept. 3, 2016. Kikuchi allowed it to happen Saturday, serving up homers to Tommy La Stella, Mike Trout and Ohtani in succession on his first four pitches of the fourth inning. The sluggers, who have a combined 37 homers, clobbered those baseballs a combined distance of 1,243 feet.
Ohtani's solo shot traveled 396 feet, the shortest distance of the trio. But after Ohtani trotted around the bases, it was immediately clear the moment was bigger to him when he posed for Calhoun.
Sign up for our daily sports newsletter »
"The other day when Calhoun hit the home run, he was kind of doing [that] thing and saying, 'I have power,' so I wanted to show him that I had some pop, too," said Ohtani, who hit 22 homers on his way to being named last year's American League rookie of the year.
Those who know Ohtani best said they hadn't seen him react so effusively to home runs before.
"I would be, too, if I went to the same high school as him," Trout said. "He was pumped up. It was pretty cool."
La Stella, who said he was in the bathroom at the moment Ohtani struck Kikuchi's hanging curveball for his fourth homer in his last eight games, said, "I heard the place basically falling over when I came back.
"It was cool for all of us in the dugout honestly, knowing those two guys were going against each other and what it meant for them back home," he added.
The matchup almost occurred nine days ago in Seattle, but manager Brad Ausmus chose to give his designated hitter a day off. Reporters from their shared Japanese hometown returned to their editors empty-handed.
The showdown finally happened Saturday. Ausmus ran into Ohtani in the weight room before the game and sensed from their interaction that Ohtani, 24, was excited to face the 27-year-old Kikuchi.
"I kind of barbed about it a little bit with him, through Ippei," Ausmus said. "He's obviously very even keel but it seemed like — I don't want to call it extra motivation because he's a pretty motivated guy, but it seemed like there was something extra there."
Perhaps there was for Kikuchi, too. The left-hander threw Ohtani a first-pitch 94-mph fastball that almost clipped the batter in the chin. Kikuchi didn't let a pitch get that close to hitting Ohtani again. Ohtani exacted damage, though. A few pitches later, he beat out a ground ball for a two-out infield single, his first of three hits on the night. He scored on Kevan Smith's two-run single.
He grounded out in his second at-bat against Kikuchi, but didn't waste his third. The home run screamed into the night, eliciting a roar from the crowd.
"I hadn't heard that energy in a while," Trout said.
Three batters later, Kikuchi was sent to the bench. When his outing was officially over, he had given up seven runs (six earned), nine hits and three walks. He struggled when he faced the Angels on May 30, too, allowing six earned runs on 10 hits.
Left-hander Dillon Peters, the benefactor of the Angels' offensive outburst, fed off the energy. The Angels had gifted him a 3-0 lead by the time he took the mound from opener Noe Ramirez, who retired the four batters he faced, with one out in the second inning. He permitted seven hits and three runs and struck out four over 5 2/3 innings, an effort that saved the Angels bullpen from being overworked and earned him his first win in an Angels uniform.
"It was so cool sitting in the dugout waiting to go pitch and just watching balls leave the yard," said Peters, who was activated for this outing Saturday but is headed back to triple-A Salt Lake. "It's a great feeling when your offense can put runs like that and obviously just propel the team to move on to get the win."
---