Column: A phenom, yet still a rookie, Shohei Ohtani's third start is charmless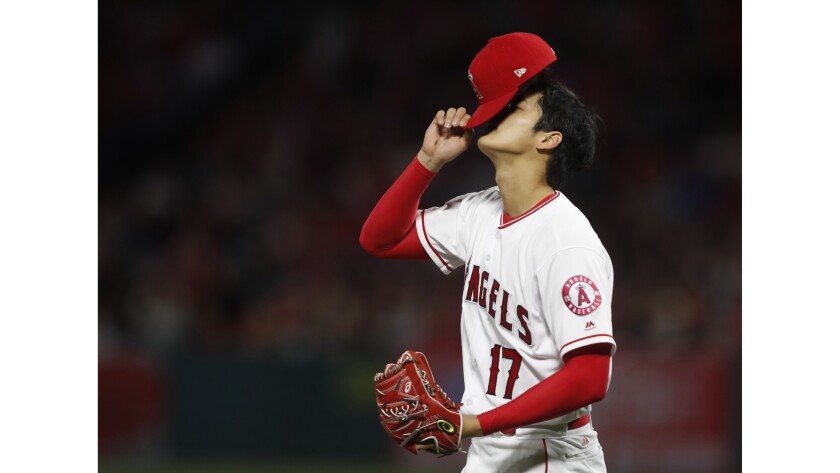 For the three giddy weeks, he was Babe Ruth.
In one sobering hour, he reminded everyone he is still merely a babe.
In the legend of Shohei Ohtani that has dominated this young baseball season, conveniently ignored was the part about him being 23, and the part about him being a rookie.
Both things were written across his pained face Tuesday when the truth couldn't lie and the honeymoon didn't last.
In a sold-out Angel Stadium, he came up empty. In the most anticipated appearance by an Angel here in years, he lasted two innings. By the time the fans had battled the traffic and filled up the seats, Ohtani was on his way out.
After winning games with both his bat and his arm as a two-way star during the best 16-game start in team history, Ohtani finally lost it, misplacing his air of wonder and forfeiting his aura of invincibility.
After two brilliant starts against the talent-depleted Oakland Athletics, he tried messing with the mighty Boston Red Sox, and wound up fooling nobody.
He lasted only a dozen Red Sox hitters, allowing a hit, a walk, or a run-scoring out to seven of them. He was lifted after allowing three runs and four hits in two innings because of what was officially called a blister on the middle finger of his pitching hand. But that was only part of the story.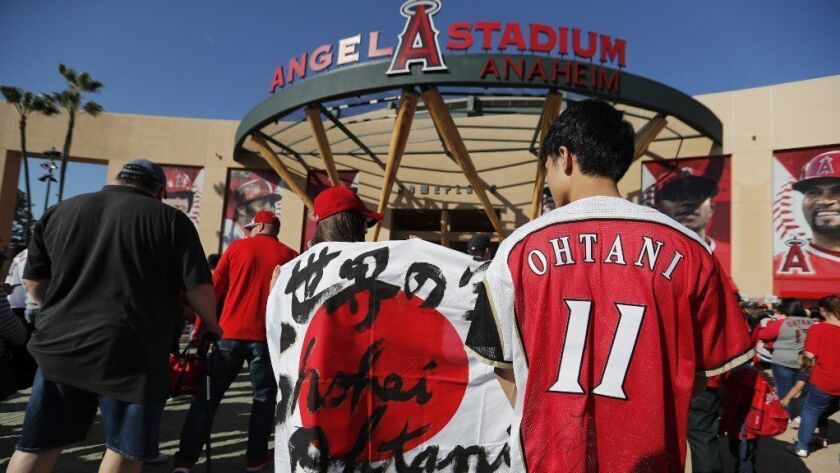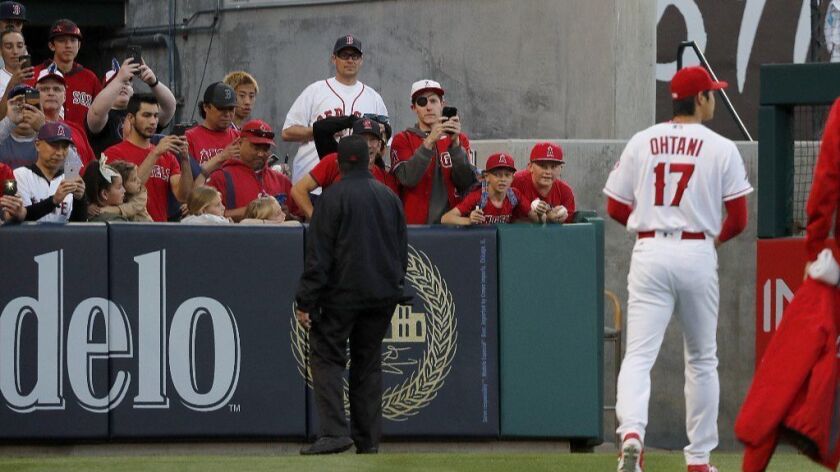 Manager Mike Scioscia said the blister began affecting Ohtani in the second inning. Ohtani said he developed it during his last start. Whatever happened, in an eventual 10-1 Red Sox victory, the kid was just blistered.
"Obviously, I'm not going to be at the top of my game for every start," Ohtani said through an interpreter. "For half of my starts, I won't be at the top of my game. I need to learn more and get better."
He was never comfortable. He was never sharp. He was never even warm, it seemed, as he constantly blew on his hands on a night with temperatures dipping into the low 60s.
RELATED: Shoemaker feeling confident about return to rotation
He stepped off the mound and it didn't work. He consulted with pitching coach Charles Nagy and it didn't work. He glared at the sky when it was obvious it wasn't working.
He threw balls in the dirt. He threw balls at the bills of helmets. He seemingly bounced as many pitches as he threw directly into Martin Maldonado's mitt. He threw 100-mph fastballs, but few for strikes, and even fewer that missed bats.
In the first inning, Ohtani gave up a full-count home run to leadoff-hitting Mookie Betts on a fastball down the middle. In the second inning, on four consecutive batters, he allowed baserunners on two walks and two chopped singles.
His first walk, to Christian Vasquez, came after a 1-and-2 pitch. His second walk, to Betts, came after an 0-and-2 count.
In his previous two starts, his split-fingered fastball led to 18 swinging strikeouts. This time, his splitter wasn't locating, the Red Sox weren't biting, and he struck out just one batter on a check swingby J.D. Martinez. In fact, there were only three swings and misses during his entire stint, as he threw just 34 strikes and 32 balls.
Ohtani said the blister affected everything, noting, "My splitter, I didn't have good command of that. My fastball, I couldn't feel it off my fingertips. My slider, I couldn't feel it."
It was hard to watch. It was weird to watch. It certainly wasn't the reason folks came from everywhere to watch, with 44,822 fans representing the largest crowd of the season and second-largest crowd here since the stadium renovation 20 years ago.
And, oh yeah, they sold out Angel Stadium on a Tuesday night for the first time in four years.
But that figures. So far, in ranking among the Angels leaders in both pitching and hitting, Ohtani has enchanted the entire baseball world as much as Mike Trout or bobbleheads.
It was a midweek night in the middle of April, yet in the beginning it felt like every night in the middle of October.
Fifteen minutes before first pitch, the cars were backed up on freeway, lined up to get into the Angel Stadium parking lot. Ten minutes before the first pitch, there were huge crowds around the stadium entrances. When Ohtani took the mound for the first pitch, the place lit up with a roar, Angels fans even drowning out the usually loud fans from Boston.
"It's a different buzz,'' former Angels star and current broadcaster Tim Salmon said. "There are not many guys that have the community-wide buzz that it feels like around here. When he throws, it's all about him."
That buzz led to the team's 13-3 record before Tuesday. It's like an extra weapon. Where some thought he might be a distraction, he has instead been an inspiration.
"When the fans see him here, there's more energy, more excitement. We feed off that," pitcher Matt Shoemaker said.
Yet on Tuesday, that boost lasted about as long as it took Betts to start the game by sending a 97-mph fastball over the fence.
But this bad outing doesn't mean that boost should go bust. The Angels are hopeful the blister won't cause him to miss a start. It should not cause him to miss an appearance as designated hitter.
Ohtani is still a pitching phenom with a 2-1 record, 3.60 ERA and 19 strikeouts and just four walks in 15 innings. He is still a hitting phenom with three homers, 11 RBIs and a .367 average.
The early results of this grand experiment are still crazy good. But Tuesday showed it's going to be a process, and it's going to take time. After eliciting all sorts of wild adjectives from admirers in the previous three weeks, Ohtani finally delivered a performance that called for a verb.
Chill.
Get more of Bill Plaschke's work and follow him on Twitter @BillPlaschke
---
Get the latest on L.A.'s teams in the daily Sports Report newsletter.
You may occasionally receive promotional content from the Los Angeles Times.