Tommy La Stella's numbers 'out of nowhere' spark All-Star ballot love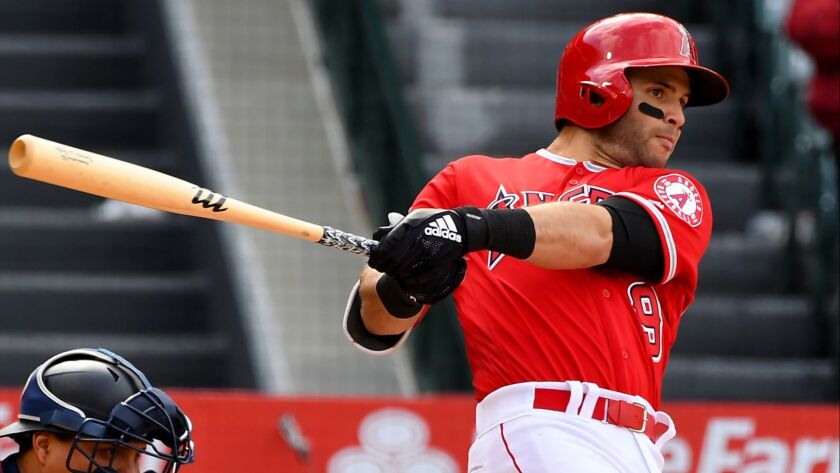 Hours had passed since Major League Baseball on Monday morning announced its initial leading vote-getters for next month's All-Star game, but Angels second baseman Tommy La Stella was still none the wiser.
He had detached enough from baseball news that it took him by surprise when an Angels communications staff member told him no other second baseman in the American League had received as many votes in the first ballot update. Nearly 500,000 ballots cast since fan voting opened May 28 included La Stella as the AL's second baseman; the Houston Astros' Jose Altuve, who is injured, received the second-most votes.
Maybe the information shouldn't have caught La Stella, 30, off-guard. He has spent most of the season leading the Angels in several offensive categories. His 15 home runs entering Monday ranked second to Mike Trout, who opened balloting with nearly 1 million votes, more than any other AL player. La Stella's career-best 39 RBIs were second on the team. His .315 batting average ranked first on the Angels and sixth in the AL.
The fans noticed.
"To be honest, I never really had a reason to pay attention to [voting]," La Stella said.
That is what has made La Stella's first season in an Angels uniform special. He came to Anaheim after playing four seasons with the Chicago Cubs in a limited fashion, and he has instantly thrived.
La Stella was a role player, summoned from the bench whenever Cubs manager Joe Maddon needed someone who could put the ball in play. He was so consistent that Maddon famously said La Stella could "wake up at 3 a.m. and hit anyone." He batted .278 with a .394 on-base percentage in 192 pinch-hit plate appearances from 2014 to 2018. He set a Cubs record with 24 pinch hits last year and tied for the major league lead with 11 pinch-hit RBIs.
But that was it. La Stella couldn't break into the lineup on a team stacked with so much infield talent that Javier Baez, the runner-up in last year's National League MVP award voting, barely played his natural shortstop position until the Cubs won the 2016 World Series. The sparse playing time made the All-Star game fade from La Stella's mind.
When the Angels acquired him from the Cubs in a November trade, La Stella appeared destined for a similar role. Injuries and prospect Taylor Ward's lagging development at third base changed the Angels' plans. La Stella is equally comfortable at second and third, and he played on a regular basis ever since. He's now spending most of his time at third in the wake of veteran Zack Cozart's latest shoulder injury.
"The numbers he's put up kind of came out of nowhere," manager Brad Ausmus said.
Angels hitting coaches helped La Stella alter his swing path during spring training. He said early in the season that the adjustments allowed him to relax his grip and generate power more naturally by launching baseballs a few degrees higher, but he wasn't trying to reinvent himself as a slugger. He figured playing on a near-daily basis allowed him to find a better groove at the plate than he had in the past, leading to a surge a power.
Freed from the pinch-hitting role he excelled at with Cubs, La Stella has been able to sustain that power all year.
"I think it was just something where I put my focus to be good at that role specifically, so it didn't lend itself to driving the baseball and what I had done most of my career," he said. "I had forgotten how to do that. But getting consistent playing time has allowed me to tinker with stuff, even thought process-wise."
Entering the first game of the Freeway Series at Angel Stadium on Monday night, La Stella ranked 21st in wins above replacement, according to Fangraphs' version of the statistic that calculates a player's worth to his team. His 2.3 fWAR was higher through the Angels' first 66 games than the total 2.2 fWAR produced last year by second baseman Ian Kinsler, who played 91 games for the Angels before completing his season with the Boston Red Sox. The last Angels second baseman to be worth more than 2.1 fWAR in a season was Howie Kendrick, who had a 4.6 fWAR in 2014.
Sign up for our daily sports newsletter »
Kendrick was the last Angels second baseman elected to an All-Star team, making it in 2011.
The first phase of fan voting ends June 21. The top three vote-getters at each position in both leagues will move on to the next phase. Fans will elect starters from the winnowed pool during a 28-hour period that begins at 9 a.m. Pacific time June 26. Pitchers and reserves for both squads will be determined through a combination of player ballots and selections made by the MLB commissioner's office.
"It would be pretty special" to be selected, La Stella said. "There was a time when obviously that was [out of reach]. I'm sure for most of the guys in this room, that's one of their goals at some point. It's been a while since I probably would've been thinking along those lines. To be in that position now where it's a possibility, it's pretty special."
Short hops
Days after stating he was healthy again, starter Matt Harvey was pulled off his rehabilitation assignment. The right-hander aggravated his upper back, a sprain that sent him to the injured list May 25. Ausmus said he wasn't sure whether Harvey felt the symptoms during his rehab start Saturday, when he allowed eight hits and eight runs and threw 83 pitches in 2 2/3 innings for triple-A Salt Lake. Harvey's fastball velocity dropped from 92 mph in the first inning of the outing to as low as 89 mph, according to readings on the stadium radar gun. … Shortstop Andrelton Simmons, sidelined with a severe left ankle sprain, began incorporating lateral movements in his fielding drills. He also took batting practice before Monday's game. … Outfielder Justin Upton, who began a rehab assignment Friday, might be reinstated from the 60-day injured list during the Angels' upcoming 11-game road swing, which begins Thursday in Florida against the Tampa Bay Rays. To get there, Upton, who is recovering from a left big toe sprain, must play seven innings in the field in back-to-back games and progress to nine innings in the field in consecutive games. "He feels good at the plate," Ausmus said. "He feels good in the outfield. [A staff member] said he looks good running. All signs are pointing in the positive direction." … The Angels are working out outfielder Cesar Puello at first base.
---
Get the latest on L.A.'s teams in the daily Sports Report newsletter.
You may occasionally receive promotional content from the Los Angeles Times.