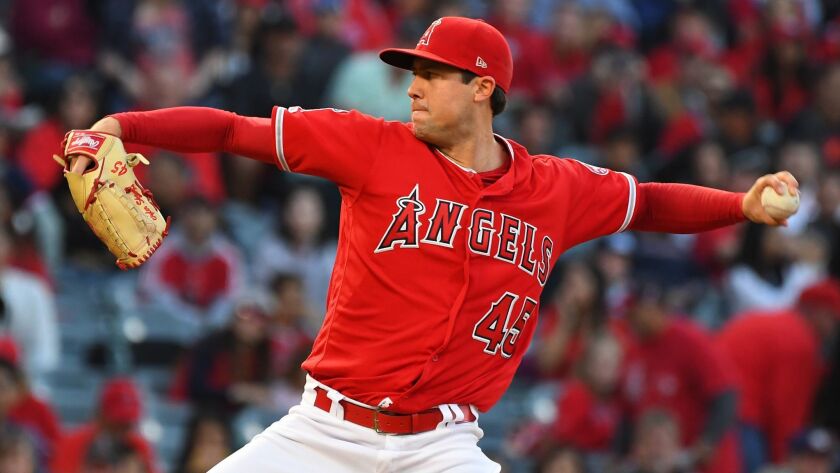 Angels pitcher Tyler Skaggs died Monday at the age of 27. Here's a look back at Skaggs' career in professional baseball, which began with the starter being drafted by the Angels in 2009 then being traded to the Arizona Diamondbacks in 2010. He was traded back to the Angels before the 2014 season.
June 9, 2009: Drafted by the Angels with the 40th pick in the first round out of Santa Monica High.
2009 season: Had a 1.80 ERA in 10 innings with the Arizona League Angels and rookie league Orem, Utah.
July 25, 2010: Traded by Angels, along with Patrick Corbin, Rafael Rodriguez and Joe Saunders, to Arizona for pitcher Dan Haren.
2010 season: Went 9-5 with a 3.29 ERA and 102 strikeouts in 23 games combined with Class-A Cedar Rapids and Class-A South Bend and was named to the Midwest League midseason All-Star team.
2011 season: Named the Diamondbacks' minor league pitcher of the year after going 9-6 with a 2.96 ERA and 198 strikeouts in 27 combined starts with Class-A Visalia and double-A Mobile. Started the MLB All-Star Futures game and was named to Baseball America's minor league All-Star team. Was listed by Baseball America as the second-best prospect in the Diamondbacks' system.
2012 season: Promoted to the majors and made his first start Aug. 22 for the Diamondbacks, giving up two runs in 6 2/3 innings and getting the win against Miami. Went 1-3 with a 5.83 ERA in six major league starts. Was one of five players to appear in the MLB All-Star Futures game in both 2011 and 2012, joining Nolan Arenado (Rockies), Manny Machado (Orioles), Wil Myers (Royals) and Jurickson Profar (Rangers).
2013 season: Began the season as the top prospect in the Diamondbacks organization by Baseball America. Made seven starts with Arizona and went 2-3 with a 5.12 ERA.
Dec. 10, 2013: Traded from the Diamondbacks back to the Angels as part of a three-team deal. The Chicago White Sox sent Hector Santiago to the Angels and Brandon Jacobs to Arizona. The Angels sent Mark Trumbo and A.J. Schugel to Arizona, which sent Skaggs to the Angels and Adam Eaton to the White Sox.
2014 season: Went 5-5 with a 4.30 ERA before his season ended in August because of Tommy John surgery. Was the first Angels left-hander to pick up at least five wins and 70 strikeouts in his age 22-or-younger season since Jim Abbott in 1990. Joined Bo Belinsky, Jarrod Washburn and Scott Schoeneweis as the only Angels left-handers whose team won each of the pitcher's first five starts.
2015 season: Missed the entire season after Tommy John surgery.
2016 season: Split time between the majors and minors. Finished 3-4 with a 4.17 ERA with the Angels.
2017 season: Spent more than three months on the disabled list with a right oblique muscle strain suffered April 28. He ended the season 2-6 with a 4.55 ERA.
2018 season: Established career highs in wins (eight), starts (24), innings pitched (125 1/3) and strikeouts (129). Went 3-1 with a 0.84 ERA in June, setting an Angels record for lowest ERA in the month (minimum 30 innings). He was on the disabled list three different times because of pulled muscles.
2019 season: Had a 7-7 record with a 4.29 ERA in 15 starts.
June 29, 2019: Made his final start, against Oakland, giving up two runs in 4 1/3 innings of a 4-0 loss.
---