Astros awake from slumber to rout Yankees 7-1 and force a deciding Game 7 in ALCS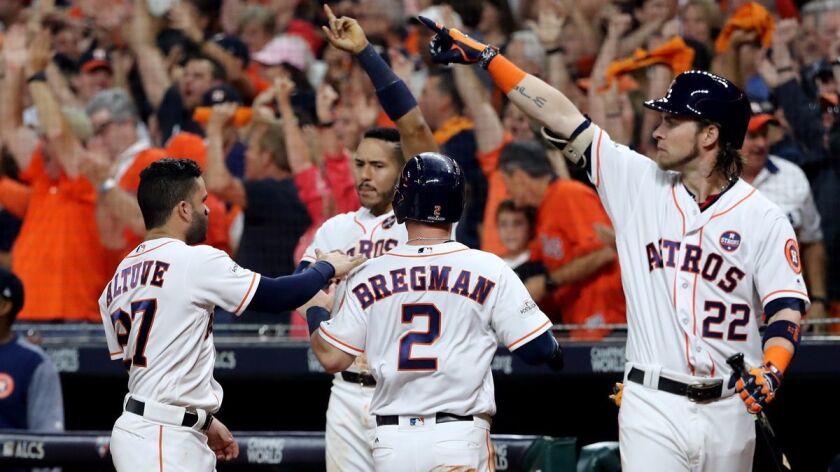 Reporting from Houston —
Several times Friday night at Minute Maid Park, Justin Verlander said, he forgot what inning he was pitching in, what batter would be coming up next, and other circumstances he's normally aware of but on this night found irrelevant.
It is his elimination-game standard, culled over his lengthy postseason career. Confronted with the chance to save his team's season, his mode turns relentlessly rigid. In each moment, he thinks only of his next pitch.
It works. Because of another gleaming performance from Verlander, because their hitters awoke from an inconvenient slumber before a sold-out home crowd, the Houston Astros are still alive. They staved off elimination, forced a seventh game in this taut American League Championship Series, and crushed the New York Yankees 7-1. Saturday night, these teams will exhaust their pitching staffs in a free-for-all to visit the refreshed Dodgers next week.
"It's all hands on deck," said Lance McCullers, one of the Astros starters available in relief. "I know we throw that term around a lot. But tomorrow it's literal."
Held to five runs and 11 hits over three defeats in the Bronx, Houston's hitters broke out with two big innings in their return home.
"This lineup is too good to be held down for this many games," said Dallas Keuchel, another of those Astros starters.
In Verlander's Game 2 masterwork, the Yankees managed one run. Though they managed nothing against him in this sixth game, they did mount more frequent challenges. That did not preclude occasional ugliness. To finish the fifth, Verlander flipped a curveball into the zone against Todd Frazier, who did not begin his swing until Houston catcher Brian McCann had already closed his glove. Caught unsuspecting, Frazier resembled a Little Leaguer taking his first hitting lesson.
"I looked silly," Frazier said.
To conclude the sixth, Gary Sanchez worked a 3-and-0 count, then swung at a slider. Perplexingly, he opted to check his swing and meekly tapped out to shortstop. A walk would have loaded the bases for Greg Bird, one of the Yankees' best-performing hitters this month.
In the seventh, Verlander issued a leadoff walk, drilled Starlin Castro in the elbow, and missed with three balls to Aaron Hicks. He then pumped two fastballs for called strikes, the latter a gift from plate umpire Jim Reynolds. Hicks fouled off the next four pitches before Verlander spun a tantalizing slider that landed just below the zone. Verlander later called it his best pitch of the game. Hicks struck out.
"If I don't execute that and he takes it, or, you know, worse," Verlander said, "then it's a totally different ballgame."
Up next, Frazier did not wait as long to swing. He fouled off a curve, then slammed a fastball to the center-field wall, where George Springer leaped to prevent a two-run double, earning an admiring cap tip from Verlander.
"I thought homer," Verlander said.
New York's Luis Severino matched Verlander at all early checkpoints. Come the fifth, Severino lost his command, walking Alex Bregman and Evan Gattis. With one out, McCann reached for a two-strike fastball on the outside edge and redirected it to right, where it bounced off the track into the stands for a ground-rule double.
That netted the game's first run. Severino walked Springer to load the bases for Josh Reddick, who popped out in his 20th at-bat without a hit in this series. Up stepped Jose Altuve, who confidently offered at Severino's first pitch and sent a single shooting to left field. That scored two more runs and elicited Severino's exit.
After Aaron Judge blasted a solo shot in the top of the eighth against Brad Peacock, Houston ambushed David Robertson, New York's normally sharp setup man. Altuve homered, Correa and Bregman doubled, and the Astros amassed four runs.
"They were all over me," Robertson said. "Every good pitch I made got hit."
Most pitchers decline within their starts, as their stamina wanes and hitters become more familiar with their pitches' movements. Severino is somewhat of an outlier, but the league hits much better when facing someone the third time than the first. Yankees manager Joe Girardi could have pulled him three batters earlier.
On Saturday, both his and Astros manager A.J. Hinch's decisions will be dissected. The Yankees will start CC Sabathia, the Astros Charlie Morton. Who will be the first to depart? Which man will demand the most from his top relievers? Will it matter?
With what they feel is momentum on their side, the Astros think not.
"Tomorrow," Altuve said, "is going to be a good night."
Follow Pedro Moura on Twitter @pedromoura
---
Get the latest on L.A.'s teams in the daily Sports Report newsletter.
You may occasionally receive promotional content from the Los Angeles Times.