Angels use all 20 draft picks on pitchers, 'a commodity you can't have enough of'
DENVER — Angels amateur scouting director Matt Swanson didn't wake up on Tuesday morning expecting to complete a draft of all pitchers for his club.
But at some point Tuesday afternoon, during the final 10 rounds of the 20-round event, Swanson decided, "you can never have enough pitching."
He added: "We got to a point today where it's like, 'Let it ride.'"
As a result, in what is believed to be an MLB Draft record, the Angels took pitchers with all 20 of their selections, something no club had done with each of their top-20 round picks ever before (this was the first year the draft was shortened to 20 rounds).
"Today was really targeting pitching," Swanson said. "It's obvious. We took 20 pitchers. That was a strong focus for us today."
Tuesday's group included nine college pitchers (six of them seniors, three of them juniors) and one high school arm. Of the entire 20-man class, Swanson said he expects about half to be starters and the other half to be relievers.
"This group of pitchers is going to be in an awesome situation to thrive really quick out the door and hopefully impact the upper levels in short order, and [the MLB roster] here in Anaheim sooner rather than later," Swanson said, adding: "It's a commodity you can't have enough of."
There were several factors that led the Angels down such a pitching-heavy path in this year's draft. Part of it was value, with Swanson noting the abundance of college pitchers who weren't selected in last year's shortened five-round draft. Part of it was based on organizational awareness, both of the club's relatively deep pool of position player prospects and lack of young promising pitching depth both on the MLB roster and at lower levels of the organization.
"You're never eliminating any subset of player," Swanson said. "But I do think it brings a little bit more balance to what we have."
Most Angels fans certainly won't mind, given the club's struggles on the mound in recent seasons. Swanson said his pitching-heavy philosophy matched that of first-year general manager Perry Minasian.
"Up top [in the early rounds], you never draft for need," Swanson said. "But you need to develop pitching, you need to get arms in the system, and hopefully translate those to outs and wins at the major league level."
Here's the full list of Angels draft picks:
Angels pick all college pitchers through first 10 rounds of draft
It wasn't until the seventh or eighth round on Monday that Angels scouting director Matt Swanson realized what was happening.
To that point in the MLB Draft, the Angels had only selected college pitchers. It wasn't the plan, Swanson said, and it wasn't strictly because of need either.
"Obviously, it's an area of focus for us," Swanson said. "But … you don't exclude certain subsets of players."
Yet, by the end of Monday, the Angels only had one subset of players on their pick board.
After taking hard-throwing right-hander Sam Bachman with the ninth overall pick on Sunday night, the club came back on Monday and drafted nine more college pitchers.
"I think when I look at the group it's really diverse in their ability, but the one underlying thing is the intangibles, the competitiveness, the makeup of this group," Swanson said. "Whether they're starters or relievers in the long term, this is a bunch of out-getters."
Swanson insisted the Angels weren't so much drafting for need as they were taking advantage of the conditions of this year's class, which he said included a lot of quality college pitchers who weren't picked in last year's shortened five-round draft.
But coincidence or not, the picks have addressed the Angels biggest weakness, giving them an influx of arms who are already in their early 20s and could progress quickly through the farm system.
"It's nice to look up and go through 10 rounds and take a step back and realize we have some impactful arms that can help in a hurry," Swanson said. "That is an added benefit."
Left-hander Ky Bush was the Angels first pick of Monday, a 6-foot-6 self-described "power pitcher" taken in the second round out of St. Mary's College.
With his over-the-top delivery, Bush said his best pitch is a firm mid-90s mph fastball.
"Kind of has a little wiggle and movement to it and kind of hard to see with the high release," he said. "It's my favorite pitch. I love that thing."
The Angels' next three picks were all right-handers from the SEC: Landon Marceaux out of LSU in the third round, Luke Murphy from Vanderbilt in the fourth round and Brett Kerry from South Carolina in the fifth round.
The other five pitchers: right-hander Jake Smith from Miami (FL), right-hander Ryan Costeiu from Arkansas, left-hander Nick Jones from Georgia Southern, right-hander Braden Olthoff from Tulane and right-hander Andrew Peters from South Carolina.
The Dodgers were the only other club to take all pitchers through the draft's first two days.
One benefit Swanson identified of drafting a lot of pitchers around the same age: They can compete with and push one another as their careers progress.
"They're in different stages," Swanson said. "Some can move quickly in the bullpen. Some will need time to log innings as starters. But I think there is going to be a competitiveness among the 10 of them moving forward, of, 'I'm going to get to the major leagues first, I'm gonna go have the longest career.' That can lift the others up, and lift up all the other arms in the organization."
The sooner that happens for an Angels team that has struggled to produce homegrown pitching in the past half-decade, the better. They may not have been intentionally drafting for need, but they certainly addressed their biggest one.
"It's something I believe in doing," Swanson said. "Attacking the pitching, bringing in volume."
Angels select pitcher Sam Bachman ninth overall, plan to develop him as starter
DENVER — Making their highest overall draft selection in 24 years, the Angels picked right-handed pitcher Sam Bachman out of Miami (Ohio) University ninth overall in Sunday's first round.
"I didn't think I was going to tear up, but instead I cried," Bachman said in a press release. "It hit me really hard, and I am just grateful and ready to get to work."
The hard-throwing 21-year-old became the second-straight collegiate pitcher the Angels have taken with a first round pick, following Reid Detmers' 10th overall selection last year.
And like Detmers, Bachman profiles as a prospect who could potentially have a short track to the big leagues, with a fastball that reaches 100 mph, a slider that can induce whiffs or weakly hit ground balls, and a steadily improving changeup that could be key to his long-term development.
"It's a dynamic pitch package that plays off itself," Angels scouting director Matt Swanson said. "The weapons are really impressive. What's really impressive is the ground ball rate for him too. It's not completely just a pure power pitcher. He also has a lot of finesse and grace to how he goes about it on the mound."
When the Angels went on the clock Sunday, highly touted Vanderbilt pitcher Kumar Rocker was still available, staying on the board far later than most mock drafts projected.
The Angels, however, stuck with Bachman, who some pundits said profiled more as a reliever but the Angels believe can be an effective starter long-term.
"When I was able to go and see him live, what really stood out to me was the craft that he had developed, just the fine touches and the nuances that sometimes are lacking from a traditional power pitcher," Swanson said. "He's a really nice advanced blend of power and finesse. A very special young man."
"His character and his routine and his prep for pitching and taking care of his body and doing everything he needs to do to be ready, I mean it was really unmatched in this class," Swanson added. "Just spend 10 minutes with him on a Zoom and it's just very obvious … how much Sam genuinely cares about his craft."
Angels part ways with broadcaster Daron Sutton for rest of season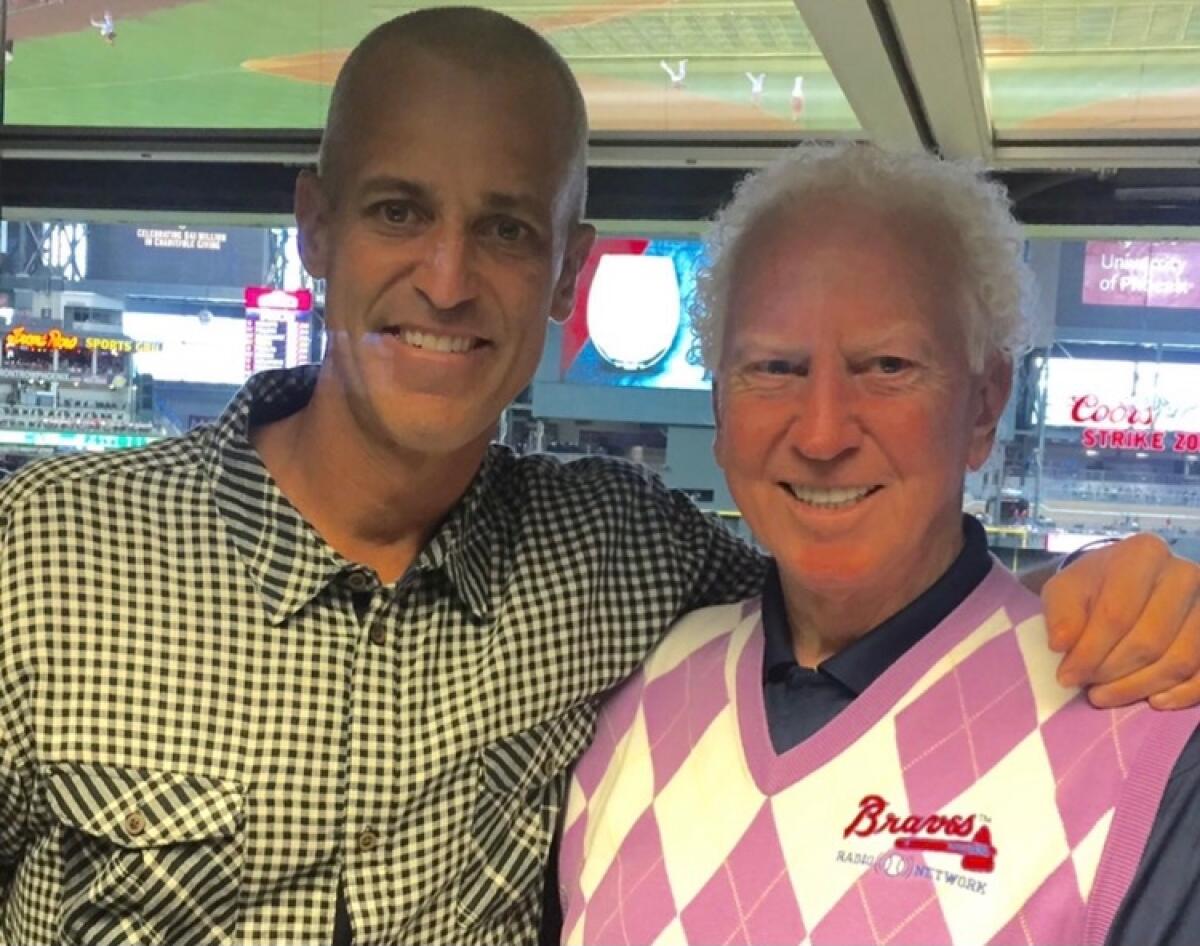 Daron Sutton will not be part of the Angels' broadcast team for the remainder of the season.
Sutton said he was informed on Saturday that he would no longer be on Bally Sports West telecasts moving forward. He said the decision came as a surprise to him.
"This was definitely more of a trial or test than I understood when we started," Sutton said via text Sunday. "I enjoyed every second of this opportunity and will cherish the memories always. I am proud of every moment of television the Bally Sports team produced, that I was a part of, without incident, and to the joy and satisfaction of so many."
David Fletcher's big day at the plate carries Angels past Mariners
The first half of the Angels' season has been marked by Shohei Ohtani's ascendance, injuries to their three next best hitters and an otherwise unremarkable team that has hovered around .500.
Heading into the All-Star break, it was David Fletcher who provided something to hang their playoff hopes on.
Fletcher, who through mid-June had a .581 OPS, extended his hitting streak to 24 games, hitting just his second home run of the season and adding three more RBIs later in the game, enough to lead the Angels to a 7-1 win over the Mariners (48-43) and prevent a sweep heading into the All-Star break.
"I don't wish anybody ill," Angels manager Joe Maddon said, "but I'd love to see him sneak into that [All-Star] game on Tuesday somehow."
For the first eight innings, the only runs the Angels scored came courtesy of Fletcher.
He took a third-inning changeup from Hector Santiago into the right-field seats to tie the score at one. Two innings later, Fletcher singled home Taylor Ward and Juan Lagares after Mariners reliever Yohan Ramirez started the inning by hitting Ward and walking Lagares.
Fletcher later added his third hit and fourth RBI of the afternoon, singling home Lagares to make it 4-1. Fletcher added an infield single in the ninth and scored on an RBI single from Jared Walsh.
Not since the legendary Babe Ruth has a player dominated on the mound and at the plate like the Angels' Shohei Ohtani.
The Angels went on to add three runs in the ninth, tagging Mariners reliever Rafael Montero.
"[Fletcher] could not be more confident right now," Maddon said. "You can't feel better about him being on your team right now. He deserves everything he gets."
In his second start after moving from the bullpen, Jose Suarez gave the Angels more than enough.
He got into first-inning trouble with an unearned run after putting the first two batters on base, Suarez quickly settled down.
He struggled to finish off hitters, working deep into counts, but threw the next four innings without allowing the Mariners a runner in scoring position. If that's what Suarez can give the Angels every five days — five innings of three-hit ball without an earned run — they will happily take it.
"I felt really good," Suarez said through an interpreter. "I didn't get off to the best start but I started executing some of my pitches and I was able to bounce back from that."
After struggling earlier in the series, the bullpen, too, avoided giving Maddon a headache. Steve Cishek worked a scoreless sixth, Tony Watson an uneventful five outs. Raisel Iglesias closed in the ninth.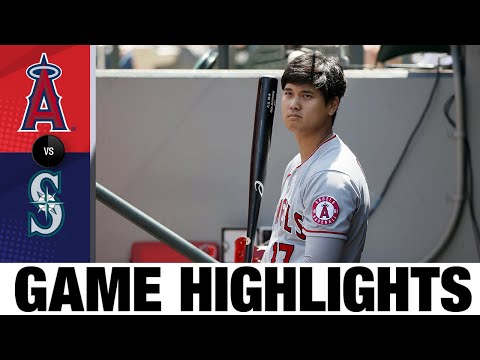 Highlights from the Angels' 7-1 win over the Seattle Mariners on Sunday.
"It was one of those formulaic days from a pitching staff perspective where everybody did what they needed to," Maddon said. "And then you can just fill in the blanks from there."
Though the Angels (45-44) are nine games back in the AL West and 51/2 back of the Athletics for the wild card, a win going into the All-Star break will at least allow them to conjure the argument of momentum.
Mike Trout is eligible to come off the injured list on July 17 — the Angels' second game after the break — and was spotted running in the T-Mobile Park outfield before Sunday's game.
Anthony Rendon and Justin Upton, too, will at least be a few days closer to coming off the IL.
Fletcher is hitting well over .400 during his hitting streak. Walsh is an All-Star. Ohtani is putting together one of the best seasons in baseball history.
There is at least a version of events where that's enough to compete in the second half.
Whether the pitching holds up will determine just as much as the timeline of the lineup getting healthy. The Angels ranked 27th in ERA, ahead of only the Royals, Diamondbacks and Orioles, headed into Sunday. The formula provided on Sunday, when Suarez pitched well and the bullpen held up, was a start.
Angels squander Patrick Sandoval's strong start in 2-0 loss to Mariners
On Saturday afternoon, Angels general manager Perry Minasian spoke optimistically about his club, leaving open the possibility of the front office making aggressive moves at the trade deadline to bolster a potential playoff push.
On Saturday night, however, the team fell flat in a 2-0 defeat to the Seattle Mariners, generating just three hits at the plate while squandering a couple important opportunities in the field in a loss that dropped them back to .500 at 44-44 going into their final game before the All-Star break.
Here are three observations from Saturday.
Missed double plays
Both Mariners runs on Saturday came after the Angels failed to turn potential inning-ending double plays.
In the fourth, after Mitch Haniger drew a leadoff walk and Luis Torrens hit a line drive single just inside the right-field line, starting pitcher Patrick Sandoval got Jake Fraley to hit a tailor-made grounder at second baseman David Fletcher.
After Fletcher flipped a throw to shortstop José Iglesias at second, however, Iglesias appeared to struggle getting the right grip on the ball while making the turn, resulting in a throw that arrived a split-second too late at first base.
The Angels have played well enough lately to pull above .500 but still trail several teams in the standings. More improvement could prompt a buying mode.
In the sixth inning, Fletcher and Iglesias were at the center of another costly miscue.
This time, with a runner at first and one out, Fletcher fielded a ground ball from Ty France up the middle and tried to turn a double-play himself. But as he went for the bag at second, he collided with Iglesias, who had also run over expecting to receive a throw.
Fletcher was initially shaken up but stayed in the game. In the next at-bat, however, Torrens lined an RBI triple into right, scoring France all the way from first.
"Those are the kinds of plays we gotta get done, particularly in a game like this with the situation we're in," Maddon said. "To win these kinds of games, obviously you have to make those plays. It's so tightly contested.
"I often talk about the laser-thin line between winning and losing. Both teams pitched great tonight. Their bullpen was good. Our guys hung in there. But we have to complete those other plays, and that was the difference in the game."
Sandoval shows growth
Outside of the two runs resulting from the missed double plays behind him, Sandoval was nearly flawless in a career-long seven-inning start, giving up just the two runs, six hits and two walks while striking out six.
Even though Sandoval had thrown 95 pitches through six innings, Maddon let the left-hander return for the seventh, when he stranded a two-out single after retiring J.P. Crawford in a seven-pitch at-bat.
"I thought it was really important to stretch him mentally, even more so than physically, in that situation," Maddon said. "That's a real growth moment for him."
Sandoval agreed, noting how he had failed to complete his last inning of work in each of his previous four starts.
"It was good to finally go out there and not let the first two runners get on and get pulled again," he said. "It was good to settle in, get some quick outs, then find my way through that last at-bat."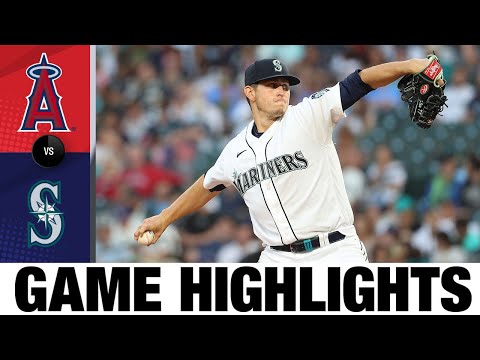 Highlights from the Angels' 2-0 loss to the Seattle Mariners on Saturday.
In nine starts this season, the left-hander has a 3.33 ERA (his overall ERA on the season is 3.70).
And unlike his last start against the Mariners, when he induced 32 whiffs (an MLB high this season), Sandoval had to be more methodical on Saturday, mixing all five of his offerings in a 114-pitch outing.
"I felt good," Sandoval said. "Felt like I mixed my stuff a lot today and had them off balance."
Fletcher extends hitting streak, but rest of lineup silenced
With a leadoff single in the fourth inning that he sliced the other way into right field, Fletcher extended his hitting streak to 23 games, moving into a tie for the third-longest in Angels history and extending his mark for longest by any MLB player this year.
However, Fletcher was stranded in the inning, as were Phil Gosselin and Juan Lagares after hitting singles of their own in the fifth.
Those were the Angels' only hits of the night, as they managed just one baserunner (a seventh-inning walk by Max Stassi) the rest of the night against the Mariners pitching staff, which got seven shutout innings from starter Chris Flexen and scoreless innings of relief from Drew Steckenrider and Paul Sewald.
Shohei Ohtani to have interpreter Ippei Mizuhara serve as catcher in Home Run Derby
When Angels two-way star Shohei Ohtani steps up to the plate for Monday's Home Run Derby, he'll have his interpreter, Ippei Mizuhara, behind him.
Literally.
Mizuhara will serve as Ohtani's catcher for the derby at Coors Field in Denver, when Ohtani will become the first Japanese player in MLB history to participate in the event.
"I think as long as he does what he normally does, he would be at a godo place," Mizuhara told reporters on Saturday. "There's not much I can do ... I'm just sitting there, so I just get the best view."
After it was decided that Angels bullpen catcher Jason Brown would pitch to Ohtani in the Home Run Derby, Mizuhara said it was Ohtani's idea to have him catch.
Prior to Saturday's game, Mizuhara practiced catching using an extra set of gear from Max Stassi.
"We didn't think it was necessary to take a catcher, since there isn't much for a catcher to do," Mizuhara said, later adding: "I'm excited about everything. He's probably going to hit and pitch. That's going to be the first. I just want to be able to enjoy everything, including the Home Run Derby."
Since signing with the Angels ahead of the 2018 season, Mizuhara has been by Ohtani's side almost every day each season, serving as his interpreter in team meetings, around the clubhouse, during interactions with the English-speaking press and more.
Born in Konai, Japan, Mizuhara grew up in Southern California, going to Diamond Bar High school before graduating from UC-Riverside in 2007.
Mizuhara was previously an interpreter for Hideki Okajima during Yankees spring training in 2012, then served as an interpreter for English-speaking players on the Nippon-Ham Fighters of Japan's Nippon Professional Baseball league beginning in 2013.
Ohtani was also playing for Nippon-Ham at that time. And when he came to the Angels five years later, the club brought Mizuhara aboard too.
Ohtani has steadily learned more English since arriving in the big leagues, according to several of his teammates, but still relies on Mizuhara's help during everything from mound visits to postgame television interviews.
This season, Mizuhara has been praised by manager Joe Maddon and general manager Perry Minasian for helping the communication process between the club and Ohtani during the two-way star's historic start to the season.
"Ippei plays a big part in that," Maddon said earlier this season. "I don't want to discount that. It's a nice team that they've created there."
GM Perry Minasian: 'Very realistic' Angels could be positioned to add at deadline
Angels general manager Perry Minasian said it's "very realistic" the Angels could be in position to try and add players ahead of the July 30 trade deadline, leaving open the possibility the club could even go after rental targets on expiring one-year deals.
"Over the last three weeks, we've played extremely well," Minasian said. "We're definitely looking for ways to improve the team."
Read more from Minasian's meeting with reporters on Saturday>>>
Perry Minasian gives injury updates on Trout, Rendon, Upton
Angels general manager Perry Minasian said injured third baseman Anthony Rendon is hoped to be back next week when the Angels begin the second half of their season.
Minasian also said the team should know more about the status Mike Trout and Justin Upton after the All-Star break.
Rendon has been out since suffering a left hamstring strain last weekend. Making his third stint on the injured list this season, Saturday will be the 25th game he's missed.
"Hopefully out of the break, he'll be ready to go," Minasian said, adding that Rendon will continue to rehab his injury from his home in Texas during the All-Star break.
"He'll do what he needs to do to get ready to play. He's frustrated to a certain extent with the injuries he's had. I think we all know how good of a player he is when he's out there, what he can do not only offensively but defensively. I'm looking forward to seeing a healthy Anthony Rendon and what he can do for this team in the second half."
Minasian didn't have a clearer timeline yet for Trout, who has been out since May 17 with a right calf strain, but said the three-time MVP has continued to progress in his recovery. The club is still evaluating when and where he might make his rehab assignment.
Upton could also require a rehab assignment after missing the past 14 games with a right low back strain.
"We'll see how it goes out of the break," Minasian said. "He's got to do some baseball activity. He's been out long enough that we'll have a discussion with him, see if he feels like he needs at-bats on a rehab assignment. No set date."
Shohei Ohtani hits mammoth home run, but Angels blow early lead in 7-3 loss to Mariners
José Iglesias grabbed ahold of Ippei Mizuhara. Justin Upton pulled off his hat and clutched his head. Kurt Suzuki did the same, mouth gaping from the bench at the back of the dugout behind them.
Combined, the three Angels veterans have 40 seasons and more than 4,250 games of big-league experience.
But on Friday night in Seattle, they reacted in simultaneous dumbfounded amazement, Shohei Ohtani making them witnesses again to something they've never before seen.
Ohtani hit his MLB-leading 33rd home run of the season in the third inning against the Seattle Mariners, an estimated 463-foot blast that became just the sixth in the 22-year history of T-Mobile Park to reach the very top tier of the upper deck.
The only problem: It was the last run the Angels would score Friday night.
Despite leading by three at the time, the Angels went on to allow seven consecutive runs and lose 7-3 to the Mariners. It was another home run, an eighth-inning grand slam by Mitch Haniger off José Quintana, that made the difference.
"We had a nice thing going on," Angels manager Joe Maddon said. "We gave them the momentum back."
Indeed, earlier in the night, the Angels had gotten off to a strong start.
David Fletcher hit a leadoff home run in the first — it was his first home run of the season and extended his hitting streak to 22 games, longest in the big leagues this season — and Juan Lagares laced an RBI double in the second.
Then Ohtani clobbered his latest home run of historic significance. It matched him with Sammy Sosa in 1998 for the most home runs by a foreign-born player before the All-Star break. It gave him 16 home runs in his last 21 games, an American League record for any 21-game stretch, and put him on pace for 61 this season, which would match Roger Maris for most in AL history.
The at-bat against Mariners left-hander Marco Gonzales began with two strikes, too. But then Ohtani laid off a low curveball before attacking a sinker left up in the zone.
Based on the contact alone, Ohtani seemed to know it was gone, watching the ball with a slow walk out of the batter's box and dropping his bat as it continued to sail far beyond the right-field wall.
"That ball was far," Maddon said. "They said 463 [feet]. It can't be 463. I know they claim that stuff is accurate, but then I've seen others that are rated farther than that. No way."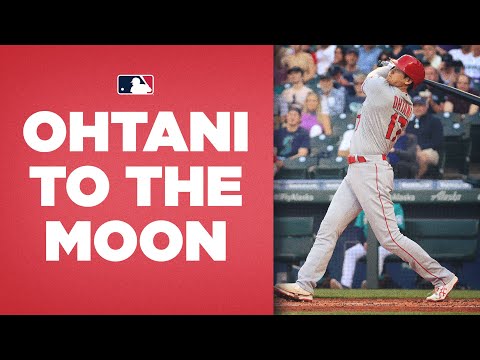 Angels star Shohei Ohtani hits his 33rd home run of the season Friday against the Mariners.
Echoed Angels starter Alex Cobb: "That ball was well over 500 feet. I don't think there's ever been a ball put up there. … I was on the bench, jaw-dropped. Put a towel over my mouth and was like, 'I can't believe where that ball ended up.'"
The rest of the Angels dugout was equally stunned, their disbelief caught on camera as they craned their necks toward the sky.
Iglesias and Mizuhara, Ohtani's interpreter, began laughing once they saw the ball land among a sea of empty seats several dozen feet above the field. With a yell, Upton turned to hitting coach Jeremy Reed when the ball finally came down, his eyes wide and one arm raised in the air.
Even for Ohtani's prodigious power, it was that impressive. That out-of-the-ordinary. That hard to believe.
"I know we talk about Shohei all the time, but we don't talk about him enough," Cobb said of his two-way teammate, who is also batting .279, slugging an MLB-best .704 and has a 3.49 ERA as a pitcher. "It's just incredible."
Ohtani is the best hitter in baseball. Ohtani is one of the best pitchers in baseball. And the Angels star is both things at once.
The euphoria, however, wouldn't last. Instead, the familiar set in as the Mariners (47-42) clawed their way back the rest of the night.
A Luis Rengifo error at third base with two outs in the fourth led to two unearned Mariners runs, the only blemishes on Cobb's stat line in a 5⅓-inning start.
"With us, we have such a small margin for error, we just can't do those things," Maddon said. "That permitted the comeback on their part."
The Angels (44-43) escaped a jam in the sixth, with Tony Watson coming out of the bullpen to strand two runners. But they had no such luck in the seventh or the eighth.
In the seventh, Watson issued a walk to J.P. Crawford before giving way to Steve Cishek, who promptly gave up a pair of singles to Haniger and Ty France to allow Crawford to score and tie the game.
In the eighth, Mike Mayers got in trouble, yielding a walk to Shed Long Jr. and a hard-hit infield single to Jake Bauers. From there, Maddon turned to Quintana, who was only making his fifth relief appearance since being removed from the starting rotation, and his first with the Angels not trailing in the game.
Watch every home run Angels two-way star Shohei Ohtani has hit so far this season.
"Once I saw the hit by Bauers, I thought it was the right thing to do," Maddon said.
Quintana, however, walked Crawford in a lefty-lefty matchup to load the bases. He then fell behind Haniger, a righty, before throwing a sinker at the bottom of the zone that Haniger drove over the wall in left-center.
Asked of Quintana's struggles this year — he now has a 7.32 ERA — Maddon said that while the left-hander's fastball has been good, his secondary pitches perhaps haven't been sharp enough to get hitters to chase.
"It's all over the map," Maddon said. "I'd love to pin it down."
That could be an apt description for the Angels at large, too, who once again failed to capitalize on a stunning moment from their superstar slugger in a somber loss to open their final series before the All-Star break.
Mike Trout continues recovery as Angels evaluate options for his rehab assignment
Angels manager Joe Maddon said on Friday that star center fielder Mike Trout's recovery from a calf strain has continued going well and that the team will evaluate the options for his rehab assignment after the All-Star break.
"[His workouts] are progressing and he's going to continue to do that during the break," Maddon said, adding that "we'll be able to fill in those blanks" on the plan for Trout's rehab assignment as soon as the break is over.
The team said Trout has no hitting or throwing restriction and that he is going through a running progression right now. The team will also be able to send Trout to any of its affiliates for the rehab assignment, with MLB health and safety protocols no longer mandating that it must be in Triple-A.
In other injury news Friday: Outfielder Justin Upton (right low back strain) is with the Angels in Seattle, but is still not expected to play this weekend according to Maddon. Upton has been out since June 22.
The Angels also made a roster move, recalling infielder Kean Wong and optioning reliever Aaron Slegers.
Here is their lineup for Friday's series opener: