Reid Detmers suffers up-and-down MLB debut as Angels lose to A's
Some major-league debuts are storybook. Some are like nightmares. And others fall somewhere in the middle, where flashes of brilliance and glimpses of promise are overshadowed by novice mistakes and an overall lack of production.
Reid Detmers' introduction to the majors on Sunday was the latter, as the Angels' top pitching prospect gave up six runs over 4 1/3 innings in the team's 8-3 loss against the Oakland Athletics.
The day started well, went terribly in the middle and ended with a fizzle, the 22-year-old left-hander riding the full range of emotions during his first outing on a big-league mound.
"It was definitely a dream come true," Detmers said. "Obviously it didn't go as planned, but that's baseball. You just got to bounce back."
The first inning was Detmers' best. After issuing a one-out walk to Starling Marte — who later stole second, with the help of a bad throw by first baseman Matt Thaiss on a potential pickoff, and third — the 2020 first-round pick fanned Matt Olson and Jed Lowrie in the next two at-bats.
Olson went down swinging on a curveball, Detmers' signature breaking pitch. Lowrie whiffed on a slider, another secondary offering Detmers has steadily improved during his first full professional season this summer.
Detmers returned to the dugout confidently, receiving an early ovation from a crowd of 21,597 after putting his raw talent immediately on display at Angel Stadium.
"It started out really well," Angels manager Joe Maddon said.
From then on, though, Detmers' afternoon increasingly became more of a grind.
Detmers was able to strand a leadoff single by Ramón Laureano in the second, retiring the next three in a row, and took to the mound in the third with a 3-0 lead thanks to a two-run homer by Max Stassi and RBI double from Jack Mayfield.
But after the early strikeouts, he struggled to consistently land his breaking pitches for strikes, allowing A's hitter to work long at-bats with a lot of foul balls and eventually sit on his heater — which Detmers said also didn't have its normal life.
"I think I was just trying to overthrow," Detmers said. "My off-speed [pitches] have been there all year. It just wasn't there today."
In the third inning, it finally cost him.
Elvis Andrus poked a leadoff single the other way. Then with one out, Marte sliced another base hit past the shift to put two aboard.
On the very next pitch, Olson crushed a 407-foot home run to center field that tied the game — attacking a sinker from Detmers that caught too much of the plate.
The damage wasn't done, either.
With two outs, Detmers walked Laureano on five pitches. Then, in a 1-0 count to Yan Gomes, he tossed a four-seamer down the middle that Gomes drove 421 feet to left to make it 5-3.
Detmers was charged with another run after leaving the game with one out in the fifth — reliever Austin Warren could only strand one of the two inherited runners Detmers left behind — and finished with a disappointing six-run, six-hit, two-walk, two-strikeout stat line.
Maddon's postgame evaluation, however, was upbeat, encouraged by Detmers' strong start to the day, the way he bounced back during a 1-2-3 fourth inning, and a belief that the left-hander will have his normal stuff his next time through the rotation.
"I just told him afterwards, 'Hang with it man. It's going to get better,'" Maddon said, adding: "You have to have all of your weapons at your disposal in order to really work through [the A's lineup]. He didn't, but that's OK. He's going to in the future. And I'm certain he learned a lot today."
Detmers was also confident about what might come next. After all, he was drafted only 13 months ago. He entered Sunday with just 13 career minor-league starts. The fact he was even called up for his debut by now was an accomplishment. And the Angels plan to give him plenty of opportunities to get comfortable at this level too.
"You're not going to have all your pitches every day," he said. "Next time, land a couple more off-speeds, get them off the fastball and I'll be fine."
Angels vs. A's recap: Angels lose 8-3
Live updates as Reid Detmers makes his MLB debut against the Oakland A's.
Top 1st — Detmers collects first two strikeouts, no score: Reid Detmers began his MLB career with a scoreless first inning, stranding a runner at third with a couple strikeouts.
With one out, Starling Marte drew a walk, then stole second after Matt Thaiss' throw to the bag hit Marte in the back.
Detmers made sure it didn't matter though, fanning Matt Olson with a curveball (Marte stole third on the play) and Jed Lowrie with a slider for his first two big-league punchouts.
End 2nd — Angels take early 3-0 lead: Max Stassi hammered a two-run home run in the first inning to put the Angels on the board, then Jack Mayfield added to the lead in the second with a double into the left-field corner that scored the speedy Brandon Marsh all the way from first.
Meanwhile, Reid Detmers threw another scoreless inning in the second, though his pitch count is already up to 46.
Top 3rd — A's homer twice, take 5-3 lead: Reid Detmers' strong start was erased in a hurry during the third inning. After Elvis Andrus and Starling Marte both slapped singles the other way through the infield, Matt Olson unloaded on a fastball over the inner-half of the plate for a three-run homer to center.
Later, Detmers walked Ramón Laureano with two outs, then threw another center-cut fastball that Yan Gomes crushed for a two-run blast to left.
Top 5th — Detmers exits, A's lead 6-3: Reid Detmers' MLB debut came to an end with one out in the fifth inning, after he hit a batter and gave up a single.
Austin Warren came in from the bullpen and allowed one of the inherited runners to score, leaving Detmers with a final line of 4 1/3 innings, 6 runs, 6 hits, 2 walks (plus the hit batter) and 2 strikeouts.
Top 6th — A's extend lead to 8-3: Newly-acquired reliever Sam Selman (who was traded from San Francisco in a deadline day deal for Tony Watson) had a bumpy Angels debut, entering the game with one on and two outs in the sixth before giving up two hits, hitting batter and intentionally walking another. It led to two more runs for the A's.
Final — A's win 8-3: Despite three scoreless innings of relief from Junior Guerra, the Angels couldn't chip away at their deficit, losing the A's 8-3 to drop three of four in their weekend series. The Angels are now 52-53 and seven games behind the A's in the standings for the second AL wild card spot.
Reid Detmers to make MLB debut in series finale against A's
Top Angels pitching prospect Reid Detmers will make his MLB debut on Sunday against the Oakland A's. The 22-year-old left-hander was the Angels first-round draft pick last year and had a 3.15 ERA in 13 minor-league starts this season.
Read more on Detmers' rise to the big-leagues here>>>
To make room for Detmers on the roster, reliever James Hoyt was optioned back to Class AAA Salt Lake.
The Angels made another roster move Sunday, recalling infielder Kean Wong and optioning Luis Rengifo back to triple A as well. Maddon said the team wanted Rengifo to get more consistent playing time in the minor-leagues, rather than ride the big-league bench.
Angels still deciding on Shohei Ohtani next's pitching start; injury updates on Trout, Rendon, Walsh
The Angels have not announced their rotation for this week's series against the Texas Rangers yet, but manager Joe Maddon said two-way start Shohei Ohtani won't make his next pitching start until at least either the end of that four-game set or the start of next weekend's Freeway Series against the Dodgers.
The team is still monitoring Ohtani's pitching thumb, which was struck by a foul ball in the dugout on Wednesday.
Maddon said Ohtani, who was originally scheduled to pitch Sunday, hasn't had any setbacks but that his thumb is still sore. Ohtani has been able to continuing serving as the Angels designated hitter, but hasn't pitched in a game since July 26.
"I don't him to go out there if there's anything that's going to bother him," Maddon said. "No setbacks. It's just when is he completely healed and able to throw before he goes out there."
Maddon said the Angels have considered the potential benefit of waiting until the Dodgers series — which will be in Dodger Stadium — to have Ohtani pitch, when pitchers are required to hit anyway.
In other injury news Sunday: Maddon didn't have any new timelines for the return of Mike Trout (right calf strain), Anthony Rendon (left hamstring strain) or Jared Walsh (right intercostal strain) — other than saying Walsh will likely be the first of that trio to return to action.
Rendon still hasn't resumed baseball activities and Trout hasn't ramped up activities further since having a doctor's visit to check on his calf earlier this week.
Jaime Barria, Raisel Iglesias lead Angels to shutout win over A's
Joe Maddon has repeated the phrase time and again this year, especially when the Angels have faced the Oakland Athletics.
"You have to pitch better than good pitching."
On Saturday, his team finally followed through.
As usual, the Angels struggled to do much at the plate against the A's staff, scoring one run on five hits.
But this time, their pitchers were better, with Jaime Barria, Steve Cishek, José Quijada and Raisel Iglesias combining to throw the team's second shutout of the season in a 1-0 win.
The Angels (52-52) will enter Sunday looking to salvage a four-game series split against the A's (59-47), who are six games ahead of them in possession of the second American League wild-card spot.
"You have to win 1-0, 2-1, 3-2 if you're going to get where you want to go," Maddon said. "That was beautiful."
Barria was the catalyst Saturday, pitching 6 2/3 scoreless innings in his second start of the season.
Reid Detmers was the Angels' top draft choice in 2020. After losing a season to the pandemic, his composure, command and routine have him in the majors.
Using a mix of fastballs and sliders, the right-hander gave up only four hits, one walk and hit one batter while striking out three.
"I was really good with my fastball," Barria said through an interpreter. "Attacking the zone, being aggressive."
The biggest difference Maddon has seen in Barria, who was coming off a seven-inning, two-run start last week: His confidence.
"I think he's throwing with more conviction. I believe he believes he's gonna throw it to a good spot and that the contact is not going to be that great," Maddon said. "He's not just out there trying to overpower everybody. He's not that guy. … He has a knack, an IQ, a feel for what he's doing, and that's what's going to propel him."
Barria strengthened his case to stay in the Angels' rotation too.
"We're discussing that," Maddon said. "It's not written down yet, but it's a possibility."
Shohei Ohtani gave the Angels the lead in the third inning with an RBI double — the first run the Angels had scored in the series. Then, the bullpen managed to hold on late.
Cishek inherited a bases-loaded jam in the seventh but got Mark Canha to fly out and end the inning.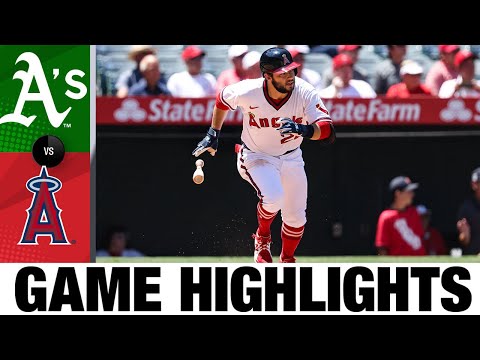 Highlights from the Angels' 1-0 victory over the visiting Oakland Athletics on Saturday afternoon.
Quijada served as the set-up man in the eighth and erased a leadoff single by inducing a double-play grounder.
Quijada was lifted after giving up a two-out double to Ramón Laureano that barely clipped the top of the wall in left, making way for Iglesias to come on and convert a four-out save — his 22nd of the season, and seventh requiring more than one inning.
"He's the most cooperative closer I've ever worked with in-season," Maddon said. "When you get to the playoffs, all these guys are on board and they'll take the extra outs. But he's good during the season."
For most of last week, it seemed like Iglesias might get traded before Friday's deadline.
The 31-year-old right-hander, who will be a free agent this winter, said he had trouble sleeping on Thursday night because of the uncertainty.
"That's all you can think about," he said through an interpreter. "It was definitely on my mind."
The Angels kept their biggest trade pieces — such as closer Raisel Iglesias and starter Alex Cobb — as they sit six games out of a playoff spot.
But, once he learned he'd be staying with the club, "I was really happy," he said. "I've enjoyed my time here. The atmosphere, the clubhouse and everyone feels like a family."
And though he said there haven't been any negotiations for a potential contract extension yet, the fact he's still around is one of the biggest reasons the Angels' slim playoff hopes remain alive.
Saturday provided the latest reminder, with Iglesias pointing to the sky after completing one of the Angels' best pitching performances of the season and sealing a sorely needed win against their division rival.
Angels' pitching plans next week remain TBD as Shohei Ohtani nurses sore thumb
The Angels have not finalized their pitching plans for next week's series against the Texas Rangers, manager Joe Maddon said Saturday.
Part of the holdup is the team is waiting to see how Shohei Ohtani's sore thumb progresses in the coming days. Ohtani's thumb was hit by a foul ball in the dugout earlier this week, but the two-way star has still been able to serve as designated hitter.
"It's better," Maddon said of Ohtani's thumb. "But that's part of [the decision process]. How better is it? When do we want to slot him him? ... That's part of the issue."
Maddon didn't believe Ohtani's between-starts routine had been noticeably impacted by the thumb issue, though he wasn't sure how much throwing Ohtani has been able to do this week.
Ohtani was originally supposed to start Sunday's series finale against the Oakland Athletics before he was pushed back. Reid Detmers will pitch that day instead in his major league debut.
Alex Cobb hoping for short IL stint, open to contract extension with Angels
Alex Cobb is hopeful he will have a short stint on the injured list with right wrist inflammation.
After leaving his most recent start July 23 early because of a blister, Cobb said he "felt a little pull in his wrist" while playing catch this week. While his blister improved, his wrist pain got worse, forcing him to miss a start Thursday and go on the IL on Friday, retroactive to July 27.
"I got it looked at it," Cobb said. "[The doctors] can't find anything. So I have high hopes that it's something very short and not going to be a linger issue. But it caught me off guard."
One thing Cobb is certain of: He would love to stay with the Angels long term if possible.
Cobb, a 33-year-old who will be a free agent this offseason, was relieved to not be traded by the team before Friday's deadline and said Saturday he would be open to signing an extension with the club this offseason, though no formal contract negotiations have begun.
"I truly believe that this is a team on the verge of winning a championship," said Cobb, who was acquired by the Angels this past winter. "I would be honored to be part of it going forward. There's obviously a lot of other stuff that goes into it, but yes, I'm very happy being here."
Following Saturday's game, Angels manager Joe Maddon said he and general manager Perry Minasian have already discussed the value of potentially having Cobb remain on the roster beyond this season too.
"He's one of those guys who has been a nurturer for this whole group," Maddon said, adding: "Beyond being good, what he does when he's not actually pitching benefits the whole group. I've been a fan of his for a very long time, and there's no reason to believe it's going to go backward."
Oakland shuts out Angels again, winning 2-0
If the Angels had come into Friday night with something better than a 3-10 record against the Oakland Athletics this season, they might have been in a different position.
Instead of being six games out of the wild card and choosing to deal away Andrew Heaney and Tony Watson at the trade deadline, they might have only been a few games out and chosen instead to be more aggressive in trying to add pieces. Instead of Friday night feeling like just another in a season that likely will end without a playoff berth, it could have come with the buzz of contention.
But ultimately, Friday served as a reminder of why the Angels are in this position to begin with, as they fell to the A's yet again, 2-0. The loss drops the Angels (51-52) a game below .500 and seven games back in the wild-card race.
"They just beat us because we can't score any runs," Angels manager Joe Maddon said. "... We've been staying with them toe to toe. We just gotta somehow break through offensively."
The story was the same as it's been for much of the year against Oakland (59-46). Despite good pitching, the Angels couldn't put together enough offense. One night after Frankie Montas gave up three hits over seven innings, Chris Bassitt threw seven shutout innings of his own, giving up six hits with seven strikeouts.
"For me among all the pitchers in the American League, he's one of the better right-handers," Maddon said of Bassitt. "I think he's under the radar a little bit. He shouldn't be — he's that good."
The Angels kept their biggest trade pieces — such as closer Raisel Iglesias and starter Alex Cobb — as they sit six games out of a playoff spot.
Even scoring chances were few and far between for the Angels. They put two men on with two outs in the fourth, but Brandon Marsh struck out to end the threat. The next inning, Adam Eaton doubled with one out and Bassitt proceeded to retire Jack Mayfield and David Fletcher with ease.
Patrick Sandoval pitched well, giving up just one run over 5-2/3 innings and working out of two bases-loaded jams. But one mistake in the latter of those situations — a walk to Mark Canha that brought home a run — was enough to give Oakland a 1-0 lead.
"It's about competing at the end, just trying to get as deep as possible with the high pitch count," Sandoval said. "I did an all right job of just competing and not letting any big innings happen."
But at least this year, against this team, a 1-0 deficit is formidable for the Angels.
Case in point: the sixth inning.
That was when the Angels got three hits yet managed to extend their scoreless innings streak against Oakland to 40. Shohei Ohtani, Justin Upton and Max Stassi all singled. But Ohtani got caught stealing and Phil Gosselin grounded out before Upton came up. Then, with two on and two out, Marsh struck out to end the inning.
To put it generously, it's hard to win a game with innings like that.
Or with innings like the seventh, when Bassitt — with his pitch count north of 90 — retired the side on just four pitches.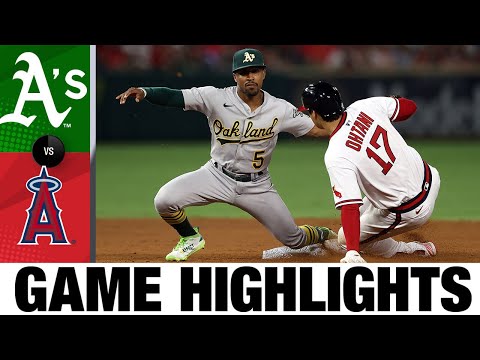 Highlights from the Angels' 2-0 loss to the Oakland Athletics on Friday night in Anaheim.
From there, the A's added a second run in the top of the eighth when Matt Chapman took Mike Mayers deep for a home run on a fastball. But one run would have been enough.
Sergio Romo retired the top of the Angels' order with ease in the eighth. The Angels brought the tying run to the plate with nobody out against Lou Trivino in the ninth after Upton doubled but again couldn't deliver. Stassi, Marsh and José Iglesias failed to capitalize — Iglesias ending the game on a weak groundout to first.
"We gotta score runs against Oakland," Maddon said. But there's no magic fix he can employ.
The trial of ex-Angels employee Eric Kay in connection with the overdose death of pitcher Tyler Skaggs has been delayed until Oct. 4.
The Angels, who came into this series five games back of Oakland in the wild-card race with the deadline approaching, enter the weekend seven games back and having dealt players instead of adding them.
What were modest playoff chances — around 10% according to most models earlier this week — have dwindled to just 3.6%. And that was before Friday's loss.
A week that could have sparked a run instead has more or less extinguished the hope of one.
The worst part of it for the Angels?
They have two more games against Oakland this weekend.
Angels vs. Athletics updates: Oakland wins 2-0
Top 2nd: Patrick Sandoval works in and out of trouble, giving up a base hit and walking two to load the bases. He got out of the jam by striking out Tony Kemp on four straight sinkers, then exited the mound with a fist pump.
Top 4th: Sandoval couldn't get out of a bases-loaded jam for a second time. He gave up three singles this time, then walked Mark Canha to bring in the game's first run. A fielder's choice ended the inning, and the Angels are probably lucky to only be down by one run.
End 6: A real missed opportunity for the Angels there. Shohei Ohtani led off the inning with a single and then got caught stealing. Justin Upton and Max Stassi both got two-out base hits to set up a scoring chance, but Brandon Marsh struck out to end the inning. It's now one run in the last 40 innings against Oakland for the Angels.
Top 8: The A's added another run on a Matt Chapman homer. Given how much the Angels have struggled to score against Oakland, a 2-0 deficit looks pretty big right now. That said, Chris Bassitt is out of the game and the top of the order is coming up. So now would be a good time for the Angels to get something going.
Final, 2-0 Oakland: For the second straight night, the Angels couldn't put a run on the board against Oakland. Chris Bassitt threw seven shutout innings. The Angels brought the tying run to the plate with nobody out in the ninth, but couldn't capitalize.
Patrick Sandoval pitched well for the Angels, giving up just one run in 5.2 innings of work, but that outing was wasted.
The Angels fall below .500, to 51-52, and are now seven games back of the A's for the second wild card spot.
Angels shuffle rotation plans for weekend, scratching Shohei Ohtani
The Angels' Shohei Ohtani has been scratched from his scheduled start Sunday after being hit in the right thumb Wednesday with a foul ball while sitting in the dugout.
The ball was a high chopper that happened to come to where Ohtani was sitting. According to manager Joe Maddon, he protected his head with his hands and the ball hit him in the thumb.
The Angels say Ohtani is day to day with a sore thumb, though the injury is not serious. His next pitching start is to be determined, and he is still able to bat in the lineup as a designated hitter.
"It's sore," Maddon said. "There's nothing wrong with it. It's just sore."
As a result, and because of roster moves corresponding with the trade deadline, Jamie Barria is now scheduled to pitch Saturday with Reid Detmers making his major league debut Sunday.
Detmers, the team's first-round pick in 2020, pitched six innings and gave up three hits in his first start at triple-A Salt Lake City last week. Before that, he had a 3.50 ERA over 54 innings in double A.
"I like the kid a lot," Maddon said. "We all do."
The Angels' decision to trade Andrew Heaney earlier Friday also had to do with giving Detmers a chance, general manager Perry Minasian said.
"Obviously, the box scores have been pretty good," Minasian said. "As good as the box scores are, the work ethic in between starts, the preparation for each start, what he puts into it, those reports have been even better."

Angels trade Andrew Heaney to Yankees, Tony Watson to Giants
As deals began to fly in the final hours before Friday afternoon's trade deadline, it seemed like the Angels had a perfect opportunity to become all-out sellers.
To ship their most attractive trade pieces for future assets.
To retreat from their precarious position in the playoff race and regroup for an offseason that should be full of financial flexibility.
But, after entering Friday six games back in the American League wild-card standings, the club instead refused to give up on this campaign — or, at least, didn't receive enticing-enough offers to convince them otherwise.
The Angels traded starter Andrew Heaney to the New York Yankees and reliever Tony Watson to the San Francisco Giants, getting a collection of pitching prospects back in return, but held onto more important players such as closer Raisel Iglesias and starter Alex Cobb.
The Angels dropped the first game of four against the Oakland Athletics on Thursday and now sit at 51-51 heading into the trade deadline.
They didn't make any notable additions to their big league roster — despite general manager Perry Minasian's assertion that they were "very aggressive" in pursuing such deals — but didn't tear up a core that, when healthy, they hope can still mount a late-season run.
As has been the case all year, the Angels remain in baseball's gray area: Not quite a buyer, not quite a total seller; far from a bonafide contender, but also not all the way out of contention either.
"We were not focused on tearing down this team by any stretch," Minasian said. "We're .500, we're six games out of a wild card. We've been extremely competitive under tough circumstances with the injuries we've had. I give Joe [Maddon] and the staff a lot of credit for keeping us in this thing. It was more just about again opportunities that presented itself."
It's the kind of scenario that many players and coaches in the Angels clubhouse had been hoping for, especially after the team had stayed within striking distance in the standings despite injuries to Mike Trout, Anthony Rendon and others over the first four months of the season.
But as the last week progressed, it wasn't clear what direction the front office was headed.
Outside of a report late Thursday night that they had made a short-lived run at Max Scherzer before he was traded to the Dodgers, the Angels hadn't been publicly linked with many players on the trade block throughout the week.
With the trade deadline on Friday, The Times provides real-time updates and analysis on all the transactions in Major League Baseball.
And as Friday's deadline approached, it seemed increasingly likely that Iglesias and others on the pitching staff would be dealt, especially after other pitchers around the sport, including Chicago Cubs closer Craig Kimbrel and Minnesota Twins starter José Berríos, were traded for high premiums in the final hours before the 1 p.m. cutoff.
Even Maddon said he was expecting the Angels to lose Iglesias, whose 21 saves and 3.23 ERA had made him a backbone of an otherwise faulty bullpen.
But as the deadline came and went, Iglesias' name never came up. Nor did Cobb's (who was placed on the injured list after the deadline Friday with wrist inflammation). Nor did most of the Angels' other soon-to-be-free-agents, such as José Iglesias or Steve Cishek.
It comes with risks, putting the Angels in danger of losing those players this winter if they can't sign them to contract extensions. (Minasian declined to comment on any potential negotiations).
But, Minasian said he didn't want to force a late deal either.
"I think this group has earned the opportunity to continue to compete," Minasian said, adding: "To me, we did not go into this trade deadline with the mindset of, 'Let's do a total rebuild' or anything like that."
Minasian claimed the Angels had the contrary mindset, revealing they had conversations with other clubs about acquiring big league help on the mound and at the plate.
"We were able to talk about higher-salary players," Minasian said.
But, they never found the right match.
"I think it just depends on different circumstances," Minasian said. "Some guys have no trade clauses, some guys don't. Sometimes you don't line up with value and what you want to give and what they're asking for. It's hard to come up with specifics, but things have to line up."
The moves the Angels did make leave holes to fill.
While Heaney, who will be a free agent in the offseason, had been up-and-down all year with a 5.27 ERA in 18 starts, he had strung together strong outings in his two most recent games and was a popular presence in the clubhouse as the second-longest tenured member of the team.
"You hate losing Andrew," Maddon said. "But we picked up some really big-time arms there."
Janson Junk and Elvis Peguero comprised the return from the Yankees, who also received cash considerations from the Angels to help cover some of Heaney's salary. The two right-handed prospects were in double-A and were having good seasons — Junk, 25, as a starter who was ranked the 27th-best prospect in the Yankees system by MLB Pipeline, and Peguero, 24, as a reliever who was promoted earlier this month from high-A.
Another repercussion of Heaney's departure will come on Sunday, when the Angels' top pitching prospect Reid Detmers will start the series finale against the Oakland A's in his big league debut.
"In Heaney's case," Minasian said, "we felt like acquiring what we were able to acquire and opening a spot for Reid Detmers ... was really important."
By trading Watson, the Angels received three pitchers from the Giants: Sam Selman, a 30-year-old left-handed reliever who has a 4.06 ERA in 41 career games and will join the Angels' MLB roster; Jose Marte, a 25-year-old right-hander who was in double-A; and Ivan Armstrong, a 21-year-old righty in low-A.
Yet, the Angels also lost one of their few dependable relievers of late, as Watson had a 2.25 ERA over his last 12 appearances and a 4.64 mark on the season overall.
The trial of ex-Angels employee Eric Kay in connection with the overdose death of pitcher Tyler Skaggs has been delayed until Oct. 4.
Maddon described the team's deadline activity as a threading of the needle. The front office sent the clubhouse a positive message by not gutting the roster. But, they didn't come up with any impact additions either, meaning the Angels will have to maximize production from the players they have left to make any serious late-season push.
"We have to be almost perfect every night," Maddon said. "We don't have a large margin for error."
Still, their margin didn't completely disappear on Friday either. The team might remain flawed and imperfect, but still has a slim shot to turn things around. They might not have attacked the market as buyers, but they didn't signal surrender either.
"With the injuries we had it would have been easy to wave the white flag to a certain extent, for guys to mail it in and go through the motions," Minasian said. "Our group is not built like that. We have a group of guys that come in, prepare, work and want to play and give everything they have on the field … Every single person that's in this clubhouse does that. To me it makes a big difference over the course of the year."
Angels fall back to .500 with 4-0 loss to Oakland
The Angels want to take that next step forward. They want to string together wins, start vaulting teams in the American League wild card standings and prove they are something better than what their record says they are.
But, without any more games to play until Friday's trade deadline, their record says they are .500 — 51-51 after they opened a pivotal four-game set against the Athletics with a 4-0 loss.
The A's got on the board early, plating three first-inning runs after Dylan Bundy loaded the bases to start the game. A Jed Lowrie groundout scored the first run. Ramon Laureano — who came into the game with a 1.117 OPS against the Angels this year — doubled home two more. Bundy, helped when catcher Max Stassi picked off Laureano at second, settled down after that, but the damage was done.
"The first inning was tough obviously, he didn't have his total command," Angels manager Joe Maddon said, "but I thought he got better."
Bundy left the game after 4 1/3 innings and 72 pitches, well past what Maddon said would likely be a 50 or 60-pitch cap. José Quintana relieved Bundy with two runners on in the fifth and worked out of trouble, striking out Matt Olson and Lowrie to keep the deficit at three.
With the trade deadline on Friday, The Times provides real-time updates and analysis on all the transactions in Major League Baseball.
"We only had a limited amount of pitches to work with, not having thrown that many in the past month, so I was happy with how deep I got into the game," Bundy said. "Putting the team down three runs right outta the gate is pretty tough."
Against Frankie Montas, though, the Angels' bats couldn't do enough. Or, for that matter, much of anything.
"That guy's got ace's kind of stuff," Maddon said. "It's that good."
In the third and fourth innings, faced with scoring opportunities after putting two men on, the Angels couldn't come up with a way to score. Phil Gosselin flew out to end the threat in the third, Adam Eaton struck out to end the fourth.
An inning later, Shohei Ohtani walked with two outs and stole second, again putting Gosselin in a position to drive in a run. Gosselin roped a ground ball to third that looked like it had every chance to start a rally, but Matt Chapman — a two-time Gold Glove winner —put an end to those hopes.
Montas finished with seven scoreless innings, giving up just three hits and striking out 10 — including five of the last six batters he faced.
Oakland added another run in the seventh thanks to an error. With runners on first and third, Quintana threw away a pickoff attempt, allowing Elvis Andrus to score. Quintana was lifted for Austin Warren after loading the bases and, in his major league debut, Warren induced a groundout from Laureano to get out of the jam.
That stopped the game from turning into a blowout. It didn't get the Angels the win. They're now 3-10 against the A's this season.
Patrick Sandoval, 24, lost a no-hit bid in the ninth inning but led the Angels to a 2-1 victory at Minnesota and continued his upward trajectory.
Maddon spoke before the game about the urgency felt by the Angels heading into what figures to be one of the season's biggest series thus far — four games against the divisional rival who happen to hold the second wild card spot. With the trade deadline Friday, what happened Thursday could even affect whether the Angels buy or sell.
Despite there being two months to go in the season, Maddon said that the Angels "need to be in playoff mode."
Mike Trout, Jared Walsh and Anthony Rendon will be back eventually, and Maddon joked that those were the three best trade deadline acquisitions the Angels will make. But the team still needs to put itself in a position to capitalize on their returns.
All that happened Thursday, though, was a step back into the morass of mediocrity.