Angels star Mike Trout will undergo season-ending foot surgery this week
An Angels staff member combed through Mike Trout's locker Sunday, packing everything from sweatshirts, red and gray shoes, and entire outfits of gym clothing into a navy blue duffle bag for the team's upcoming road trip.
Trout's game jersey, however, was left untouched, hanging lonesomely on the side of the stall. The All-Star center fielder won't be needing it anymore this year.
The Angels announced thatTrout will undergo season-ending right foot surgery this week to address Morton's neuroma, a condition that causes pain in the ball of the foot.
"I've been dealing with it for like the last month, and it progressively got worse," said Trout, who last played Sept. 7. "That's what I said when they made the decision to just get it out. I was just tired of having to deal with it, having to come in and worry about my foot."
Trout was hoping to return to the lineup Sunday. But when he still felt pain during on-field activities before the Angels' 6-4 win over the Tampa Bay Rays, the decision was made to end his season.
Angels slugger and pitcher Shohei Ohtani will undergo surgery Friday on his left kneecap. He's expected to be sidelined eight to 12 weeks.
"I always knew surgery was a probability," manager Brad Ausmus said. "It was just whether it would come sooner or later."
Trout, 28, finishes the year hitting .291 and leads the American League in on-base-plus-slugging percentage (1.083), home runs (a career-high 45) and wins above replacement (8.6, according to Fangraphs). He is still a front-runner for his third career American League MVP award but won't have the chance to improve his statistics over the final two weeks.
"I felt like I was having my best season," Trout said. "I was trying so hard to get back out there, but my foot wasn't letting me."
Trout said if the Angels were in the playoff race, he probably would have played through the pain. His manager wasn't so sure.
"I think when he woke up this morning and came out here and tested it, he realized it's not a pain he can deal with," Ausmus said. "He performed at a very high level, and I think he understands that, at this point, forcing himself on the field with a neuroma in his foot wouldn't be productive."
Though the cause of Trout's Morton's neuroma — described on the Mayo Clinic's website as a painful condition that affects the ball of the foot, most commonly between the third and fourth toes — is unknown, his recovery period isn't expected to last more than four weeks or significantly impact his offseason routine.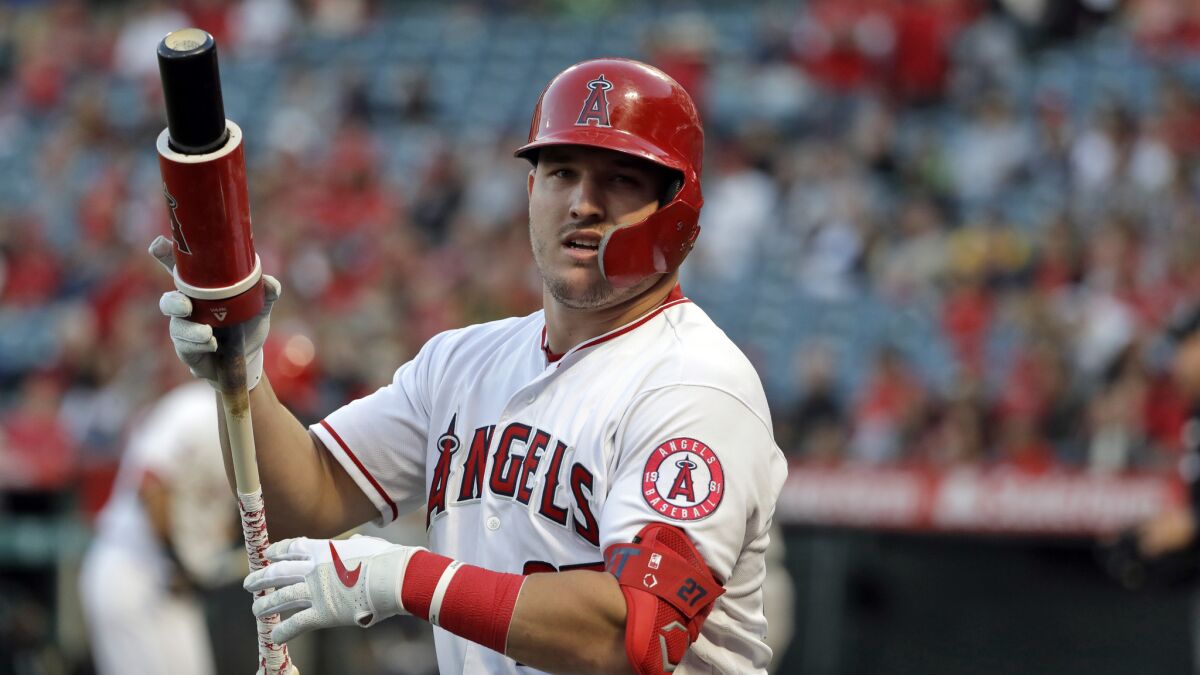 Trout had battled several flare-ups since August. This time, however, none of the Angels' treatments, including cryoablation and cortisone injections, relieved the pain.
"It's not just the playing," Ausmus said. "Walking around in shower shoes in the clubhouse was hurting. … Nothing was helping it. We've hit a wall."
Trout joins Shohei Ohtani, who underwent season-ending left knee surgery Friday, and Justin Upton, who has been shut down with a right knee injury, as the latest Angel to have his season cut short.
It remains unclear whether All-Star infielder Tommy La Stella will play again this year, as he continues to recover from a right tibia fracture suffered July 2. Catcher Max Stassi is also in "a holding pattern," Ausmus said, as he nurses a sore oblique.
On the field, the Angels snapped a six-game skid Sunday thanks to four runs batted in from Albert Pujols, who hit his 23rd home run of the year; four strong innings from Patrick Sandoval, who allowed just one run and struck out four in another promising start; and a four-out save from Hansel Robles, who entered the game in the eighth after set-up man Ty Buttrey gave up a three-run homer that cut the Angels' lead to two.
"These guys have a job to do," Ausmus said. "With injuries to Trout, Upton, even Stassi, there's opportunity for other players. They can take advantage of the opportunities or let it go by the wayside."
Trout is planning to accompany the team to New York this week before having the procedure performed. He couldn't help but sound frustrated talking about the injury.
"Some days, once it would flare up, it was tough to walk," Trout said. "It sucks. ... It'll be great when it gets out."
---
Get the latest on L.A.'s teams in the daily Sports Report newsletter.
You may occasionally receive promotional content from the Los Angeles Times.