Angels bullpen tarnishes fine start from Andrew Heaney in loss to Astros
HOUSTON —
Twice on Friday night, the Angels asked their bullpen to protect a two-run lead.
Twice, their relievers failed, first squandering a gem from starting pitcher Andrew Heaney, then surrendering three runs in the bottom of the 10th in a 5-4 walk-off loss to the Houston Astros at Minute Maid Park.
Aaron Slegers was the first culprit, giving up a tying two-run home run to Yuli Gurriel in the bottom of the seventh — the first at-bat after Heaney exited the game with a 2-0 Angels lead.
Closer Raisel Iglesias then suffered the loss in extra innings, blowing his second save opportunity in four tries this season in a three-run 10th that ended on a walk-off single by Astros pinch-hitter Robel García — who started the spring with the Angels before being claimed off waivers by the Astros in February.
Mike Trout was scratched from the Angels' lineup against the Houston Astros on Friday after taking a pitch off his left elbow during Thursday's loss.
"Everything was set up perfectly again, and we just didn't finish it up," Angels manager Joe Maddon said after his team dropped to 9-9 and lost a third-consecutive game for the first time this season.
Here are three observations from Friday
Questionable calls
There were two close calls that went against the Angels on Friday.
The first came in the opening inning, when a potential early run for the Angels was negated by a contested interference call on Jared Walsh. Walsh had hit a swinging bunt in front of the mound. After Astros starter Zack Greinke fielded it, his throw to first hit Walsh in the back, allowing David Fletcher to score from third.
However, the home plate umpire ruled that Walsh wasn't in the designated lane to the right of the foul line, wiping away the run.
"He was definitely not egregiously running inside the line," said Maddon, who went on the field to argue the non-reviewable call. "It looked like he was right on the line from where I was at. Furthermore, it was a good play by Greinke. Just try to hit the runner in the back. You almost always get the call."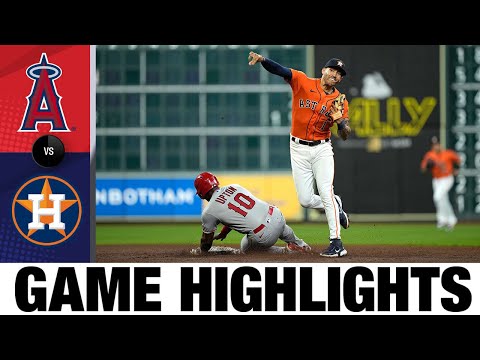 Highlights from the Angels' 5-4 loss to the Houston Astros in 10 innings on Friday.
A more consequential decision doomed the Angels in the bottom of the 10th.
After the Angels took a 4-2 lead on RBI singles from Fletcher (who finished the night with three hits) and Albert Pujols in the top half of the inning, the Astros had already cut the deficit to one when catcher Jason Castro came to the plate.
With a runner at first and one out, Castro hit a center-cut fastball from Iglesias deep into the right-field corner. The ball landed near the foul line and kicked right, hopping over the wall in foul territory. The first base umpire signaled for a ground-rule double.
Several Angels players immediately argued that the ball landed foul off the right-field line, but there wasn't enough conclusive video to overturn the call. Maddon said he didn't have a clear look either from the dugout.
With runners now on second and third, Carlos Correa hit a game-tying sac fly to right. García came to the plate next, falling behind 0-2 before looping a changeup in the zone over the outstretched glove of shortstop José Iglesias for the game-winning hit.
"There were a lot of frustrating moments tonight," Maddon said.
Heaney dominates
Heaney was the Angels' biggest bright spot on Friday, delivering the kind of dominant performance the Angels think "he can look like on a consistent basis," Maddon said.
He fired elevated fastballs, looping breaking pitches and deceptive changeups. He recorded 10 strikeouts and surrendered only two hits. For 6⅓ innings, he was in total control.
And if not for Gurriel's home run off Slegers, allowing the lone baserunner Heaney left behind to score, the 29-year-old left-hander would have put nothing but zeros on the scoreboard too.
Alas, Heaney finished with one earned run on the night, taking a no-decision despite posting his third straight start of at least five innings with two or fewer runs.
"[He was] outstanding," Maddon said. "Everything was working. He had great command, great tempo, great rhythm. He was really, really good."
After working around a two-out single in the first, Heaney got on a roll. He retired 17 of his next 18 batters, the final five coming via strikeout. No Astros player even reached scoring position until Yordan Alvarez lined a double in the seventh.
"It's almost the absence of thought," Heaney said. "Just being confident in every single pitch, trying to execute as best I can."
Ten former USC Song Girls described to The Times a toxic culture within the famed collegiate dance team that included longtime former coach Lori Nelson rebuking women publicly for their eating habits, personal appearance and sex lives.
The Alvarez double was Heaney's final at-bat, however, with Maddon pulling him from the game after 101 pitches to set up a righty-on-righty matchup with Slegers and Gurriel.
Heaney said he was "maybe a little bit" surprised he didn't get to pitch longer, forced instead to watch Gurriel's homer from the dugout.
But he came away from the outing encouraged nonetheless, especially with the way he consistently controlled his secondary pitches to set up his fastball, which accounted for seven of his strikeouts and topped out at a season-high 95.3 mph.
"I was commanding all three pitches, keeping guys off base, felt good," Heaney said, adding: "I just want to keep rolling with it. I feel good with where I'm at physically, mechanically, mentally."
Iglesias stumbles again
Raisel Iglesias' Angels debut on opening day was promising, an impressive eight-pitch save in which he struck out two batters.
Since then, he's struggled to find consistency, both in playing time and performance. After appearing four times in the season's opening week — surrendering two runs in his second outing, blowing a save in the third and suffering a loss in the fourth — the hard-throwing right-hander has pitched only four times in 17 days.
He hadn't given up a run in his previous three appearances entering Friday, but struggled to put Astros hitters away in a three-run 10th inning. He now has a 7.71 ERA in seven innings this season.
"We just got to get him on track," Maddon said. "I know how good he is. The stuff looks fine to me from the side. He just hasn't gotten into that rhythm either yet. Just some pitches in a bad spot."
Iglesias acknowledged through an interpreter that he is "off to a slow start" but insisted his confidence hasn't wavered.
"I just need to keep going out there and try to find a solution," he said.
Added Maddon: "I anticipate we're going to see better out of him. I know nobody is more frustrated than he is."
Get the latest on L.A.'s teams in the daily Sports Report newsletter.
You may occasionally receive promotional content from the Los Angeles Times.