Shohei Ohtani a one-man highlight show in Angels' loss to Astros
HOUSTON —
Shohei Ohtani did everything he could Tuesday night.
He gave up just one run in seven innings as a pitcher, finishing with 10 strikeouts and only one walk. He had a hit at the plate, playing both ways in a start for the third time this season. He even shifted to right field later in the game, a move that allowed him to get one more at-bat in the ninth.
In the end, it didn't matter.
The Angels' offense was neutralized by Houston Astros starter Lance McCullers Jr. Their bullpen imploded in a four-run eighth-inning punctuated by a Yuli Gurriel three-run homer. And what had been a close game for most of the night finished as a 5-1 loss at Minute Maid Park.
But even in defeat, Ohtani left another resounding impression.
"He looked spectacular," said Angels manager Joe Maddon. "I think his full complement of talents were on display tonight."
Here are three observations from Ohtani's two-way performance in the Angels' loss:
Ohtani does it all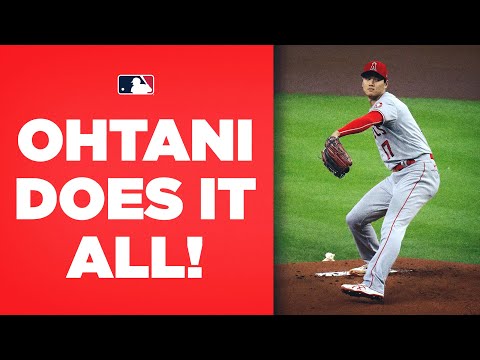 Highlight's from Shohei Ohtani's performance in the Angels' 5-1 loss to the Houston Astros on May 11.
It was around the sixth inning that Maddon began to seriously consider the idea.
Ohtani was in the midst of his best start of the season, working quickly with a manageable pitch count. But the Angels were still trailing 1-0.
Maddon didn't want to lose Ohtani's bat once the right-hander's pitching performance was over. So, he started brainstorming potential work-arounds. Before the seventh inning, he asked Ohtani if he'd be comfortable playing in the outfield later in the game.
"I just wanted to find out how he felt about it so I could mentally plan it," Maddon said. "He was all in. He had no concerns."
And then, the perfect moment arrived in the bottom of the eighth.
A half-inning prior, the Angels' starting right fielder, Taylor Ward, had tied the game with a solo home run to right field (Ward, who also had a single, and Ohtani were the only Angels batters with hits on Tuesday night).
But with the score now level, Ohtani due up second in the ninth, and Ward's No. 7 spot in the batting order the perfect place to potentially institute a double-switch later, Maddon made a major defensive change.
As Aaron Slegers trotted out of the bullpen, taking over on the mound after Ohtani's seven strong innings, Ohtani took Ward's place in right field — only the second time Ohtani has played a position other than pitcher in the majors.
"The batting order was such that he was gonna have a really critical at-bat in a tie ballgame," Maddon said. "So we rolled the dice with that."
Only the game didn't remain tied for long.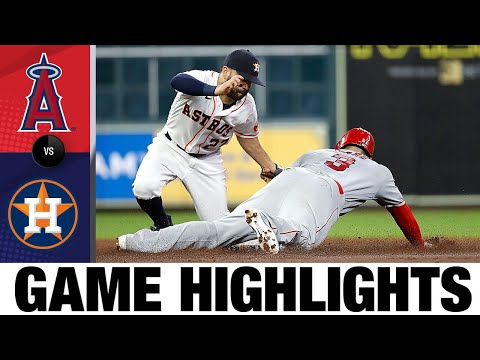 Highlights from the Angels' 5-1 loss to the Houston Astros on Tuesday.
With Ohtani no longer pitching, the Astros caught fire in the eighth, pulling away with a four-run inning that made Ohtani's at-bat in the ninth — he struck out looking in a full count — virtually meaningless.
Still, Ohtani said through his interpreter that playing in right field, something he did on occasion in the Japan's Nippon Professional Baseball league, was "a lot of fun."
After having to borrow Justin Upton's glove the first time he played outfield last month, he told Japanese reporters on Tuesday that this time he had brought his own. Before the start of the inning, he huddled with center fielder Mike Trout, agreeing to stay well back if Trout called him off.
Twice the ball came close: a foul pop-up that landed between him and first baseman Jared Walsh, and a routine single that Ohtani scooped and quickly threw back into the infield.
Maddon was careful to note that Tuesday created the kind of "perfect storm" that might not often arise in the future, but Ohtani said he'd be open to doing something similar again if needed.
"That's going to be game by game, situation by situation, to try to figure it out, see where he's at physically," Maddon said. "It's always going to be my question to him. I'm not going to unilaterally decide that I want to do that."
Ohtani finds his command too
Before the late-game defensive switch, the most impressive part of Ohtani's performance Tuesday was his improved pitching command, particularly with the fastball.
For as good as Ohtani had been in his first four starts this season (he had a 2.41 ERA with 30 strikeouts in 18 ⅔ innings), consistent control had been the one key element he was missing on the mound.
And when he found it Tuesday night, throwing 62 of his 88 pitches for strikes and walking only one batter, it led to one of his best outings of his major league career.
"To see Shohei find fastball command, that's what we've been talking about," Maddon said. "That's what it's going to look like most of the time."
So what was the difference from his first four starts, when Ohtani walked 19 batters and drove up his pitch count with long at-bats? The right-hander had a theory.
"My body felt a little heavy, a little sluggish — but I think that worked for the best," Ohtani said through his interpreter. "Since my body felt a little heavy, my mechanics felt very efficient. No useless movement. I think that was the biggest part."
Whatever the cause, it couldn't have come at a better time.
The Angels rally behind Jared Walsh's four hits to beat the Astros 5-4 on Monday in Houston.
From the beginning of the game, when Jose Altuve swung on the very first pitch, the Astros' plan was seemingly clear: hunt for fastballs early in counts rather than risk falling behind and having to face Ohtani's lethal arsenal of secondary pitches.
"They did not want to see his splitter," Maddon said. "That became apparent."
It largely worked to Ohtani's benefit. Altuve and Michael Brantley both had first-pitch singles against the heater, and Kyle Tucker homered on an elevated four-seamer in the fifth. But other than that, the Astros did little damage against the pitch.
Instead, they simply helped Ohtani work quickly. Only 12 of his 26 at-bats lasted more than three pitches. And he completed seven innings for the first time this season and third time in his MLB career.
"It proves that if you have a good fastball and you locate it well enough, you get a lot of early count outs and then you pitch seven innings with 89 or 90 pitches," Maddon said. "It was all right there for him."
And when Ohtani did need to turn to his secondary pitches, he still found success. His splitter accounted for seven strikeouts. His slider got four swings and misses. He even unfurled a 69.7-mph curveball to fan his former Angels teammate, Martín Maldonado.
"That's the gold standard," Maddon said of Ohtani, who lowered his ERA to 2.10 Tuesday and collected his 100th career MLB strikeout in the process. "This team he was pitching against, in this ballpark, it's pretty tough … That was an outstanding performance."
A shorthanded bullpen
The Angels (16-19) didn't have closer Raisel Iglesias, set-up man Mike Mayers or left-handed leverage reliever Tony Watson available Tuesday night as they rested from recent heavy workloads.
As the Astros (19-17) pulled away in the eighth, the Angels sorely missed them.
Manager says that because Albert Pujols wouldn't consider retirement until after the season, it was hard for the Angels to resolve the issue gracefully.
Slegers was summoned to begin the frame, but walked the leadoff man and surrendered a one-out single. Alex Claudio was called in from there, but yielded a go-ahead single to Michael Brantley and the back-breaking three-run blast to Gurriel — a towering fly ball that landed deep in the left field Crawford Boxes.
Noé Ramirez got the final out, making his return to the Angels after having been traded to Cincinnati this offseason in exchange for Iglesias, then re-signed by the club after the Reds released him at the end of spring.
But by then, it was too late.
"It was all good," Maddon said, "until we walked the leadoff hitter in the bottom of the eighth."
Get the latest on L.A.'s teams in the daily Sports Report newsletter.
You may occasionally receive promotional content from the Los Angeles Times.