Mike Trout extends homer streak as he moves to verge of MLB record in Angels' loss
CLEVELAND —
Angels star Mike Trout homered in his seventh consecutive game, one shy of the major league record, but the American League Central-leading Cleveland Guardians prevailed 5-4 on Monday night.
Trout's 35th homer of the season came in the fifth inning. The three-time AL MVP connected off Konnor Pilkington for a two-run, 422-foot drive to dead center at Progressive Field.
Pittsburgh's Dale Long established the MLB record of eight straight games with a home run in 1956. Don Mattingly of the Yankees matched it in 1987, as did Seattle's Ken Griffey Jr. in 1993.
"That's good company to be in," Trout said. "I'm just putting a good swing on the ball and they're going out."
Trout can match the mark on Tuesday night when the Angels continue their series with the Guardians. He said he isn't worried about Cleveland pitching around him.
"I'm going up there ready to hit and whatever happens, happens," Trout said. "I'll come in tomorrow and do the same thing because it's working for me."
Shohei Ohtani homers and Mike Trout is given the day off after hitting home runs in six consecutive games as the Angels lose 12-4 to the Houston Astros.
Trout is the first AL player with a seven-game home run streak since Kendrys Morales of Toronto in 2018. Cincinnati's Joey Votto homered in seven straight last season from July 24-30.
Amed Rosario doubled home Steven Kwan with the go-ahead run in the seventh for Cleveland, which increased its advantage to three games over the Chicago White Sox and five games over third-place Minnesota.
"We've got some work to do to clinch the thing, but I think we've been working the right way all season," said Guardians catcher Austin Hedges, who hit a two-run double. "We're a team that does get the big hit."
The game featured a strange sequence in the seventh when Cleveland manager Terry Francona and Angels interim manager Phil Nevin were both ejected without a pitch being thrown in-between.
Things got heated in the seventh when Francona argued that Andres Gimenez was hit by a pitch from Ryan Tepera. Francona got ejected by umpire crew chief Ron Kulpa, and when Tepera was denied warmup throws following the delay, Nevin got tossed.
"Truth be told, I don't know what was going through my mind, and I don't like that," Francona said.
Nevin agreed that Francona signaled for a replay challenge in time, but Kulpa didn't see the gesture. Tepera said both he and Kulpa apologized for their disagreement between innings.
"To me, that was a player safety issue, not allowing Ryan any warmup pitches," Nevin said. "And I didn't understand it."
Mike Trout homered in a team-record sixth straight game as the Angels won 6-1 at Houston, but pitcher Shohei Ohtani left his start early with a blister.
Kulpa also exited with two outs and two strikes in the ninth after being struck on the mask by a foul ball hit by Matt Thaiss. Second base umpire Carlos Torres replaced him behind the plate.
We weren't aware that [Francona] was holding for us to look at a hit by pitch," first base umpire John Tumpane said in a pool report. "By our protocol, if the pitcher is on the rubber and the batter is in the box, we're moving onto the next pitch."
"Obviously, player safety is paramount, and looking back at it, yes, we would have given [Tepera] some warmup pitches so his safety was not at risk," he said.
Enyel De Los Santos (4-0) worked a scoreless seventh for the win and Emmanuel Clase pitched a perfect ninth for his MLB-best 34th save. Aaron Loup (0-5) surrendered Rosario's RBI double.
The Guardians took a 4-0 lead in the second off Reid Detmers, highlighted by Hedges' two-run double. Tyler Freeman and his fellow rookie, Kwan, had RBI singles.
Pilkington yielded four runs over five innings on his 25th birthday. The left-hander also was touched for a two-run homer by Matt Duffy in the fourth.
Reigning AL MVP Shohei Ohtani went one for three for the Angels, who are 1-19 on the road against Cleveland since 2015.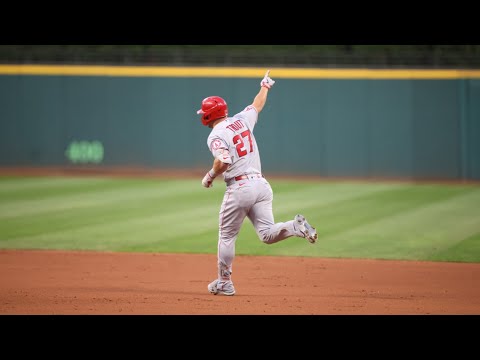 Get the latest on L.A.'s teams in the daily Sports Report newsletter.
You may occasionally receive promotional content from the Los Angeles Times.