Column: Only result that makes sense is a third Canelo Alvarez vs. Gennady Golovkin fight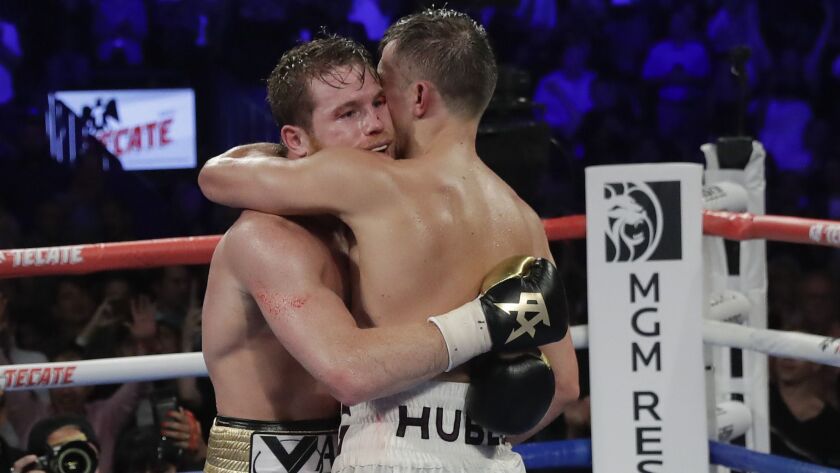 Reporting from LAS VEGAS —
The view from his trainer's shoulders was unfamiliar. Canelo Alvarez looked down at a world in which his place in boxing was secure, where if the questions about his character weren't silenced, they were lowered in volume.
Removed by 12 months from a disputed draw with Gennady Golovkin and six months from a couple of positive drug tests that tarnished his reputation, Alvarez claimed the distinction as the world's best middleweight.
A majority-decision winner in his rematch against Golovkin on Saturday night, Alvarez raised his index finger to his pursed lips, as if instructing his critics to be quiet.
He earned this.
"I'm going to enjoy this moment," he said in Spanish.
His personal nightmare now behind him, he and his promoters could be tempted in the coming weeks and months to move on from Golovkin, his tormentor over the last year. His win at T-Mobile Arena gave Alvarez the signature victory of an already-storied career that could be parlayed into lucrative paydays against several of the other viable opponents in his weight class, many of whom wouldn't trouble him nearly as much as Golovkin.
His list of potential opponents, however, should start and end with Golovkin.
Their showdown Saturday was as close as their confrontation last year, with Glenn Feldman scoring the fight 114-114, and Dave Moretti and Steve Weisfeld declaring Alvarez a 115-113 winner. Golovkin had a 115-113 edge on my card.
"I can't complain about the decision, but it's close enough to warrant a third fight," said Abel Sanchez, Golovkin's trainer.
But it's not just that the fight was practically even. It's that Golovkin and Alvarez returned to T-Mobile a year after their initial encounter with completely different strategies and executed them well enough to produce another riveting 12-round drama. Considering how distinct the second fight was from the first, the unpredictability about how another rematch would unfold makes a third contest worth making.
"If the people want a third fight, we'll do it," Alvarez said.
When Alvarez shared a ring with Golovkin last year, he was the defensive fighter and Golovkin was the stalker. They reversed roles this time around, as Alvarez advanced and Golovkin backpedaled.
Their ability to change as much as they did in only 12 months was evidence of how skillful they are.
In the opening rounds, both fighters tried to establish their jabs. Golovkin was the one who succeeded in doing that, as he not only threw his jab with great force, but also frequently delivered two or three at a time.
Canelo Alvarez enters the T-Mobile Arena.
(Isaac Brekken / Associated Press)
Gennady Golovkin enters the T-Mobile Arena.
(Isaac Brekken / Associated Press)
Gennady Golovkin motions to the crowd before his match against Canelo Alvarez.
(Isaac Brekken / Associated Press)
Will Smith, left, and Dave Chapelle wait for the start of a middleweight title fight between Canelo Alvarez and Gennady Golovkin.
(Isaac Brekken / Associated Press)
Canelo Alvarez and Gennady Golovkin trade punches in the fourth round.
(Isaac Brekken / Associated Press)
Canelo Alvarez lands a punch against Gennady Golovkin in the 12th round.
(Isaac Brekken / Associated Press)
Gennady Golovkin and Canelo Alvarez trade punches in the fifth round.
(Isaac Brekken / Associated Press)
Canelo Alvarez poses for a photo with referee Benjy Esteves Jr., right, after defeating Gennady Golovkin by majority decision.
(Isaac Brekken / Associated Press)
Canelo Alvarez celebrates after defeating Gennady Golovkin by majority decision.
(Isaac Brekken / Associated Press)
Alvarez adapted. In the fifth round, he started to bob and weave past Golovkin's quick punches and mount attacks of his own. Golovkin was forced to move backward and was clearly uncomfortable doing that, as it diminished his power.
Alvarez delivered punishing hooks to Golovkin's jaw. He landed thudding blows to his body. Golovkin occasionally tried to stand his ground, such as in the opening minute of the seventh round, but Alvarez eventually forced him to retreat. Alvarez was too strong.
One of the sport's best-conditioned fighters, Golovkin uncharacteristically showed signs of fatigue in some of the middle rounds, dropping his hands to his side when there were lulls in the action.
But he was taking a breather. He wasn't surrendering.
Golovkin attempted to salvage the fight by attacking a now-tired Alvarez over the last two rounds. The 12th was particularly competitive, with both fighters throwing haymakers at each other as the crowd in the packed arena rose to its feet.
"We had a great fight, the one we expected the first time around," Sanchez said.
The public perception of the first fight, as well as the expectations for the rematch, was shaped by the simultaneous outspoken and affable Sanchez.
Sanchez accused Alvarez of running last September. He didn't.
Sanchez described the fight last year as boring. It wasn't.
But Adelaide Byrd's inexplicable 118-110 score for Alvarez in the split draw, coupled with the cancellation of the originally scheduled rematch because Alvarez failed a pair of drug screenings, made the majority of fans sympathetic enough to Golovkin to accept Sanchez's questionable assertions with little to no resistance.
The reality was the initial encounter was unusually violent considering the skill level of the combatants, as was the rematch Saturday. A third fight would likely be too.
Asked whether he wanted to take on Alvarez a third time, Golovkin responded, "Under the right conditions, yes."
An obstacle could be Golovkin's age. By Cinco de Mayo next year, which is generally reserved for fights of this magnitude, Golovkin will be 37.
But Golovkin showed Saturday he can adjust. And even if he is further slowed by age, he should be able to partially compensate for that as well.
---
Get our high school sports newsletter
Prep Rally is devoted to the SoCal high school sports experience, bringing you scores, stories and a behind-the-scenes look at what makes prep sports so popular.
You may occasionally receive promotional content from the Los Angeles Times.