Claressa Shields has lifted women's boxing to a place of improved prominence on her own.
So to the idea that a classic, complete middleweight title-unification bout Saturday against Christina Hammer is needed to continue the elevation of the sport, she said, "stupid question … ."
"I'm not even worried about that," former two-time Olympic gold-medalist Shields (8-0, two knockouts) said this week as she heads to her Showtime-televised main event against Germany's Hammer (24-0, 11 KOs). The card, from Atlantic City, N.J., begins at 6:10 p.m. Pacific time.
"I have only one goal in mind, and that's to win. If she's as tough and good as she says she is, it won't be a one-sided fight. But if she's not, it will be. All of that other stuff has nothing to do with me. My job is to win and dominate and back up everything I've been saying. That's my only job."
Women's boxing has Shields, 24, of Flint, Mich., to thank for bringing the sport to a premium cable main event, accompanied by its own "All-Access" preview show and attention that has drawn comparisons to Ronda Rousey's impact on the UFC.
Feisty, good-humored and talented, she'll be challenged by an opponent who's reigned as champion since 2010. Hammer owns three-inch height and reach advantages over Shields and has won 18 consecutive title fights.
"If I have to adjust to something to win, I will. I don't know what she'll do until I get in there — I think she's going to box, but she may go toe-to-toe," Shields said. "She uses the jab and holds a lot, doesn't go to the body like she should. Tall fighters are supposed to use their jab, but she's never fought the caliber of fighter that I am, who can jab back at her, who's faster than her and may be stronger."
Shields sought to ruffle Hammer at their news conference this week, and the Kazakhstan native responded, "I'm emotionless in the ring, because it's my job. I'm very focused. I know that this is a historic fight. I'm going to let the people see that women's boxing is exciting just like the men. This is a great match to show that."
Shields' point is that the fight itself doesn't need to be as special as much as the demonstration of her talent. She's fine with the popularity of women's boxing feeling like a singular undertaking for now, confident those in other divisions have the ability to ride her coattails to their own television prominence.
Sign up for our boxing and MMA newsletter »
"I'm a great fighter, a two-time Olympic gold medalist. I've shown I'm exceptional," Shields said. "What others can or can't do really doesn't have anything to do with me. I was gifted and born to be a boxer. It's what I do. I'm not saying others can't come up and be as great as me … not every man was a Floyd Mayweather, but you still had men fighting.
"Some others may give me a run for my money with their style or boxing IQ, but as far as any other girl having the gift I have … I just don't see it. [English lightweight] Katie Taylor's pretty good. [Southland super-featherweight] Mikaela Mayer and [Brooklyn's seven-division world champion] Amanda Serrano have very good skills … and they'll perform against each other with great matchmaking on their side to keep women's boxing afloat … but to box like me takes a lot of hard work.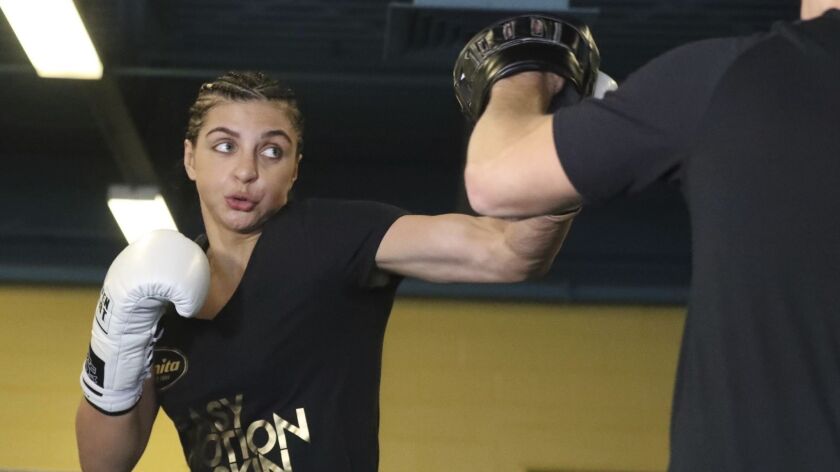 "People think Hammer's great. She's good, and I'll show them Saturday there's a difference between great and good. It's like A and B, apples and oranges."
The impact Shields wants is for fight fans to take a good look at her, and respect the dedication that bounds boxers regardless of gender lines. It's what Showtime has done in devoting attention it previously provided to Rousey when she fought for the now-defunct Strikeforce organization.
"I knew this would happen and it's why I decided to turn pro. This has been all built around me. Christina Hammer against anyone else in the U.S. wouldn't be this … with such a great story behind it," Shields said.
"I just know I can do for women's boxing what hasn't been done before and I believe women's boxing needed the big push I'm giving it.
"It's shown my character, showing people that women are aggressive, women do talk trash, women sweat and train hard. That's what's made it so great. I'm going up the stairs and this is another step I have to take to get where I want to go … to be an international superstar and to be known as the greatest woman of all time."
Twitter: @latimespugmire
---