Former boxer Mia St. John admits using PEDs in wake of Alvarez-Golovkin controversy
Gennady Golovkin's latest criticism of Canelo Alvarez over his positive drug tests in February brought former women's boxer Mia St. John to what she called "a boiling point."
The former three-division title challenger from Orange County decided to stand up for Alvarez on Twitter after Golovkin called his middleweight-title challenger "the most unpleasant and dirtiest opponent I've ever had."
St. John tweeted, "Whatever. Everyone does it & everyone in boxing knows it," then admitted Saturday she used performance-enhancing substances during her own career.
St. John's tweet ignited a firestorm of responses, with former cruiserweight world champion Tony Bellew of England writing, "Sorry to inform you, but not everyone does it, sweetie! Some of us former world champions actually believe in training insanely hard and having a fair fight … . It's sad and worrying that people taking PEDs actually think like you do."
And former 154-pound champion Sergio Mora added, "That's what makes winning so satisfying — the [expletive] sacrifice."
St. John, who was 49-14-2 during a career that stretched from 1997 until 2016, told the Los Angeles Times in an extended telephone conversation Saturday that she used steroids including Winstrol, Deca Durabolin and Anavar, along with banned masking agents and weight-loss substances to prepare for an estimated 20 fights.
"Obviously, I'm a Canelo fan, but I hate it when other fighters put down other fighters for something we all know is rampant in boxing," St. John, 51, told The Times. "I never once tested positive, and I've never told anyone this, but now that I'm retired I feel like it's OK.
"It's not right, but what I'm trying to say is that it's a vicious cycle we get caught up in. You're in a gym. You're in a big camp. Obviously, I was part of the biggest shows of my time.
"So when your camp is doing it, it's going around the gym, your sparring partners are doing it, you feel compelled — 'Oh my God, I have to do it' — to keep up with everybody. It's a mind trick. And once you're on it, it's so hard to come off because it becomes very addicting. That's what people don't know."
She declined to identify any other fighters whom she knew were using banned drugs.
"I'm not going to say what fights [I used] because then people can trace back to what cards I was on, what camp I was in, who I was training with … I would never out anybody," she said.
Her boxing career featured title losses to future UFC champion Holly Holm in 2005, current featherweight champion Jelena Mrdjenovich in 2006 and current unified welterweight champion Cecilia Braekhus in 2013 as well as a 2012 victory over Christy Martin.
She described her drug use as "sporadic. I would pick and choose which fights it was necessary. Some fights I won, some I lost."
Alvarez's punching-bag treatment on Twitter moved her to call out the sport.
"I've wanted to say something so bad for so long. I was so ashamed I got stuck in that trap that I couldn't. Until now, until today," St. John said. "It's so cathartic to say 'Here it is … .'
"Obviously, it's not every single fighter, but there were a lot. I saw so much of it in my career and I don't mind coming out with this now because it's a serious issue that our sport needs to address."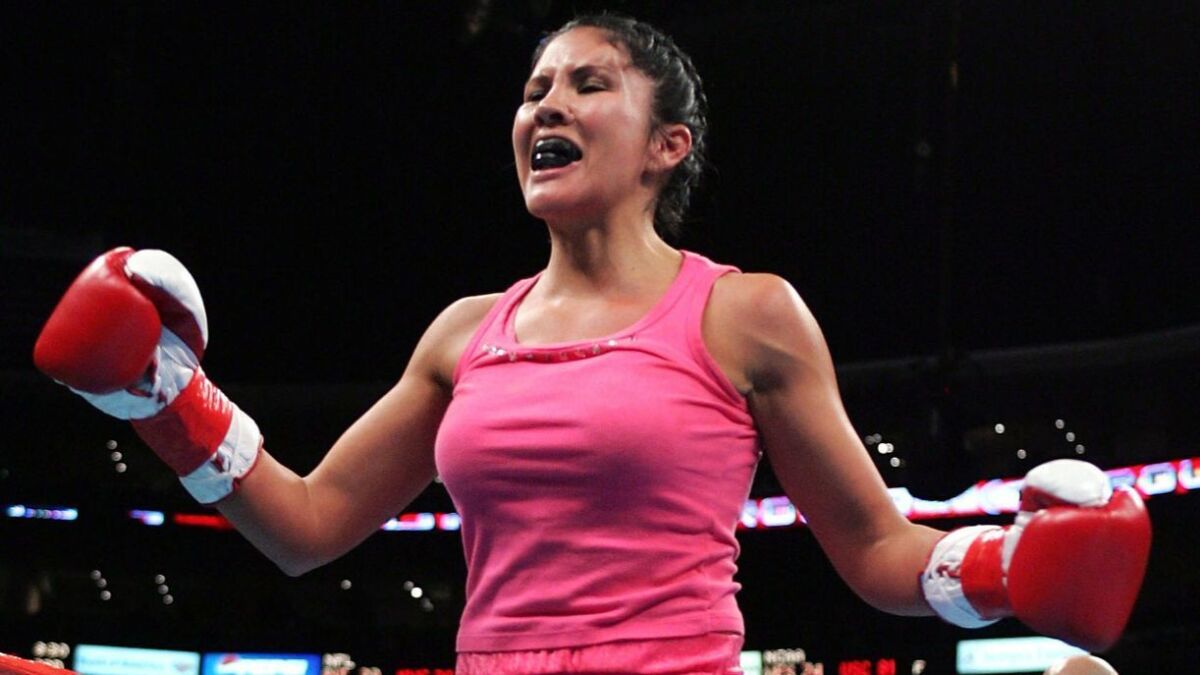 More than increasing punching power, St. John said she used steroids to maximize her hand and foot speed and recovery time during the cramped regimens of morning running, afternoon weight training and sparring.
"There were certain fighters I knew were taking — they had been busted before — and I thought I felt I had to start doing it, too, because my life is on the line," St. John said. "We're all a little selfish and all want to save our own ass.
"Our mentality is: If someone's going down, it's going to be you, not me. No fighter can honestly say he's more worried about his opponent. No you aren't. You're worried about yourself."
Golovkin has said he was originally troubled by what he perceived as injection marks on Alvarez's torso before they fought to a draw in September. The Voluntary Anti-Doping Assn. subjected Alvarez to his first drug tests in Mexico in February, and he submitted two samples positive for clenbuterol, which can benefit stamina and endurance.
While Alvarez, a former two-division champion, contends he ingested the substance from beef he ate in Mexico, the Nevada Athletic Commission suspended him for six months. Instead of fighting Golovkin in a rematch in May, their second meeting will be Sept. 15 in Las Vegas.
St. John said "I don't know" what happened with Alvarez, but she chafed as she read Golovkin's comments bashing his foe as dirty.
"If you're going to take the fight and the money, you're kind of a hypocrite," St. John said. "Shut up, stop bashing Canelo and let it go, or give up the money, stand by your principles and say, 'I refuse to fight any fighter who's cheating.' Otherwise, let him redeem himself and move on."
Drug testing has improved in recent years, but St. John sees it as an ongoing cat-and-mouse game.
She admitted it's possible the fame she gained from her ring success and notoriety after a 1999 Playboy pictorial might have generated preferential treatment beyond favorable matchmaking.
"I was tested many times," she said. "There's many methods to get around it. Just because you didn't get caught doesn't mean you weren't doing it. It just meant you didn't get caught.
"I did my homework. They gave us a whole list of what not to do and I knew a lot of stuff I was doing was on that list. I did everything I could to mask it — masking drugs, catheters with other people's urine — and then the rest is up to luck.
"I would leave the bathroom shaking, praying and sweating bullets. You cross your fingers. Crazy enough, I didn't get caught. Some girls did and I felt so awful and ashamed, like what a hypocrite … in many ways, yes, I was protected."
St. John said she plans to attend the Golovkin-Alvarez rematch and is prepared to defend her stance if confronted by anyone in person or on social media.
"Instead of shaming, let's search for answers. Let's ask fighters to find a way to deal with it instead of insulting and hurting each other. All that does is make people hide and stay quiet about it … look at me," she said.
Twitter: @latimespugmire
Get our high school sports newsletter
Prep Rally is devoted to the SoCal high school sports experience, bringing you scores, stories and a behind-the-scenes look at what makes prep sports so popular.
You may occasionally receive promotional content from the Los Angeles Times.