Douglas Lima subtler than a punch in the face as title defense vs. Rory MacDonald looms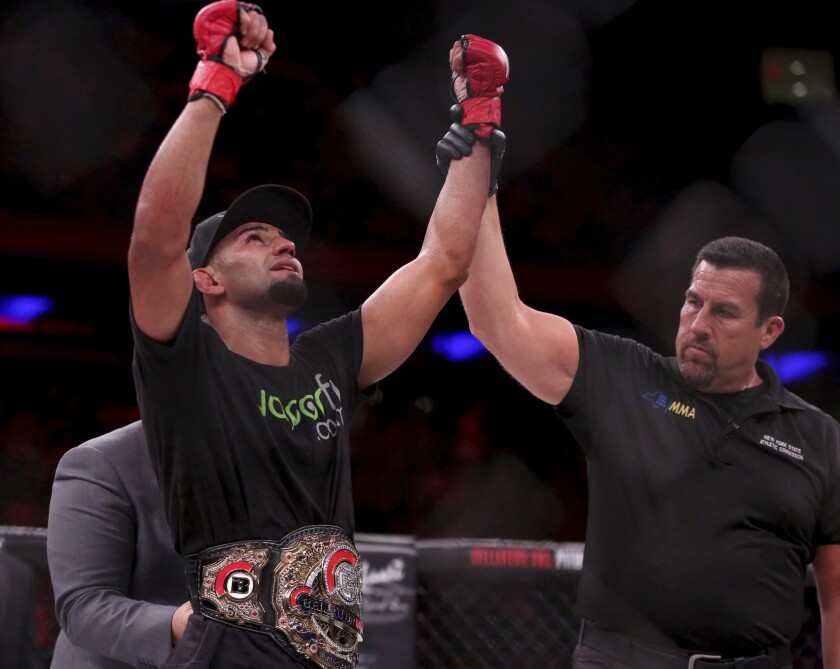 Douglas Lima's cool demeanor outside of the cage obscures his ferocious power inside of it.
Lima (29-6) welcomes another former UFC welterweight contender to Bellator when he meets former title challenger Rory MacDonald (19-4) at Bellator 192 Saturday night at the Forum.
Lima previously greeted Riverside's UFC defector Lorenz Larkin for his Bellator debut with a unanimous-decision victory over Larkin at Madison Square Garden in June.
Brazil's Lima is one of MMA's most humble fighters, and it's a difficult task to press him toward trash talk, preferring to allow his power punches to make statements his mouth won't.
MacDonald isn't exactly a big talker himself, but he conducts himself in a style more suited for a professional hit man, dressing in a black turtleneck for a face-off with Lima to announce the title fight.
Lima counters with bold results: he's finished 25 of his 30 fights.
He regained his belt with a ferocious knockout of Andrey Koreshkov at Bellator 164 after Koreshkov defeated Lima via unanimous decision at Bellator 140.
Lima was sidelined for more than 15 months prior to that loss to Koreshkov because of several knee injuries, and he spent another year inactive before returning to beat Paul Daley to earn the rematch with Koreskov.
Lima was born in Brazil, but his parents immigrated to the United States when he was just 11 years old; his family settled in Atlanta.
Lima has never had the opportunity to fight in his native country, but hopes that changes soon.
"It's my dream to fight in Brazil. I've been here 18 years fighting and have never fought there, so that's definitely a goal," he said. "Hopefully, Bellator can do a show there soon and I can be part of it. I'm just waiting for them, but I'll be ready."
---
Get the latest on L.A.'s teams in the daily Sports Report newsletter.
You may occasionally receive promotional content from the Los Angeles Times.