Floyd Mayweather Jr.'s greatest fights, No. 1: Oscar De La Hoya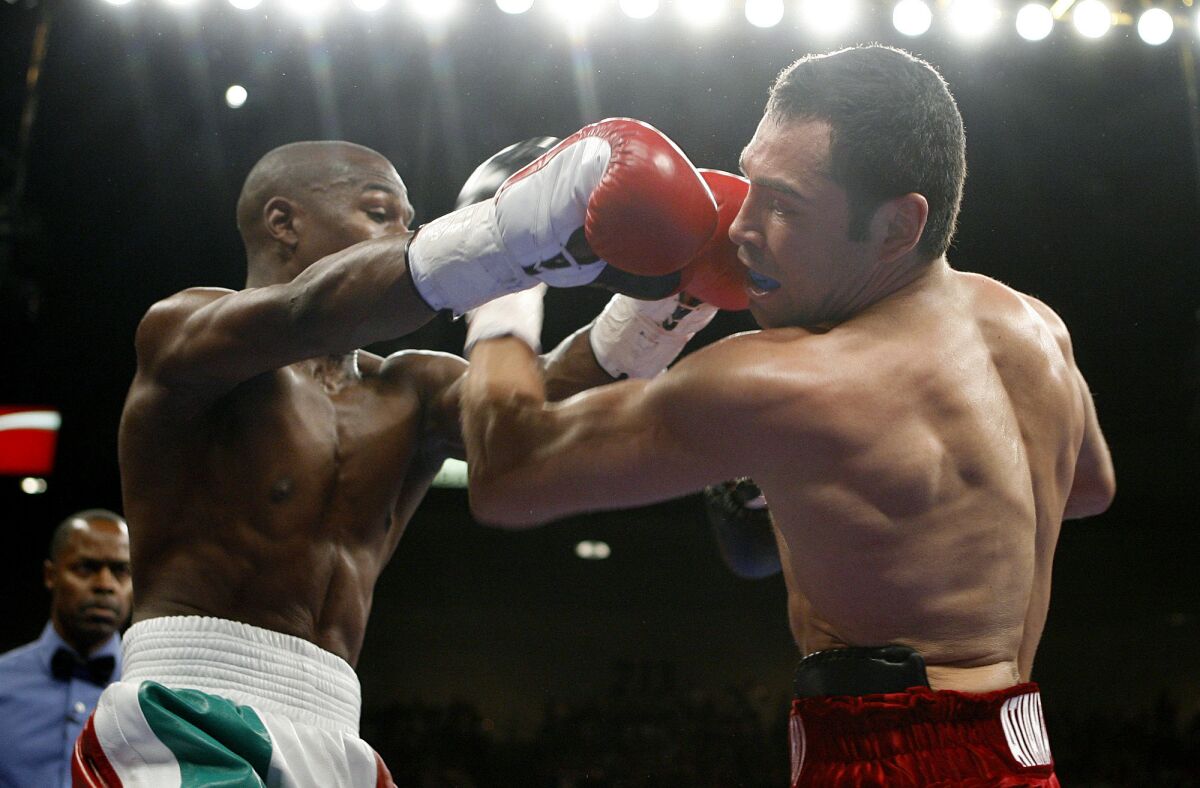 For years, Floyd Mayweather Jr. believed, the most significant impediment to his ability to collect the riches his boxing talents deserved was Oscar De La Hoya.
While both fought under the Top Rank Promotions banner, De La Hoya was the true "Golden Boy," his 1992 Olympics story of earning a gold medal following the cancer death of his mother winning hearts and fans internationally.
Mayweather was dealt a disputed bronze medal in the 1996 Games and the Michigan-raised son of a boxing family seethed about being treated as a B-list fighter by Top Rank. He didn't possess the charm and knockout power of De La Hoya, but Mayweather believed his universal skill was something to behold.
By 2006, Mayweather had had enough, leaving Top Rank after De La Hoya had already done so to build up his own promotional company, Golden Boy.
Days after Mayweather defeated Carlos Baldomir in November 2006, he agreed to fight De La Hoya, moving all the way up to junior-middleweight (154 pounds) for the bout.
De La Hoya got a guaranteed $23.3 million for the fight, and Mayweather was paid a minimum $10 million – purses that skyrocketed because the May 2007 fight at the MGM Grand still stands as the best-selling pay-per-view fight in history with a record 2.48 million buys.
"This is the kind of fight Mayweather wanted," then-promoter Richard Schaefer of Golden Boy said. "The best pound-for-pound fighter, Mayweather, will be fighting the best pay-per-view fighter, De La Hoya."
One problem needed to be ironed out. Floyd Mayweather Sr., then estranged from his son, was De La Hoya's trainer.
While the elder Mayweather said after directing De La Hoya to a convincing victory over Ricardo Mayorga that he would keep his role, De La Hoya ultimately hired Freddie Roach to train him.
Schaefer scheduled an 11-city media tour, each fighter traveling in a separate Gulfstream jet to build up interest in a fight that would draw a record live gate at MGM Grand in Las Vegas of $19 million, with Michel Jordan, Leonardo DiCaprio and Jack Nicholson attending.
After the third stop of the tour, a rousing appearance at a Washington, D.C., train stop, Mayweather stole De La Hoya's salmon off a plate as they were to dine at separate tables.
Mayweather pitched a fit because he was left to fly home on a commercial flight during the tour to celebrate his birthday, but by a Dallas trip to San Francisco, he had the leased Gulfstream to use and left the airport first.
De La Hoya followed and when his jet passed Mayweather's mid-flight, he had the pilot radio Mayweather's jet to break the news, with those in the Golden Boy's plane laughing heartily.
Mayweather now has his own plane, of course, a fleet of lavish cars, a multimillion-dollar home.
But he needed to beat De La Hoya to get there.
On Cinco de Mayo weekend, Mayweather jabbed De La Hoya one more time before the first bell, wearing a sombrero into the ring, adorned in the colors of the Mexican flag while his cornermen had "Mayweather loves Mexico" written on their red, green and white clothing.
The Times described the early portion of the fight like this:
"After outweighing Mayweather, 154-150, at the weigh-in, De La Hoya indeed took the fight to Mayweather as he pledged. He pounded the challenger with body and stomach barrages. Clearly employing a plan to sap some of Mayweather's energy, De La Hoya won rounds two through four on two of the judges' cards by landing hard punches that brought a smile to Mayweather."
"I was having fun in there," the challenger said.
De La Hoya's strategy with Roach to rely on his jab was working, but about midway through the bout, as the older De La Hoya began to fatigue, he effectively abandoned the jab.
"I could see his shots coming and I stayed outside," Mayweather said after taking the fifth and sixth rounds on all three scorecards.
"After De La Hoya stung Mayweather's face with a left hook in the seventh, two more good rights in the eighth by Mayweather seemed to change the fight's course," The Times reported. "Suddenly, Mayweather was more confident, and more willing to showcase his speed.
"By the 10th, Mayweather was making swishing sounds as he zapped scoring jabs at De La Hoya. The champion fired off a combination and never landed one punch as the speedy Mayweather then pounded De La Hoya with a right at the bell and stuck out his bottom lip to the crowd in a boastful gesture.
"Snapping off more scoring punches in the 11th, Mayweather continued firing punches in the 12th, withstanding a late, great mutual flurry that left the crowd roaring its approval of a fight that was billed by some as the bout to save boxing."
Punch statistics showed Mayweather landed 207 to De La Hoya's 122, and 138 power punches to De La Hoya's 82.
Judge Tom Kaczmarek gave De La Hoya a 115-113 edge, Chuck Giampa ruled Mayweather won 116-112 and Jerry Roth's deciding margin was 115-113 to Mayweather.
"Look at the punch-stat numbers and you can see why I'm the new champion tonight," Mayweather said. "I just fought the best fighter in our era, and I beat him."
Get our high school sports newsletter
Prep Rally is devoted to the SoCal high school sports experience, bringing you scores, stories and a behind-the-scenes look at what makes prep sports so popular.
You may occasionally receive promotional content from the Los Angeles Times.