Rafael dos Anjos seeks return to rightful place at UFC 225
Thanks to his lightning-rod opponent Colby Covington and a move up in weight, Brazilian Rafael dos Anjos has transformed from a descending UFC talent to a revived fan favorite.
"I'm in a new position. Every single person I meet walking on the street says, 'Please kill Colby, please,'" Dos Anjos said. "I'm in a good position now to do something that everybody wants to watch."
The talkative, No. 4-rated welterweight Covington (13-1) has become Brazil's most despised fighter for his ongoing criticism of the country's fighters and its people, well-documented in a November clash with former heavyweight champion Fabricio Werdum.
In late October, the California-raised Covington had said in an interview after a bout in Sao Paulo: "Brazil, you're a dump. All you filthy animals suck." The next month in Australia, Brazil's Werdum threw a boomerang at Covington, hitting him in the face.
Should former lightweight champion Dos Anjos (28-9) defeat Covington on Saturday night in the pay-per-view co-main event of UFC 225 at Chicago's United Center, he'll claim the interim welterweight belt. He would also get a title shot at the division's champion, Tyron Woodley, who has been out of the octagon since July and required shoulder surgery.
"I know what I have to do to win," Dos Anjos said. "Nobody wants it more than I want it. [Covington talks] to promote himself, in the wrong way. I'm a cold-blooded fighter. Once you're in the octagon, there is no trash talking. Of course it gives you some extra, added motivation, but it's not something I'm going to carry into the octagon. I have enough motivation with my kids and family. I need to provide for them. And I'm a very competitive guy.
"I don't think he can last five rounds with me."
Victory would complete a stirring recovery by Dos Anjos, who labored badly through 2016 by suffering a foot injury that scrapped his scheduled lucrative lightweight title defense against Conor McGregor, then lost his belt to Eddie Alvarez in the midst of a battle to remain at 155 pounds. He lost again later that year to Tony Ferguson.
Dos Anjos confided last week in a lunch with MMA reporters about cutting weight for the Alvarez fight: "I passed out three times, was out almost three minutes, almost hit my head on the back of the sink. I could've died. That was the fight I shouldn't fight. I did. I lost. I learned. I tried again with Tony and couldn't stand up for 40 minutes after I made weight. I couldn't walk.
"I did it, but it didn't make any sense. I said, 'It's time to live my life.' I want to have pleasure. The move up in weight was the best option."
He's won three consecutive fights at 170 pounds, including a December unanimous decision over former champion Robbie Lawler.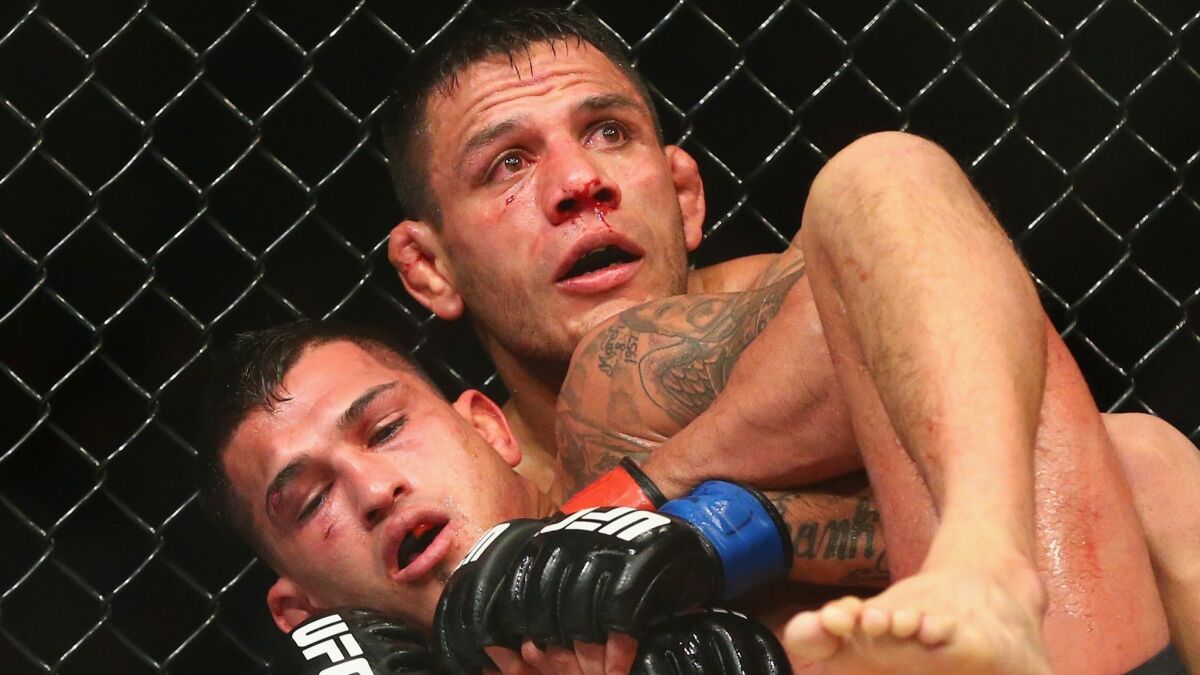 "I'm training better, living better," Dos Anjos said. "Last week, I went to a Brazilian barbecue. I'm eating, living a good life. Before, I'd sign the contract 11 weeks before the fight and my [weight cut] would start, 40 pounds. That's too much."
He embraces the desperation of his situation, admitting he badly needed a June 2017 victory over Tarec Saffiedine to postpone retirement talk and that he's uncertain if a title opportunity will ever return if he succumbs to Covington.
"When I lose a fight, I feel like everything I did was for nothing. But we learn from that," he said.
---
Get our high school sports newsletter
Prep Rally is devoted to the SoCal high school sports experience, bringing you scores, stories and a behind-the-scenes look at what makes prep sports so popular.
You may occasionally receive promotional content from the Los Angeles Times.