Floyd Mayweather and Conor McGregor will fight on Aug. 26 in Las Vegas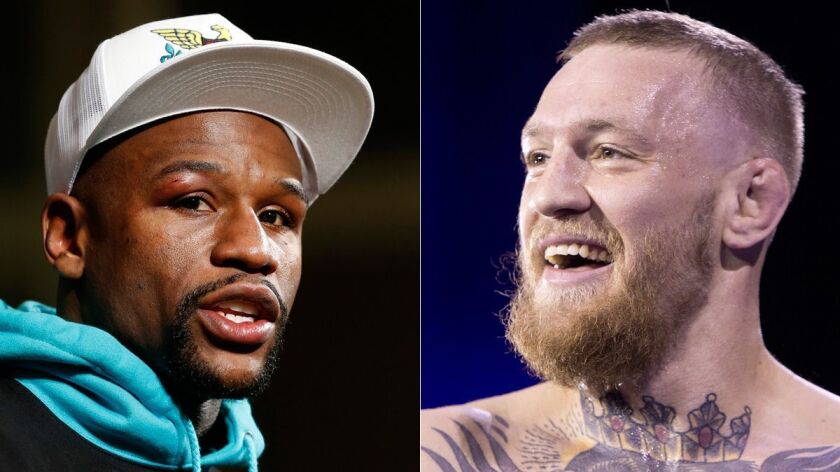 LAS VEGAS —
Floyd Mayweather Jr., the best boxer of this generation, is ending his retirement to meet wildly popular UFC champion Conor McGregor, who'll test himself against massive odds outside the octagon.
Mayweather posted on social media Wednesday that "It's Official!!!" and McGregor posted, "The Fight Is On," hours after an Aug. 26 fight date at the MGM Grand was approved by the Nevada State Athletic Commission.
Mayweather Promotions secured the Showtime pay-per-view date, setting up a novel showdown between the 40-year-old Mayweather (49-0), who retired as boxing's No. 1 pound-for-pound fighter, and McGregor, the UFC's only simultaneous two-division champion.
Though the bout was approved for the MGM Grand, UFC President Dana White said it will take place instead across the Las Vegas Strip at T-Mobile Arena.
"Part of the appeal is that the fights these guys participate in are more than boxing events or MMA fights. … They're true spectacles that mainstream society wants to experience," said Showtime executive vice president Stephen Espinoza.
"This is a competition you haven't seen before. The reputations of these men precede themselves, making this a true sporting spectacle. It feels like a once-in-a-lifetime event."
Though Mayweather's supreme skill, seen in his one-sided victory over Manny Pacquiao in 2015, is viewed as the top reason that McGregor is considered a more than 25-1 underdog, the brash Irishman's outspokenness and striking power create sufficient intrigue to sell a fight that could challenge Mayweather-Pacquiao's 4.6 million pay-per-view buys.
Mayweather advisor Leonard Ellerbe speculated that the fight could generate $500 million in live-gate and pay-per-view sales.
"Floyd Mayweather has been dominant for so long that people take him for granted," Espinoza said. "But he's taken two years off, he is 40, and he's fighting a much larger, younger, stronger opponent who might not be an experienced boxer, but is experienced in combat sports and knows how to win fights.
"Boxing rarely goes the way of conventional wisdom, and part of that could be the result of a guy who's taken some time off and is older."
After months of taunts, McGregor goaded former UFC featherweight champion Jose Aldo into pursuing a quick knockout in their 2015 meeting. Instead, Aldo rushed into a left-handed punch and was finished in a title-fight-record 13 seconds.
McGregor later avenged a loss to heavier Nate Diaz with sharp boxing skills, and he decked then-lightweight champion Eddie Alvarez repeatedly before finishing him in November.
Yet many fight-game veterans believe that White, by allowing McGregor to risk a one-sided loss, could severely damage the UFC brand a year after the company was sold for $4 billion. To that, White said, "absolutely not.
"Conor's a mixed martial artist going into a boxing match with arguably the greatest boxer of all time. It actually elevates Conor McGregor, that this kid who had so much to lose is willing to step in and is absolutely confident he will win this fight," White said.
"It's one of the many reasons that people love Conor McGregor. Win, lose or draw, they'll continue to love Conor McGregor. … He'll fight anybody."
Mayweather's resume includes boxing sessions against world-class pugilists Oscar De La Hoya, Diego Corrales, Miguel Cotto and Pacquiao.
The deal came suddenly and surprisingly.
A late-night phone call from Mayweather advisor Leonard Ellerbe led to the addition of the subject to the agenda for Wednesday's Nevada State Athletic Commission meeting.
McGregor first posted the news, flashing a picture of Floyd Mayweather Sr. instead of his son, in a side-by-side Twitter post to jab at his opponent's age.
"These guys are so anxious to get in camp and get at each other's throats that they're ahead of the venue and television [pay-per-view price] prongs," Espinoza said.
"It's amazing what can be done when you have two motivated fighters. There were no snags, no hassles, no changeups at all. … The volume of details to make the fight took time, but not the fighters."
Terms of the deal were not revealed, with White saying, "Nobody's bummed out about this deal."
Though some insiders speculated that the date was too soon, given the need for training time, both fighters recently posted photos showing themselves in the gym, and the date is ideal for McGregor, who has told White he'd like to fight once in the UFC as well before the end of the year.
The date takes away significant attention from the Sept. 16 middleweight title fight between unbeaten three-belt champion Gennady Golovkin and Mexico's former two-division champion, Canelo Alvarez.
While Mayweather, 40, has been sidelined since announcing his retirement after a victory over Andre Berto in September 2015, McGregor has been off since winning the lightweight (155-pound) belt from Alvarez in November in the main event of the UFC's first Madison Square Garden card.
McGregor has taken this year off because of the birth of his first child, a son.
Twitter: @latimespugmire
---
Get our high school sports newsletter
Prep Rally is devoted to the SoCal high school sports experience, bringing you scores, stories and a behind-the-scenes look at what makes prep sports so popular.
You may occasionally receive promotional content from the Los Angeles Times.