UFC women's featherweight champion Cris Cyborg wants to be a positive force for all women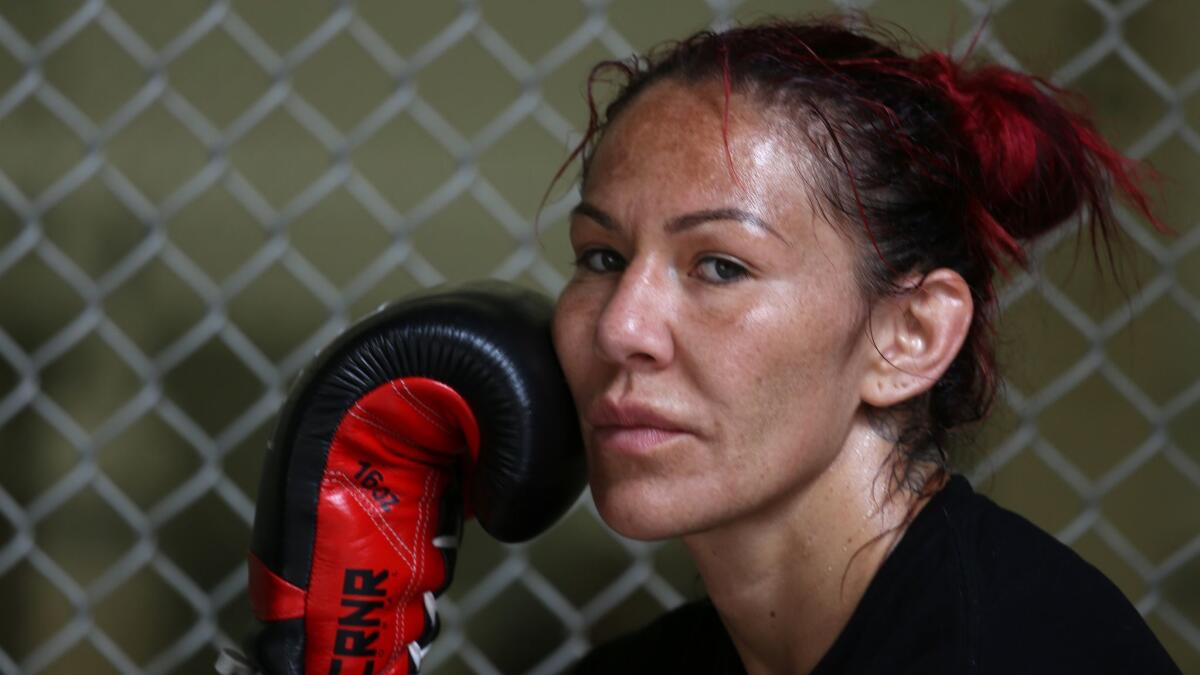 In addition to wearing the UFC women's featherweight belt, Cris Cyborg has taken on the title as the leading advocate for women's fighting, and all the ways it can inspire.
She has attended the recent fights of unified women's welterweight boxing champion Cecilia Braekhus and women's middleweight boxing champion Claressa Shields, and she trained in her Orange County gym this camp with UFC women's flyweight champion Valentina Shevchenko.
Even now, as the favored Cyborg stands on the precipice of stamping herself as the most dominant female fighter on earth when she meets bantamweight champion Amanda Nunes in the co-main event of UFC 232 Saturday night at the Forum, she took on Nunes' challenge with some reservations.
"When all the people were asking me about it, I said no at the beginning because I respect all people from Brazil and I know how hard it is for a person from Brazil to become a champion," Cyborg said of her countrywoman.
"Before this, I had a dream that all the girls from Brazil would be champions. … I didn't want to beat another. She has a light shining on her, and mine already shines."
But Nunes (16-4), riding a seven-fight win streak with three consecutive successful title defenses, including one over Ronda Rousey, sought Cyborg as her opportunity to become the women's pound-for-pound No.1. Nunes is more than a 2-1 underdog.
"She starts calling me out, and now she's become my opponent and we'll fight," Cyborg said. "OK, but you asked for it."
"I know she's a champion at 135 [pounds], but after I beat her, people are not going to look at her like a champion. A lot of things will happen in the fight Saturday … and while she keeps saying, 'I have nothing to lose … .' No. Bad things will happen. And I don't know how she'll handle it after the fight if I deeply hurt her. She won't look like a champion."
The showdown, however, furthers the mission of Cyborg (20-1, 17 knockouts) to elevate women's fighting to a place beyond the singular attraction it was during Rousey's title reign, UFC President Dana White said.
"This is for the baddest woman on the planet … as the women's divisions have created bigger stars, I've been talking about this fight and have wanted it for a long time," White said. "I love this fight. It's about timing."
Cyborg says forging the network with other female fighters has both selfish and selfless motivation. She likes to know how fellow champions think and fight — Shevchenko, for instance, has fought Nunes twice.
"Cris will beat Amanda because Cris is a very good fighter and she has very good speed and very good resistance — and more — she's my friend and has to beat Nunes," Shevchenko said of her rival.
Shields will walk to the octagon alongside Cyborg.
"I like to support all the women in fighting just because it's nice to help each other and work together," Cyborg said.
"All of it has been great for me, because I don't believe I know everything. I plan to win, expect to be a champion for a very long time and be undefeated. But I can't prepare as if I'm the best fighter. I have to work hard to be the best, and being around those women is a good start."
Cyborg additionally wants to spread the influence of the female fighters' success to women and girls in their everyday pursuits.
In Brazil, like the U.S., the extra effort it takes for a female to stand on equal footing with her male counterpart can require a fighter's mentality.
Thus, her vision is to project her image as the type of toughness and persistence it has taken to dominate in a sport that was previously the domain of males.
"We're making a change … just give the opportunity to us, and then we'll do the best we can," Cyborg said.
UFC 232
Main Event: Jon Jones (22-1) vs. Alexander Gustafsson (18-4) for the UFC light-heavyweight belt
Where: The Forum, tickets available at the box office and axs.com
When: Saturday, pay-per-view portion begins at 7 p.m., preliminaries on FS1 at 5 p.m.
Undercard: Cris Cyborg (20-1) vs. women's bantamweight champion Amanda Nunes (16-4) for Cyborg's women's featherweight belt; Michael Chiesa (14-4) vs. Carlos Condit (30-12), welterweights; Ilir Latifi (14-5) vs. Corey Anderson (11-4), light-heavyweights; Chad Mendes (18-4) vs. Alexander Volkanovski (18-1), featherweights
Twitter: @latimespugmire
Get our high school sports newsletter
Prep Rally is devoted to the SoCal high school sports experience, bringing you scores, stories and a behind-the-scenes look at what makes prep sports so popular.
You may occasionally receive promotional content from the Los Angeles Times.