Former UFC champion Fabricio Werdum recounts saving a boy from drowning at Redondo Beach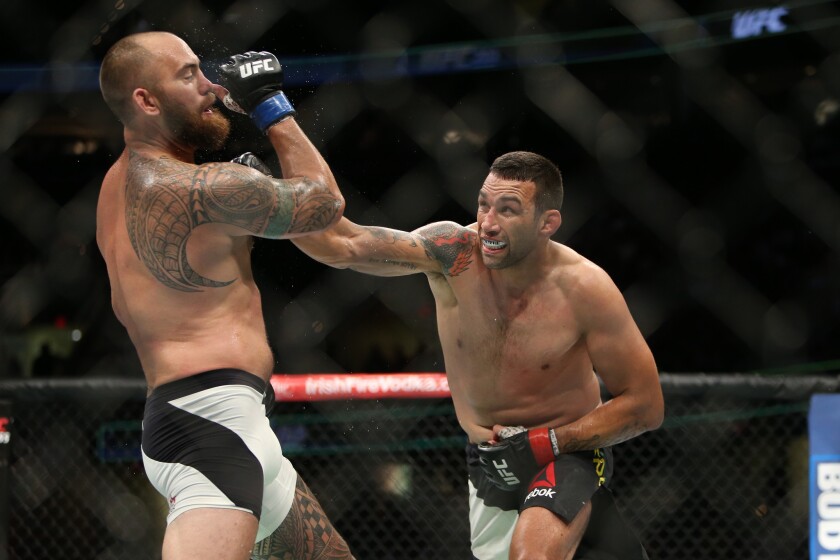 The cutline to the photo published on an internet publication described the hero as "a bystander." That was no ordinary bystander. It was former UFC heavyweight champion Fabricio Werdum.
Perhaps, in another circumstance, Werdum, 41, would've been nowhere near the Pacific Ocean near his Redondo Beach home that January day.
Werdum's a highly trained athlete who submitted mixed martial arts legend Fedor Emelianenko in 2010, and then out-smarted Cain Velasquez by setting up his training base in the high altitude of Mexico City before submitting a gassed-out Velasquez in the third round of their 2015 title fight.
He likely would have been preparing for a fight, but in September, Werdum received a two-year suspension that expires in May 2020 for a positive steroid test taken by the U.S. Anti-Doping Agency.
The good-natured Brazilian reasons that fate put him on those sands for a reason.
"I think so, because every other time we go to the beach, we go to the same place for many years — right in front of my home. This time, I went to a different place I'd never been," he said. "Incredible situation."
Sign up for our daily sports newsletter »
Werdum, his two daughters and wife were enjoying their otherwise typical day at the beach when they heard the sirens wailing from a car that stopped right next to them.
"I thought, 'What happened here?' I look out and see the heads of two kids bobbing way out there in the ocean — about 75 yards — and I see one lifeguard coming, running. Just one guy," Werdum recounted over a lunch meeting at the Los Angeles Times on Tuesday in El Segundo.
"So I ask, 'You want help?' The lifeguard says, 'Yes, please.' And my wife starts crying, 'No, please no!' because she saw how far out the kids were. The lifeguard got on a big board. I took the smaller flotation device and put it on my chest and started swimming out there … ."
Although he's endured 32 professional MMA bouts in destinations like Sydney, London, Mexico City, Brazil and Japan, Werdum said this crisis was truly foreign to him.
He felt his heart racing. There was stress, rough waves, distance to tread and lives in the balance.
"When I first went out there, I was scared. That situation was nothing like the octagon. When I go into a fight, I'm OK. This situation nearly broke me … my heart was pounding so fast," Werdum said.
"I saw the 16-year-old boy barely afloat. He was very tired. He couldn't breathe, because he had breathed in and drank a lot of water. The lifeguard took the girl. I took the boy, and we got them to the [emergency vehicle for treatment]."
Werdum's wife shot a video of the scene, narrating that, "My husband is so brave, look at him rescuing a teenager … you're awesome, Fabricio."
Former UFC champion Fabricio Werdum recounts saving a boy from drowning at Redondo Beach.
Then, last week, Werdum said, "someone called me and said, 'Hey, Werdum, the kids want to see you, they want to thank you.' They gave me and the lifeguard flowers."
As Werdum recounted the story, UFC flyweight champion Henry Cejudo, who also attended the lunch, chuckled at the thought of a flower meaning so much to the grizzled veteran fighter.
"What?" Werdum responded, feigning indifference. "I feel great about what I did now."
Twitter: @latimespugmire
---
Get the latest on L.A.'s teams in the daily Sports Report newsletter.
You may occasionally receive promotional content from the Los Angeles Times.