It's final in Baltimore: Ravens 34, Chargers 6
For context, this Ravens team picture took place with two minutes still left in the game.
Ravens, 34, Chargers 6, FINAL
Ravens score for third time in three drives in second half, now lead 34-6
Baltimore turned this game even more one-sided by scoring again early in the fourth quarter.
The Ravens went up 34-6 on a nine-yard run by Devonta Freeman on the first play of the quarter.
The Chargers have nine first downs and 23 rushing yards. Justin Herbert is having one of the poorest performances of his career, completing 12 of 25 for 115 yards, with one touchdown and one interception.
Herbert also is the team's leading rusher with 10 yards on one carry. Austin Ekeler has nine yards on five carries and just 43 yards from scrimmage.
Wide receiver Keenan Allen has been targeted twice and has two caches for 14 yards.
The Chargers are two for eight on third down and have failed to convert twice on fourth down.
Baltimore has a time of possession advantage of nearly 20 minutes.
Ravens 34, Chargers 6, 14:55 left in fourth quarter
Chargers go for it again on fourth deep in their own territory, leads to Ravens score
The Chargers fell behind 27-6 on a 39-yard field goal by Justin Tucker late in the third quarter.
Another failed fourth-down attempt set up Baltimore with a short field, but the Chargers defense was able to limit the damage.
With his offense flat-lining, coach Brandon Staley attempted a jump-start by going for it on fourth-and-one at his own 19-yard line. Justin Herbert's attempt to hit Joshua Palmer wasn't close.
The Chargers also failed on a fourth-and-three in the second quarter. That missed try led to a Tucker field goal, as well.
Ravens 27, Chargers 6, 5:06 left in third quarter
Ravens extend lead on opening drive of second half
Aided by a 47-yard kickoff return by Devin Duvernay, Baltimore opened the section half by reaching the end zone again.
The Ravens needed 12 plays to go 52 yards with Lamar Jackson passing nine yards to tight end Mark Andrews for the score to make it 24-6 midway through the third quarter.
Baltimore has a time of possession edge of 26:39 to 10:42. The Ravens have 20 first downs to the Chargers' nine.
Starting cornerback Michael Davis returned to open the third quarter after being pulled from the game in the second quarter.
Ravens 24, Chargers 6, 7:39 left in third quarter
The story of the first half in five Twitter highlights
Here's the story of the first half of the Chargers-Ravens game told in five Twitter highlights. The Ravens lead 17-6 at the half.
Ravens take 7-0 lead on Latavius Murray rushing TD.
Ravens extend lead to 14-0 on Le'Veon Bell rushing TD.
DeShon Elliott picks off a Justin Herbert pass.
One play after Elliott's interception, Kyzir White picks off Lamar Jackson to set the Chargers up in Ravens territory.
Jared Cook gets the Chargers on the board after Kyzie White interception.
Quarterbacks exchange picks, Chargers get on board but miss extra point
The Chargers' offense finally broke through to close to within 17-6 of Baltimore on a one-yard pass from Justin Herbert to tight end Jared Cook.
Herbert was able to take advantage of a Kyzir White interception that gave the Chargers the ball at the Ravens' 27-yard line.
He passed to Mike Williams for 26 yards and then hit Cook for the score.
Rookie kicker Tristan Vizcaino followed by missing his fifth extra point of the season.
Ravens 17, Chargers 6, two-minute warning
After failed L.A. fourth-down conversion attempt, Ravens bump lead to 17-0
Baltimore extended its lead to 17-0 on a 52-yard field goal from Justin Tucker.
The Ravens took over on the Chargers' 39-yard line after the Charger offense failed to convert on fourth down for the first time this season. Facing fourth-and-three, Justin Herbert attempts to hit Mike Williams, but the pass fell incomplete.
The Chargers offense had cashed in on its first seven fourth-down tries.
Defensive lineman Linval Joseph sacked Lamar Jackson for a 10-yard loss to help hold the Ravens to a field goal.
For the Chargers, starting cornerback Michael Davis has been replaced by Tevaughn Campbell. Davis is on the sidelines and does not appear to be injured.
Also, rookie linebacker Amen Ogbongbemiga has returned to the game after leaving early in the second quarter with an undisclosed injury.
It is the Chargers' largest deficit of the season.
UPDATE: One play after Herbert was picked off for the first time in 140 pass attempts, Kyzir White picked off a Jackson pass setting up a Herbert-to-Jared Cook TD pass.
Ravens 17, Chargers 7, 4:11 left in second quarter
Lamar Jackson, Ravens ground game dominating the Chargers
A long day for the Chargers defense appears to be shaping up as the group again could not contain Baltimore's running game in falling behind 14-0 early in the second quarter.
The Ravens reached the end zone on a two-yard run by Le'veon Bell, who was not touched on the play.
The series included a 22-yard scramble by quarterback Lamar Jackson on a 1st and 20.
On its first two series, Baltimore has run 11 times for 92 yards. The Chargers gave up 230 yards on the ground to Cleveland last week.
Rookie linebacker Amen Ogbongbemiga was injured during the series and had to leave the game.
The Chargers promptly went three-and-out for the second straight time on the subsequent series.
Ravens 14, Chargers 0, 13:24 left in second quarter
Latavius Murray punches it in from 14 yards out to give Ravens lead
The Chargers' inability to stop the run this season continued on Baltimore's first possession as the Ravens drove for a 7-0 lead.
Latavius Murray and Devonta Freeman both rushed for 22 yards and wide receiver Devin Duvernay had an 11-yard carry during the series.
Murray scored on a 14-yard run up the middle. It was the Ravens' first touchdown in the first quarter since Week 2.
The Chargers entered Sunday as the NFL's worst team in rushing defense.
Ravens 7, Chargers 0, 5:12 left in first quarter
Mike Williams was questionable, now active
Wide receiver Mike Williams is active for the game at Baltimore after missing practice all week because of swelling in his knee.
Williams, who is coming off an eight-catch, 165-yard, two-touchdown game against the Cleveland Browns, is in the midst of a career year. His two receiving TD's last week gave him an NFL-best six for the season.
The Chargers inactives for Sunday: S Nasir Adderley (hip), LB Drue Tranquill (chest muscle), QB Easton Stick, RB Larry Rountree III, OL Brenden Jaimes, TE Tre' McKitty, DL Forrest Merrill.
Brandon Staley keeps Chargers' offense going fourth, and producing
The idea was planted back in the spring when the Chargers were running around in shorts and T-shirts.
New coach Brandon Staley warned his offense not to assume a punt was coming just because it was fourth down.
"Hey, man, don't start jogging off the field yet," center Corey Linsley remembers Staley saying. "We could go for a fourth [down] if we feel comfortable, doesn't matter [where or when]."
The rookie coach has followed through on those words. Through five games, the Chargers' offense is seven for seven on fourth down. The team's only failed fourth-down attempt came on a fake punt.
Down-trodden Chargers run defense needs to approach Ravens on another level
Poor execution led to the Chargers' feeble performance in Week 2 against the rushing attack of the Dallas Cowboys.
On Sunday, the Chargers were even worse when matched against the Cleveland Browns.
After surrendering 230 yards on the ground, safety Derwin James Jr. suggested fixing the latest issue was a bit more straightforward than dissecting any Xs or O's.
"It's about whooping the man in front of you," James said this week.
Entering Week 6, the Chargers ranked last in the NFL in rushing defense, giving up an average of 157.6 yards. And that high average includes limiting Las Vegas to 48 yards in Week 4.
The Chargers' run defense looked middle of the pack in its opener at Washington. The group yielded 186 yards on the ground against Kansas City, but that was at least partially because of a specific scheme designed to thwart big plays.
Chargers vs. Ravens matchups: Justin Herbert and Lamar Jackson could light it up
Breaking down how the Chargers (4-1) and the Baltimore Ravens (4-1) match up heading into their game at 10 a.m. Pacific time Sunday at M&T Bank Stadium in Baltimore. The game will be carried on CBS (Channel 2).
When Chargers have the ball: Only three teams entered Week 6 having surrendered more yards passing than Baltimore. One of those teams was Dallas, and Justin Herbert torched the Cowboys for 338 yards in Week 2. True, that's the only game the Chargers have lost, but Herbert has to be looking forward to facing a defense that has been vulnerable against the pass. The Chargers could be without Mike Williams, who is their leader in yards receiving and touchdowns, because of a knee injury. Coach Brandon Staley said Friday the team was "hopeful" Williams could play, which sounded encouraging. Williams has played through injuries in the past. After opening the season with touchdowns on only three of 10 red-zone trips, the Chargers have converted on 12 of 14 visits. The Ravens are tied for sixth in red-zone defense. Some early success could propel the Chargers, who scored touchdowns on their final four full possessions last week in a 47-42 win over Cleveland. Austin Ekeler scored three of those in the final 7½ minutes. Last season, he had three touchdowns in 10 games. So this is a group that should enter Sunday feeling good about its chances and its quarterback, Herbert having thrown for 11 touchdowns over the last three weeks.
Chargers vs. Baltimore Ravens: NFL betting picks, odds and analysis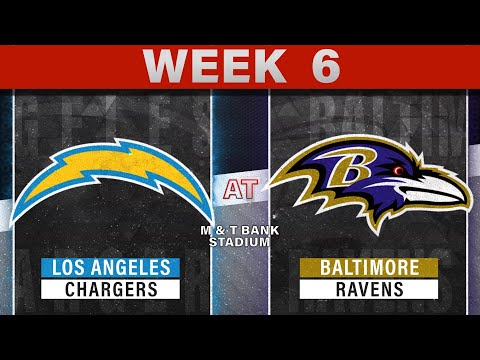 Chargers at Baltimore Ravens (-3, O/U 52)
While the Ravens could be 5-0 if the Las Vegas Raiders' Dan Carlson hadn't made a 55-yard field goal in the season opener, we all know that they easily could have also lost to the Chiefs, Lions (an especially miraculous comeback and win on Justin Tucker's record-setting 66-yard field goal) and last Monday night vs. the Colts.
The Chargers are the more complete team at this time, and while their most lackluster performance was in Week 1 when traveling all the way to the East Coast in a 20-16 win at Washington, they showed they can take their show on the road when they went to Kansas City in Week 3 and upset the Chiefs 30-24.
I see a similar result here. Bettors should grab the +3 if possible just in case the Chargers come up short by a field goal. The better play might be to just take the Chargers in six-point teasers and take that spread up to +9, or +8 1/2, if using books that lowered the game spread to 2 1/2. There aren't as many "advantage teasers" this week that pass through the key numbers of three and seven (since those are the most common margins of victory in the NFL), but I'd recommend using the Jaguars +9 vs. the Dolphins in London; Chiefs down to -1/2 at Washington; Panthers up to +8 vs. the Vikings; and Raiders +9 1/2 at Denver.