Clippers beat Brooklyn, 105-100, ending seven-game road losing streak to Nets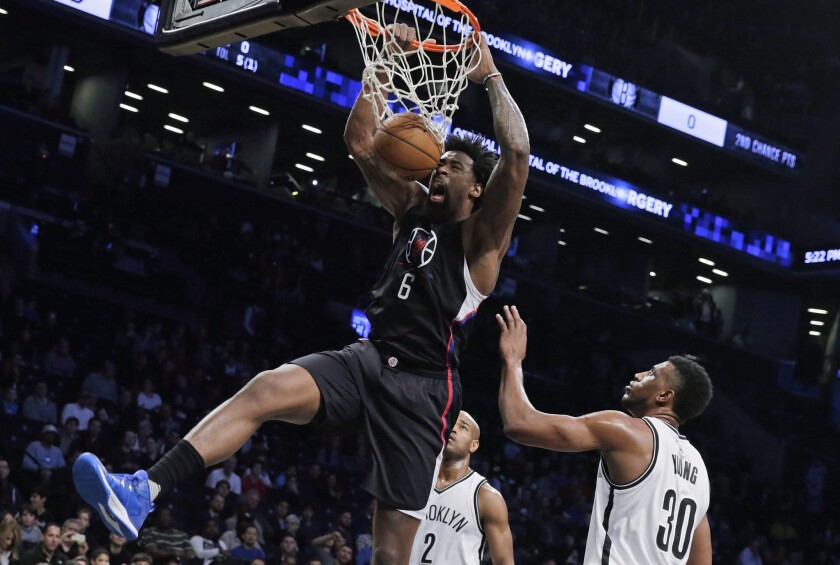 The Clippers beat the Brooklyn Nets on the road for the first time since December 2007, winning 105-100, on Saturday.
They came close to losing their eighth straight game at Brooklyn after blowing an 18-point fourth-quarter lead.
The Nets used the hack-a-DJ (DeAndre Jordan) strategy about the five-minute mark to spark an 11-2 run to cut their deficit to two points, 93-91, with 3:51 left.
In the in final 3:26, Blake Griffin and Chris Paul combined to score 12 points to give the Clippers the win.
Five Clippers players scored in double-figures. Griffin had 21 points on 10-for-19 shooting, nine rebounds and four assists. J.J. Redick had 21 points, making five three-pointers. Paul had 15 points and 14 assists. Jordan had 12 points and 12 rebounds. And Paul Pierce had 10 points on four-for-six shooting, and made two of his three three-point attempts.
The Clippers finished with 28 assists, while the Nets had 17. The Nets, however, made 25 of their 30 free throws, while the Clippers only made 11 of their 18.
The Nets were led by Thaddeus Young, who had 18 points and five rebounds.
This was the Clippers' fourth game of a five-game trip, and their fourth win in their last five games. They are in fourth place in the Western Conference with a record of 14-10.
Follow Melissa Rohlin on Twitter @melissarohlin
---
Get the latest on L.A.'s teams in the daily Sports Report newsletter.
You may occasionally receive promotional content from the Los Angeles Times.