Chris Paul says he's 'getting better' after groin injury, hopes to play Thursday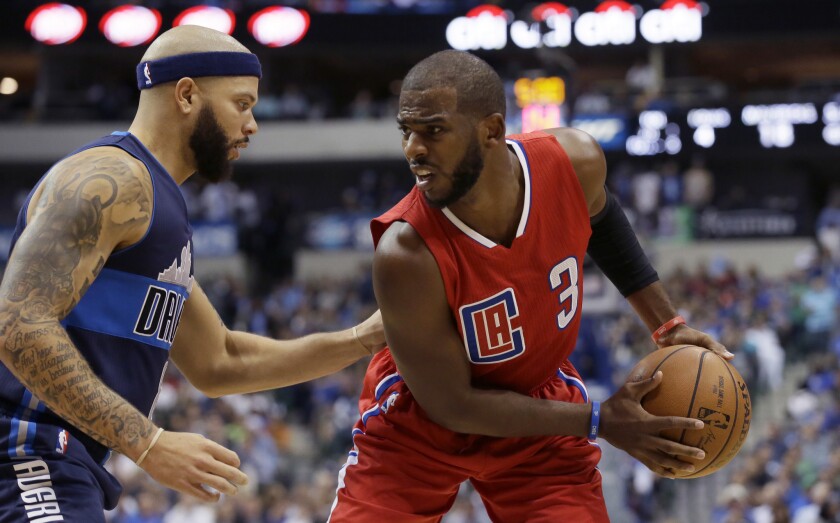 Clippers starting point guard Chris Paul, who has missed the team's last two games because of a strained right groin, said he is recovering from the injury.
"Definitely getting better," Paul said before Tuesday's practice.
Paul sustained the injury late in a game against the Golden State Warriors on Nov 4. He said he was going to try to participate in the day's practice, and that he hopes to play in Thursday's game against the Warriors at Staples Center.
"I want to, no question," he said.
Last season, Paul prided himself on playing in all 82 games for the first time in his career. He said it was difficult for him to watch the last two games from the sideline, but that he's trying to keep his perspective.
"It was very tough, but, like I said, you learn to look at the big picture," he said. "Obviously you need every game, but it's better to be ready in April, May, June than it is to be ready in November."
Paul said he pushed himself a bit too hard in the team's loss to Dallas on Nov. 11, and he decided to listen to his body and sit out against Phoenix and Detroit.
"All in all, the team is capable," Paul said. "You don't have to try to be the hero in November. We have great guys, we have Austin [Rivers], we have Pablo [Prigioni].
Coach Doc Rivers said starting shooting guard J.J. Redick, who also missed the team's last two games because of back spasms, is possible for Thursday's game.
"He's possibly going to play on Thursday," Rivers said. "I don't think he's going to do much today. He's feeling a lot better, he got some shooting in, but again, with the back, you've just got to be careful. If it's close, he's not going to play, I'll tell you that. Playing a game on a Thursday in the middle of the season, we're not going to overdo this."
Rivers said he has to be very careful in monitoring Redick because back injuries are inherently tricky.
"The back can take a day, and then you feel great the next day," Rivers said. "Or it can take three days, or it can take a month. The thing with the back, you always have it. It can always come back. When J.J. comes back, and he's healthy, it's always around the corner."
But the coach said he expects Paul to have a full recovery.
"I think when groins heal, they're pretty much healed," Rivers said. "I think it's tough for them to fully heal, and what we're trying to do by giving Chris the week off is to try to really let him heal."
The Clippers, who have lost four of their last six games, are in the midst of a four-day break before their next game. They took two days off, and plan on having two days of practice.
Paul said the break in the schedule has come at a great time: "We've got a few guys that are banged up, so anytime you can get some rest -- and the other thing is, we get some good practice time to get back to our principles and what we're trying to get better at."
---
Get our high school sports newsletter
Prep Rally is devoted to the SoCal high school sports experience, bringing you scores, stories and a behind-the-scenes look at what makes prep sports so popular.
You may occasionally receive promotional content from the Los Angeles Times.