Clippers' Josh Smith addresses reports that called him greedy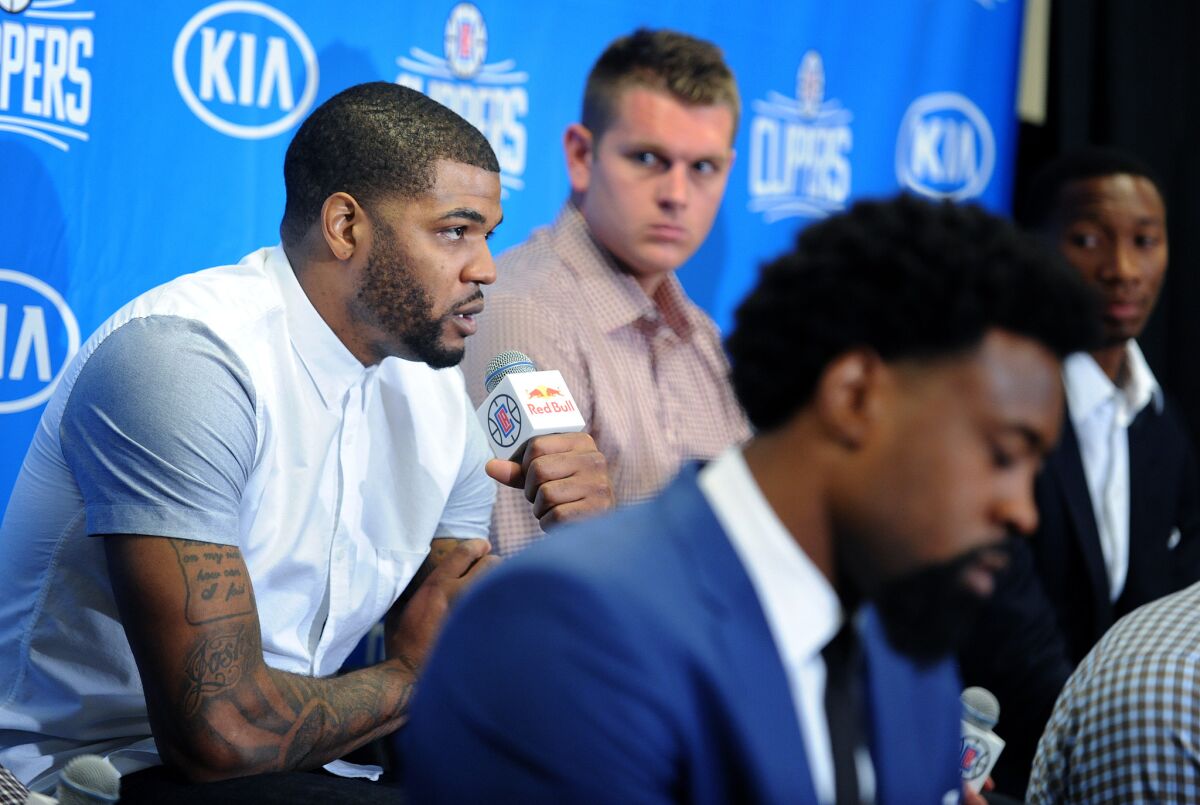 Josh Smith wrote a column for the Players' Tribune to clarify a remark that he made at a Clippers news conference earlier this month.
The takeaway: He wants you to know that he wasn't talking about the money.
When the 29-year-old veteran forward was being introduced to the media on July 21, he said his decision to sign with the Clippers would pose a bit of a hardship on his family.
"At the end of the day, you know, I do have a family," Smith said. "So it is going to be a little harder on me this year. But I'm going to push through it and, you know, try to do something long term after this year. But I think this year focusing on doing something special with this group of guys."
Many interpreted that comment to mean that Smith was complaining about his salary.
He chose the Clippers over teams that could offer him more money, signing a one-year, $1.5-million contract. He will make most of his salary next season from the Detroit Pistons, who will pay him $5.4 million a year through the 2019-20 season after waiving him last year.
So, yes, basically he was skewered by the media when they thought he was whining about earning $6.5 million over a year.
According to his column, he was totally misunderstood.
"Anyone who knows me, or knows how one-year contracts work in the NBA, understood what I was saying," he wrote. "This is my third team in less than a year. I was talking about how moving affects my family. But the headline about greed was the one everyone ran with."
Smith said he found out what people were saying about him while he was jogging in the park with his family. Both of his sisters and his father called him.
"I knew something was up," he wrote. "I guess I was the last person to find out that I was suddenly in the news."
Smith wrote that his quote had nothing to do with money.
"The whole thing about it being 'harder on me' comes down to family. It seems obvious to me, but maybe I could have said it more clearly. If you know the NBA, you know that moving to a new team is a decision that affects an athlete's whole family. That's even more true when you're signing a one-year deal. With a one-year deal, there's less stability because you know you might be moving again in a year."
Smith played for the Atlanta Hawks the first nine seasons of his career. He signed a four-year, $54-million contract with the Pistons in 2013, but that didn't work out. The Houston Rockets acquired Smith in December, and he helped them knock the Clippers out of the second round of the playoffs after the Clippers had taken a 3-1 lead in the series.
"Now, I'm moving on to basketball, but thanks for reading," he wrote. "I don't speak up that often, but I felt I needed to clear the air. I wish someone had just asked me for clarification before everyone immediately jumped to negative assumptions. A couple people sometimes ruin it for everyone else. I've got no hard feelings, but I do see why some guys are more skeptical about opening up when this type of thing happens."
MORE CLIPPERS NEWS:
Chris Paul and his wife bring fans along on powerful journey via social media
Clippers' Lance Stephenson dances with Teenage Mutant Ninja Turtles
Grizzlies' Matt Barnes tells his kids the Clippers are now his enemies on the court
Get our high school sports newsletter
Prep Rally is devoted to the SoCal high school sports experience, bringing you scores, stories and a behind-the-scenes look at what makes prep sports so popular.
You may occasionally receive promotional content from the Los Angeles Times.