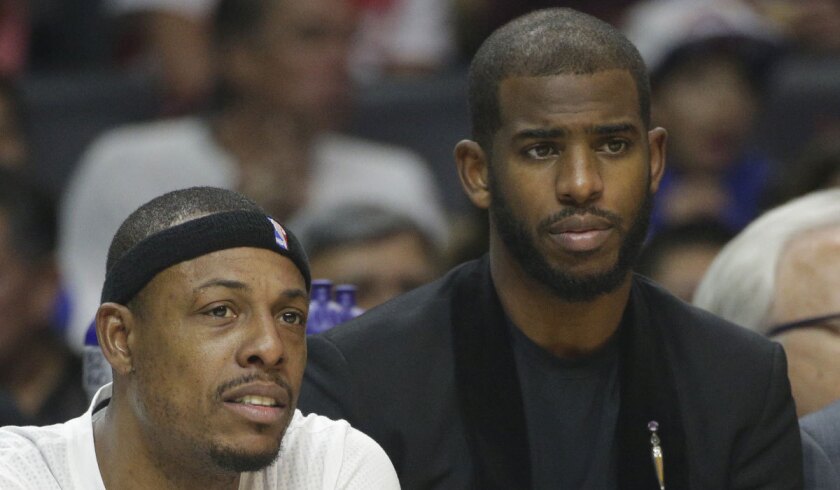 The Clippers opened the season with four straight wins -- their best start since 2007 -- before losing their last two games, against the Golden State Warriors and the Houston Rockets, both contests coming down to the final minutes of the fourth quarter.
The team has a chance to turn around that skid when it plays the Memphis Grizzlies at Staples Center on Monday at 7:30 p.m.
Chris Paul is listed as probable for Monday's game after missing Saturday's 109-105 loss to the Rockets because of a strained right groin that he sustained in Wednesday's 112-108 loss to the Warriors.
In Paul's absence Saturday, Austin Rivers made his first start of the season, finishing with 10 points on four-for-12 shooting, one assist and one turnover in 31 minutes. Rivers said he doesn't anticipate starting again Monday.
"He looks good right now, so knowing Chris, he's probably going to play," Rivers said at the shoot-around Monday morning. "I told him, don't tease me, man, don't be out here. I'm about to start, I'm getting ready to go start, and then he comes in, which is going to happen, I'm telling you right now, he's going to play."
The Grizzlies have opened the season with a slow start, winning only three of their seven games, including suffering a 50-point loss to the Warriors. Memphis acquired former Clipper Matt Barnes over the summer, something the players say will make this matchup even more interesting.
Rivers acknowledged he had been nervous to play alongside Barnes when the Clippers acquired him in January because of Barnes' tough-guy reputation. He said that said his initial concern, however, couldn't have been more misguided.
"Matt was probably the best guy, he, like, accepted me," Rivers said. "He was the first guy to come up to me that first game when we played Cleveland, and I was horrendous because I was so, not nervous, but out of place. I didn't know any sets. They kind of just threw the ball out there and said, 'Go guard Kyrie [Irving].' I was out there like, man, what is going on. After that game, I was like man, that was terrible. Matt came up to me and was like, 'We're with you, relax.'"
Get the latest in sports with our free newsletter >>
Barnes may have been a good locker room guy on the Clippers, but he doesn't intend to be so nice when playing against them. Barnes recently joked that he's going to dish out some hard fouls to his friend DeAndre Jordan.
"That's the way Matt knows how to play," Jamal Crawford said. "And I'm sure DJ will do the same."
MORE CLIPPERS NEWS
Clippers fall back to earth again with 109-105 loss to Houston Rockets
Five takeaways from the Clippers' 109-105 loss to the Houston Rockets
NBA officiating report says referees missed goaltending call in Clippers game
---