Clippers look to future, with first-round draft picks and looming decisions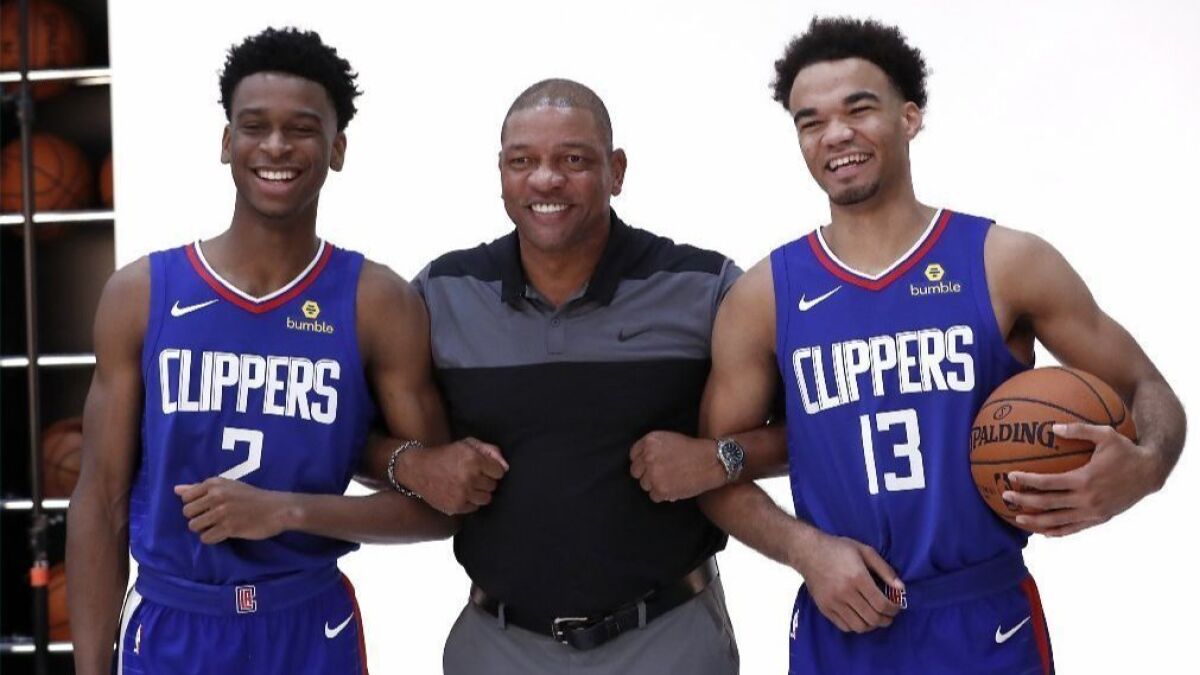 The Clippers introduced their first-round draft picks, guards Shai Gilgeous-Alexander and Jerome Robinson, to the media in Los Angeles on Monday, and it didn't take long for the conversation to shift to what's next.
The Clippers were asked about their free-agency plans and where things stand with center DeAndre Jordan, who has until Friday to decide whether to exercise a $24.1 million option for next season.
Also, the Clippers have reached out to San Antonio to express interest in trading for Kawhi Leonard, according to NBA officials not authorized to speak publicly. The conversation was brief, the officials said, and the Clippers came away feeling as if the Spurs were not in a rush to make a deal for Leonard — with them or any other team.
The Clippers boosted their guard depth during last week's draft by picking up Gilgeous-Alexander, the 11th overall pick, in a trade with Charlotte and choosing Robinson with the 13th pick.
With two highly-regarded rookies, Clippers coach Doc Rivers was asked about the perception that he doesn't like to rely on first-year players.
"People forget I won a world championship [in Boston] with Rajon Rondo as a second-year guard and he played a bunch his first year, along with Kendrick Perkins," Rivers said. "I'm going to play the best players; guys who deserve it. But I will never give a rookie minutes because he's a rookie. I think that deteriorates your culture. I think everyone has to earn minutes on the floor.
"And," he added, smiling as he looked at the rookies next to him, "I expect that to happen, right?"
Gilgeous-Alexander, a 6-6 point guard who played one season at Kentucky, is well aware the Clippers have just one point guard among their eight guards.
"I had a couple of spots that I wanted to go to and I thought I could fill that void," Gilgeous-Alexander said. "And this was the main spot."
Robinson, a 6-5 shooting guard who played three seasons at Boston College, is prepared to be an understudy.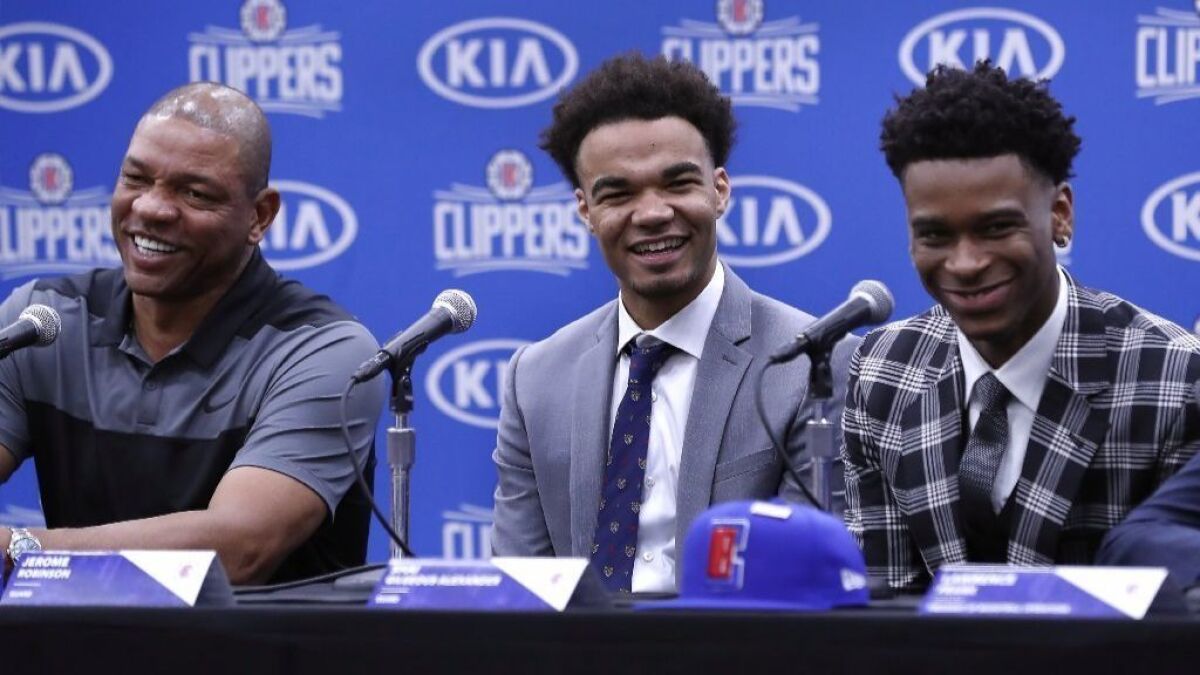 "Being a sponge and being able to learn right away from these guys," Robinson said. "It's a winning program that I'm going into. They want to win right now."
By the time free agency starts Saturday at 9 p.m. PDT, the Clippers will know Jordan's decision. Jordan, who turns 30 next month, has played all 10 of his NBA seasons with the Clippers and averaged 12 points and a career-high 15.2 rebounds last season.
"DJ and I have stayed in communication," Rivers said. "It's a tough one for him. I want DJ to make the best call for DJ. He's got a tough call. He can opt in or he becomes a free agent. There really is no bad option for DJ."
If Jordan opts out, the Clippers also can look at free-agent centers Brook Lopez, Aron Baynes and Alex Len.
The Clippers also have to see what the market bears for backup center Montrezl Harrell, who will become an unrestricted free agent. Harrell, 24, had career highs in games (76), scoring (11.0) and rebounding (4.0) last season, his first with the Clippers.
If the Clippers plan on re-signing free-agent guard Avery Bradley, who played just six games for them after being acquired from Detroit, their most pressing need would be at forward.
"We obviously have a lot of guard depth," said Lawrence Frank, the Clippers' president of basketball operations. "Like the draft, we use best available player. In free agency, you're obviously looking for best available player, but you're also looking to fill some needs and fill some holes. Based on how things turn out will determine a little bit of the direction we go."
The Clippers have the $8.6-million mid-level exception and $3.4-million bi-annual exception to offer players in free agency. They won't have a maximum salary slot for a top-tier free agent such as LeBron James or Paul George because the Clippers don't have the cap space. They anticipate having more flexibility next summer.
Frank, who traded the team's biggest star, Blake Griffin, in January, wouldn't rule out the possibility of another big trade.
"If there is an elite player that wants to come here, there's always ways to figure it out," he said.
Twitter: @BA_Turner
Get our high school sports newsletter
Prep Rally is devoted to the SoCal high school sports experience, bringing you scores, stories and a behind-the-scenes look at what makes prep sports so popular.
You may occasionally receive promotional content from the Los Angeles Times.