Joel Embiid leads the 76ers, whose talent overcomes the Clippers' scrappiness.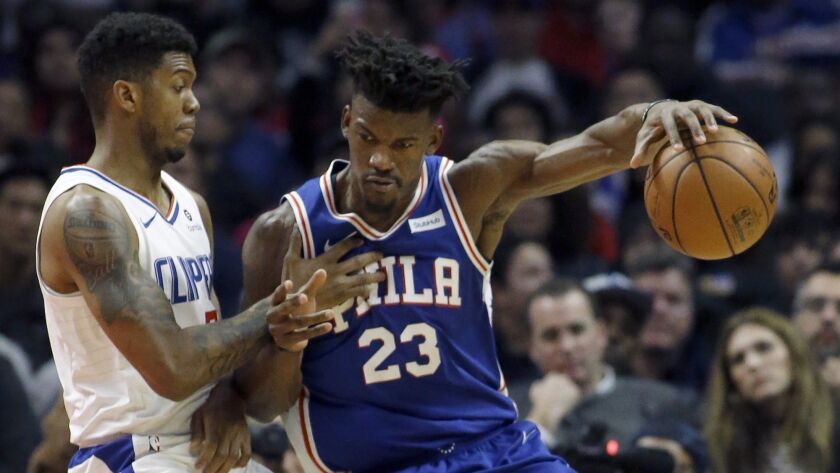 By now, it's no secret: The Clippers' grand plans for 2019 include pursuing the kind of stars — plural — required to compete for championships in the NBA.
If there were any doubt about the reasoning behind those ambitions, their matchup on the new year's first night was yet another reminder of the advantages afforded teams with multiple superstars.
Behind the return of center Joel Embiid, who finished with 28 points and 19 rebounds after missing his last game with a sore left knee, Philadelphia defeated the Clippers 119-113 at Staples Center.
"Give Philly credit, I thought they were the instigator the whole game," coach Doc Rivers said.
Embiid was masterful from the start and clutch at the end.
With two minutes to play in the fourth quarter, the 7-footer made jump shots on consecutive possessions to help stave off a furious Clippers comeback. After the Clippers' Montrezl Harrell missed both his free throw attempts with 58 seconds remaining, his team trailing by five, Philadelphia's other young star, Ben Simmons, dribbled upcourt, sized up his defender and drove to his left before scoring a floater for a seven-point lead with 39 seconds left.
Fans who'd stood during the previous minute as the Clippers (21-16) mounted a comeback turned in their seats said goodbye to those around them and left. Those who stayed saw Simmons apply the night's coda with a thunderous two-handed dunk in the final seconds.
Simmons had 14 points and Jimmy Butler, the star shooting guard the 76ers (24-14) traded for earlier this season in their bid to play their way into June, had 16 points and six rebounds before he was ejected in the fourth quarter after grabbing the neck of Avery Bradley while the two jostled for rebounding position.
Though there is no doubt the Clippers hope to one day be in the position similar to the 76ers', able to pit multiple stars against opposing defenses, Tuesday was another reminder of why the franchise enjoys its current roster, as well.
The Clippers trailed by as many as 24 points but a 10-0 fourth-quarter run pulled them within 114-109 with 1:26 left. They showed literal fight along the way while outscoring the 76ers by 12 in the second half.
Embiid and Clippers guard Patrick Beverley were each assessed technical fouls after getting in each other's face during the fourth quarter, and their scuffle was followed by Butler and Bradley's shoving match, which resulted in dual ejections and technicals.
It was the Clippers' self-described persona in a nutshell: Unwilling to back down against teams with higher-wattage stars.
Ultimately, star power overcame scrappiness. The hole Los Angeles created for itself during a disastrous first half was too much to overcome.
Lou Williams scored 22, Tobias Harris and Danilo Gallinari each scored 21 and Harrell had 20 points.
"We're making runs," Rivers said. "I thought we fought pretty hard in the fourth quarter. We didn't give in. But we just kept on digging ourselves a hole.
"... It's proof that it's there but it feels like right now we're in a defensive rut."
Embiid swished a three-pointer on Philadelphia's first possession and swished the basket for a 3-0 lead and the 76ers never trailed again. The 76ers finished with more offensive rebounds in the first quarter than the Clippers had total rebounds.
Philadelphia scored 76 points in the first two quarters, the 10th-most points scored in a first half across the entire league this season, to lead by 18.
One game after the 76ers scored 95 points in a blowout loss without Embiid in Portland, they had that many with three minutes to spare in Tuesday's third quarter.
Few, if any, NBA centers possess the physical gifts and technical skills of Embiid, and his success against the Clippers in November suggested they would struggle to contain him Tuesday. But the matchup underscored the trouble they have had against opposing centers. Both Boban Marjanovic and Marcin Gortat allowed opponents to shoot 65% in the restricted area in December.
"We have to be better at that position," Rivers said.
Etc.
Center Johnathan Motley was transferred Tuesday back to the team's G League affiliate in Ontario. He'd spent two days with the team in early December and was called up again from the Agua Caliente Clippers on Dec. 26. Players on two-way contracts are allowed to spent up to 45 days with the NBA team.
Twitter: @andrewgreif
---
Get our high school sports newsletter
Prep Rally is devoted to the SoCal high school sports experience, bringing you scores, stories and a behind-the-scenes look at what makes prep sports so popular.
You may occasionally receive promotional content from the Los Angeles Times.