Austin Rivers is ready to prove doubters wrong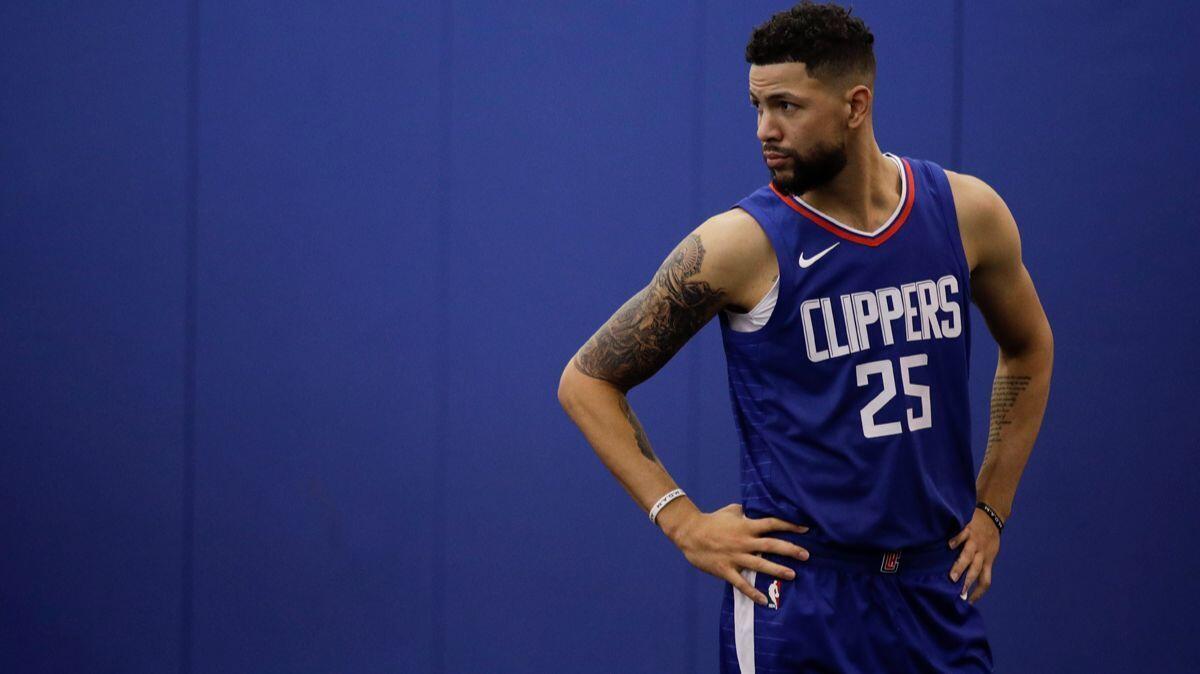 Reporting from Honolulu —
The father and son have endured the innuendos, put up with the disparaging remarks and heard the calls of nepotism.
It has eaten away at them both, forcing Doc Rivers into being a father obligated to protect his kid from all the negativism thrown at son Austin.
Perhaps more maddening had been the rumors that even Austin's teammates on the Clippers grew disenchanted with him because of perceived favoritism by his father. It was speculated that Chris Paul requested a trade to Houston because Doc Rivers refused to trade his son to the New York Knicks for Carmelo Anthony last season.
But they are in this together, for better or worse, Doc the coach of the Clippers and Austin, the new starting guard.
Through it all, Austin has leaned on Clippers assistant coach Sam Cassell for guidance.
"He just helped me get through all the [mess] that has come along with me playing for my pop," Austin said Wednesday after the Clippers' second day of training camp at the University of Hawaii. "He's really kept me at bay and helped me just work on aggression and not trying to react to what everybody was saying. I've done everything right and it just seems like this is always some damn story that comes out. I can't control that. All I can do is focus on hooping.
"So, that's what I've done. I've put everything in my rearview mirror and I've continued to silence people. That's how I'm going to … continue to be happy living my life. And in the process, I silence haters. …
"I don't play for those people. I play for myself and this team."
The Clippers acquired Austin three years ago, sparking an outcry from those that figured Doc was just trying to save his son's career after an unsuccessful stint in New Orleans.
But Doc Rivers saw a player with potential who just needed an NBA lifeline.
"If you think about it, the kid was player of the year in high school," Doc said. "He made first-team ACC. He was All-American and one of the high picks in the draft, yet he's still questioned. That's just the way it's going to be with him. I think he's really embraced that, like it is what it is. There's going to be people who like him and there's going to be people who do not.
"Even if I was not his dad, is what I always tell him, it still would be that way. … I think he's handled that pretty well. He knows he's an easy target. He understands that. Even writers, if they want more [web] hits, they use his name. So that's the easy trick and he gets it."
Austin reminded that he was the top-rated player in the country by Rivals.com coming out of Winter Park High, in a suburb of Orlando, in 2011. That he was first team all-ACC at Duke. And that he was a lottery pick, taken 10th by New Orleans in 2012.
"So, if I score 20 in a game and I lock you up [on defense], my dad didn't do that, I did, or the team did," Rivers said. "Some people just can't understand or relate. So why would I care about someone's opinion who doesn't do what I do and live the life I live?
"Honestly, what are they going to say when I don't play for him? Nothing. They can't say nothing about my game anymore, cause that's what they used to say, 'Austin is not a good shooter.' They can't say nothing no more except for, 'Oh, he plays for his dad.'"
When Paul was traded to the Rockets this summer, there were reports that the All-Star guard was irate with his coach, and at that time head of basketball operations, because he wouldn't trade his son for Anthony.
Austin Rivers called Paul lo find out if Paul or someone in his camp was spreading these stories.
"I talked to him after that rumor came out, confronted him about it and he said it wasn't coming from him or coming from his camp," Austin said. "So we left it at that. I don't wish no negativity on him.
"But we don't speak. We don't talk. I don't text him. He don't call me. We're not friends. It is what it is. We're ex-teammates."
This is Austin Rivers' time to excel with the Clippers, and he says he is ready. He has steadily improved his game, becoming a solid all-around player.
In 74 games last season, for the Clippers, Rivers averaged 12.0 points per game in 27.8 minutes. He shot 44.2% from the field, 37.1% from three-point range.
But in the 29 games he started, Austin raised his level of play, averaging 16.1 points in 34.5 minutes. He shot 45.8% from the field, 42% from three-point range.
"You got to get the opportunity and then you've got to make the most of it," he said. "Now I don't have to hope for it now. I've got it. I've earned it. Now I'm not just going to sit back and not work it. Now I'm going to put my foot on the pedal. That's the whole goal this year, to go at dudes' throats and take it to another level."
Twitter: @BA_Turner
Get our high school sports newsletter
Prep Rally is devoted to the SoCal high school sports experience, bringing you scores, stories and a behind-the-scenes look at what makes prep sports so popular.
You may occasionally receive promotional content from the Los Angeles Times.