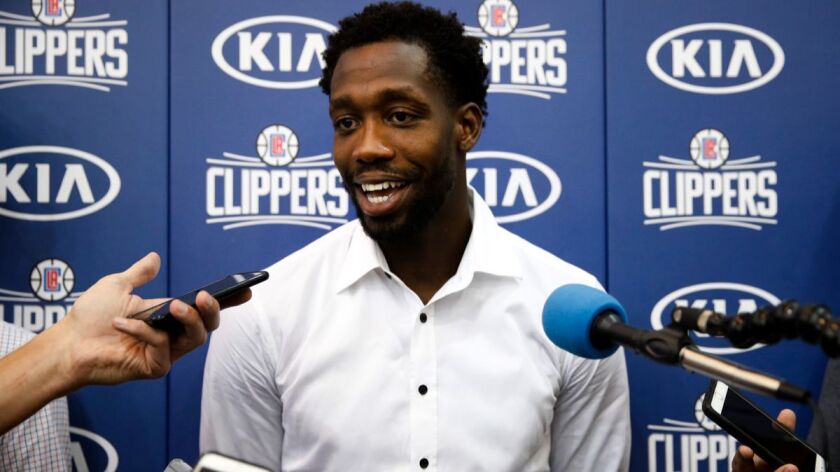 Patrick Beverley paused to collect his thoughts before his answer turned dramatic and his look stern.
He was one of the key players the Clippers acquired from the Houston Rockets this summer in exchange for Chris Paul, and now he was asked how he would replace a point guard of Paul's stature.
"I am not Chris Paul," Beverley said, his voice serious. "I reiterate. I am not Chris Paul."
He paused again.
"But in saying that," Beverley continued, "he is not me, either."
The room at the practice facility where the Clippers were holding their news conference Tuesday grew quiet for a few seconds after Beverley's answer.
Doc Rivers, the Clippers' coach and president of basketball operations, and Lawrence Frank, the team's executive vice president of basketball operations, both smiled.
Beverley's teammates who came over in the trade from Houston — Lou Williams, Sam Dekker and Montrezl Harrell — all laughed. Rookies Sindarius Thornwell and Jawun Evans, both second-round picks, looked on quietly.
"Welcome to the Pat World," Williams said, laughing.
Beverley let everyone know what he's all about as a competitor.
"My mind-set is all about winning," Beverley said. "I'm a real black-and-white type of guy. There's no gray area with me. So that's my mind-set. I'm here to win basketball games. I don't come here to look good doing it. At the end of the day, a win is a win, a loss is a loss. We're going to have more wins than losses for sure this year."
The Clippers leaned heavily on Paul to run their offense during his four years playing under Rivers.
It's obvious they don't have that caliber of an offensive leader anymore, leading to Rivers' being asked how he envisioned his team's style of play this season.
"Well, we'll have ball movement," Rivers said. "That's one of the things, for the most part, that I've always preached. With Chris' skill, you wanted to take advantage of what he could do, and he was a guy that needed the ball to make plays and he did it so well. You kind of changed to do that. If you look at my work historically, it's been more of a ball-movement, cut basketball team, and that's what we're going to get back to doing."
Each of these new Clippers brings his own skill set.
Beverley is a defensive savant. Williams, who won the NBA's sixth-man-of-the-year award in 2015 in Toronto, is considered a "professional scorer" off the bench. Dekker is an improving player who can stretch the floor with his three-pointers, and Harrell is a strong rebounder who can finish around the rim.
Thornwell and Evans are hoping to develop along the way.
Rivers said he knew exactly what he wanted from this group.
"Hard-working, competitive, playing hard, tough-minded players," Rivers said. "And I think when I look around, that's what we have."
The Clippers have nine new players on their 14-man roster.
If you believe Beverley, the transition won't be difficult because "this team has a chip on its shoulder."
"Of course we're counted out," Beverley said. "I've been used to that. Like I keep telling everybody, it won't be easy. It's going to be extremely hard."
Beverley was named to the NBA's first-team all-defensive team this past season, which he was proud to talk about.
He also became a good three-point shooter, making 38.2% of his shots.
"It's overlooked because of the players that were around me," said Beverley, who averaged 9.5 points and 4.2 assists last season while playing with James Harden, Trevor Ariza and Ryan Anderson. "But I lay my hat on defense. That's what got me into this game."
Etc: The Clippers signed free-agent center Willie Reed to a one-year deal for $1.5 million, said an NBA executive who was not authorized to speak publicly on the matter. Reed played last season for Miami, averaging 5.3 points and 4.7 rebounds a game.
Twitter: @BA_Turner
---