Coaches Doc Rivers and Jim Boylen ejected in Clippers' 128-121 victory over Bulls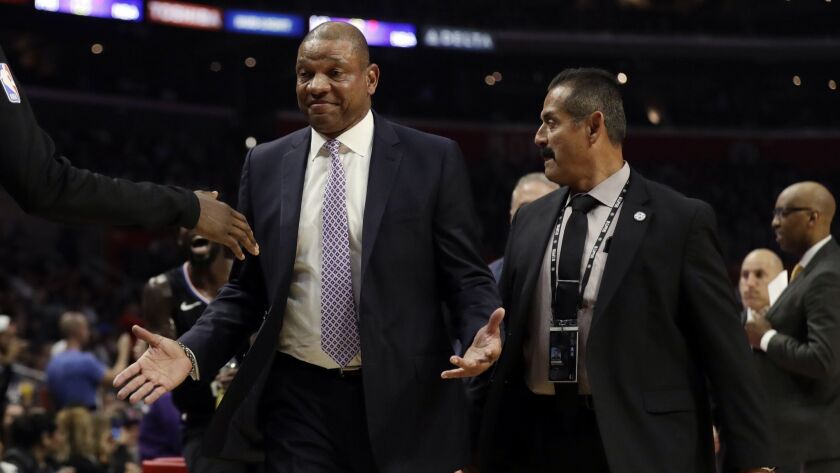 Whatever bad words Clippers coach Doc Rivers exchanged with Chicago Bulls coach Jim Boylen were more than enough to have referee Jason Phillips eject both of them from the game late in the third quarter.
Rivers looked at the referees in disbelief as he walked off the Staples Center court with 1:14 left in the quarter. Boylen looked more fired up, slapping hands with his players before he departed.
But it was Rivers' players who displayed more determination by continuing to dig down on defense in pulling out a 128-121 win over the Bulls before 17,404 fans.
It seemed that the Clippers were intent on winning this game for Rivers, who grew upset after Montrezl Harrell was called for an offensive foul trying to set a screen for Lou Williams near half court.
Rivers walked toward the scorer's table to express his objection over the call. A few seconds later, Boylen was walking back toward the scorer's table and then the two of them had something to say to each other.
Neither Rivers nor Boylen seemed to be willing to back down even after they had been hit with double technical fouls. Then both were hit again with double technical fouls seconds later before being tossed from the game by Phillips.
"I was talking to the ref and I just said basically that was a clean pick and all of a sudden I hear Boylen yelling at me, saying that we were dirty or whatever," Rivers said. "Because I guess in the first half we set another legal pick and one of their guys got hurt. I wanted to say, 'Maybe turn around and yell at your guys and tell them to call out picks. But don't yell at me.' I didn't say it that nicely.
"But the ref just came in and threw us both out. I don't ever talk to the other coach unless the coach talks to me. I didn't think I should have been thrown out for that. I didn't instigate anything."
Boylen had his own interpretation.
"I spoke with the officials before the half," Boylen said. "I said, 'You have to look at that moving screen [a first-quarter injury to Ryan Arcidiacono]. I think it was an offensive foul'"
"They came back and told me it was an offensive foul and they missed it, which I appreciate. Which is good officiating. I let it go. They set another moving screen at half court that they called an offensive foul and I already got a guy sitting in the locker room from the bang he took in the first half. ... [Arcidiacono] can't play the second half. Now they go after my other point guard with a moving screen and I don't appreciate it."
Danilo Gallinari had returned to provide the Clippers with some offensive punch after he had missed the Portland game Tuesday night with a sore left ankle, but L.A. had its hands full with the hard-playing Bulls.
Gallinari was efficient during his 33:59 on the court, scoring 27 points on 10-for-14 shooting, including all four three-pointers. He also had seven rebounds.
Harrell had another strong game with 26 points, Williams had 21 points and rookie Shai Gilgeous-Alexander had 17 points,seven assists and seven rebounds.
The Clippers have won six of their last seven games and remain as the eighth seed in the Western Conference.
At 40-30 with a winning percentage of .571, the Clippers are behind the seventh-seeded Utah Jazz, which have a 39-29 record and a winning percentage of .574.
But this game was about Rivers and Boylen.
"I think Jason for whatever reason just did the double tech," Rivers said.
"He didn't want to decide who was the instigator. I think he took the easy way out tonight. That's fine. It was clear who started it and all that, but that's fine. It happens. I don't think one coach should make comments to another coach about his team. But Jimmy, he chose to do that. That's on him."
Twitter: @BA_Turner
---
Get the latest on L.A.'s teams in the daily Sports Report newsletter.
You may occasionally receive promotional content from the Los Angeles Times.