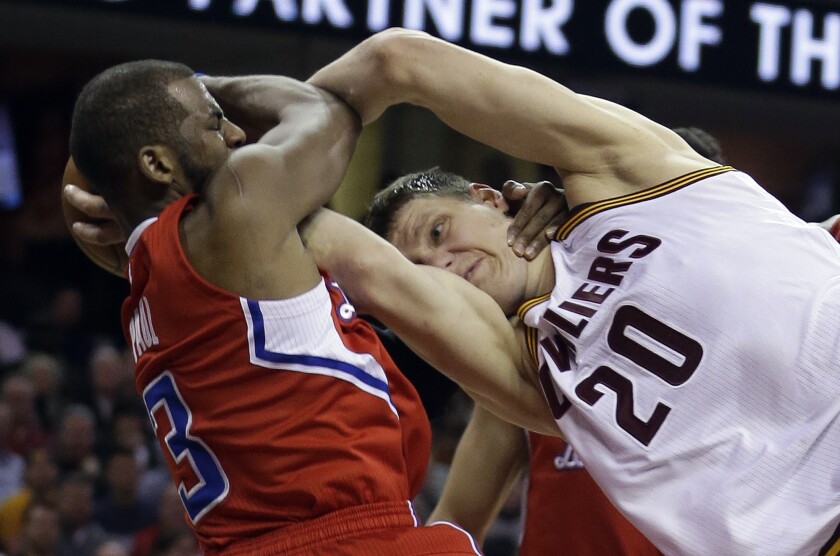 Reporting from Cleveland —
Doc Rivers said he regretted not pulling his starters at halftime with his team on the way to a nationally televised drubbing against the Cleveland Cavaliers.
Perhaps the Clippers coach was being too kind. He might as well have yanked them midway through the first quarter.
The Clippers delivered one of their most listless performances of the season Thursday night at Quicken Loans Arena during a 105-94 thumping that was not nearly as competitive as the score would seem to suggest.
Cleveland went through the Clippers' defense like a snowplow through a pile of mush, leading by as many as 32 points. Kevin Love (24 points) and LeBron James (23) scored with ease to help the Cavaliers stretch their winning streak to 12 games.
"We usually stay in games and fight our way back, but I thought when they jumped on us early it was over," said Rivers, whose team was down by 23 points at halftime. "I thought you could see it in our energy and from there, it was just a long game to watch."
The only fight the Clippers put up on the way to their second consecutive loss and third in four games was with the officials. They were called for five technical fouls, with Matt Barnes getting ejected midway through the third quarter after receiving his second technical.
Rivers then pulled his starters with 4:43 left in the third quarter, mindful that his team had a game Friday against Toronto.
The Clippers directed much of their frustration afterward at official Lauren Holtkamp, who called technicals on DeAndre Jordan and Chris Paul.
The technical on Paul came early in the third quarter after the Clippers tried to quickly inbound the ball after a Cavaliers free throw.
"We're trying to get the ball out fast every time down the court and when we did that she said, 'Uh-uh,' and I said, 'Why uh-uh?' and she gave me a tech and that's ridiculous," Paul said. "If that's the case, then this might not be for her."
Jordan said he was assessed his technical less than a minute later for saying, "Yeah!" after scoring.
"She said she thought I was talking to her," Jordan said, "and she made a call and the other refs, I talked to them and they disagreed with it, so hopefully it will be rescinded."
Barnes received his first technical foul early in the third quarter for stripping the ball from Love after a foul had already been called on Barnes. He picked up his second technical a little more than three minutes later for what he said was telling officials, "You don't just give them the game" after they called a foul on the Clippers' Jamal Crawford for running into James.
"It keeps happening," said Barnes, whose 11 technicals ties him with Oklahoma City's Russell Westbrook for the most in the NBA. "Some of these, I earn, some of them I don't. But it's crazy to get a technical foul for pulling your arm away and getting a technical foul for [saying] 'Don't just give them the game.' If you can't play with emotion, I don't see how you can play."
Clippers forward Blake Griffin, who scored a team-high 16 points, said he thought Barnes received some technicals based on his reputation.
"I don't think it's fair to be judged on your past," Griffin said. "Every situation has to be one single situation and it has to be judged that way."
Rivers also picked up a technical foul in the first quarter and joked he would have liked to have received a second so that he could have missed the rest of the game.
That would have kept him from seeing Paul make only four of 14 shots while the Clippers fell to 2-3 on their eight-game Grammy Awards trip.
Jordan conceded the officiating was the least of the Clippers' problems on a night they were completely outclassed.
"We don't get techs," Jordan said, "we're still down 29."
CLIPPERS AT TORONTO
When: 4 p.m. PST Friday.
Where: Air Canada Centre.
On the air: TV: ESPN, FS West; Radio: 980, 1330.
Records: Clippers 33-17; Raptors 33-17.
Record vs. Raptors: 0-1.
Update: The Raptors have gone 9-9 since they held the best record in the Eastern Conference on Dec. 30, including losses to Milwaukee on Monday and Brooklyn on Wednesday. The Clippers have also lost two consecutive games but are 9-3 in the second game of back-to-back situations, including 6-2 on the road.
Twitter: @latbbolch
---