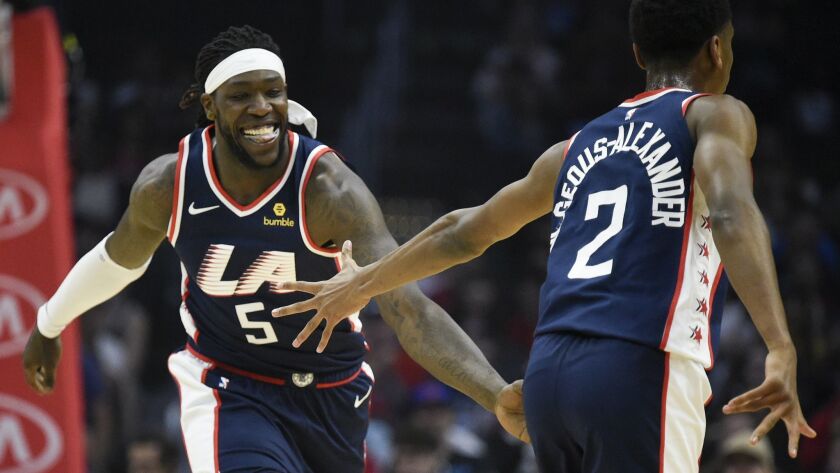 Clippers players and coach Doc Rivers made a slow, ominous walk Saturday afternoon toward the far end of the court at Staples Center, where Montrezl Harrell lay writhing on the court.
The reserve forward, so vital to the team's surprising season, grabbed at his left ankle. Wrinkles bunched up on his forehead from the pain.
Just weeks before the playoffs, in a Clippers season where so much has gone so right, the arena — already quiet because of a 12:30 p.m. tipoff — went pin-drop quiet as teammates encircled Harrell.
"I was scared," Rivers said. "Whenever you see a guy this late in the season go down you're like, 'Oh boy, here we go.'"
Harrell hopped off the court on one leg to cheers of relief. The building grew louder when he re-entered the game out of a timeout moments later and promptly scored on a hook shot over his left shoulder.
Crisis averted, the mood flipped. The Clippers' 132-108 victory over Cleveland featured more sideline celebrations than scary moments, an afternoon befitting of a team that says it is enjoying the moment as it barrels toward the playoffs as one of the NBA's hottest teams.
Bench players leapt out of their folding chairs in the second half when rookie point guard Shai Gilgeous-Alexander, after using his long arms to scoop in a layup, ran upcourt looking at his hand as if in disbelief. When Lou Williams scored on four consecutive possessions in the fourth quarter to turn a tight game into a blowout, teammates mimicked his celebratory expression of mock shock.
"It's amazing," center Ivica Zubac said. "We're rolling, we're playing good. Everyone's happy to step on the court to do your best. Just so much fun. We don't want it to stop."
Playing without forward Danilo Gallinari, and the 24.7 points and 6.7 rebounds he'd averaged his previous nine games, because of a sore left ankle, the Clippers spread the scoring around with six players in double figures, led by Harrell's 23 points, and shot a season-high 62.4% from the field. They also recovered from their two-for-11 shooting on three-pointers in the first quarter to make 15 of their 33 long-range attempts.
Their shooting, and the loose attitude that players say has pervaded the locker room during their march to the playoffs, helped bury a Cleveland comeback late in the third quarter, when the Clippers' lead dwindled from 23 to 13 points in a five-minute span. If it worried the Clippers, they didn't show it, because many players, and even some coaches, spent the following timeout watching the team's mascots dance to an Aerosmith ballad on the arena jumbotron.
The Cavaliers (19-58) eventually cut the lead to just seven but, unlike last week when they took the Clippers to the final possession before losing, that was the end of their comeback. Without Kevin Love, who sat outbecause of what the team termed left shoulder soreness, Jordan Clarkson (26 points) and Collin Sexton (21 points) couldn't shoulder the scoring load alone.
The Clippers (46-31) responded with a 20-7 run powered by the bench — including Harrell, who looked no worse for wear after the first-half scare on what he called a "bang-bang play."
"My foot kind of got stuck under his body as he was falling," Harrell said. "It was just a rolled ankle. I tied my shoe up tight and jumped up and down and started getting a little more blood flow to my ankle and I was all right."
A layup by Harrell, followed by a three-pointer from Garrett Temple, pushed the lead back to double-digits by the end of the third quarter. Temple was just getting started, scoring 11 points in a five-minute stretch, including a three-pointer, for a 14-point lead with 8:16 to play. He then passed the baton to Williams, who scored eight consecutive points and, for good measure, assisted Harrell for baskets on the next two possessions for a 116-96 Clippers lead.
JaMychal Green, who started at forward in place of Gallinari, scored 18 points, his most since being traded Feb. 7. Gilgeous-Alexander scored 22 points with eight assists and made all three of his three-pointers, marking the first time he has scored 20 or more points in consecutive games.
Sign up for our daily sports newsletter »
"He's just playing now," Rivers said of Gilgeous-Alexander. "He's not thinking a lot. He's making overall pretty good reads. He's aggressive when he needs to be aggressive but he's making passes when he needs to make a pass, as well. I just like where he's at."
The same could be said of his feelings toward his team. The Clippers have won 12 of their last 14 games and sat in sixth place in the Western Conference standings following the victory.
"Making the playoffs was one of our goals," Rivers said, "but we're not done."
UP NEXT
VS. MEMPHIS
When: 7:30 p.m.
On the air: TV: Prime Ticket; Radio: 570, 1330.
Update: This will mark the second game in as many days for both the Clippers and Grizzlies, who played Phoenix on Saturday. Memphis forward Jonas Valanciunas had recorded a double-double in five consecutive games entering the matchup with the Suns. Point guard Mike Conley (20.9 points per game) is on track to best the franchise single-season scoring average owned by Pau Gasol (in 2006-07) and Zach Randolph (2009-10).
Twitter: @andrewgreif
---