Owner Steve Ballmer unveils Clippers CourtVision, an enhancement for viewing game broadcasts
The Lob City era over, the Clippers no longer have a mega-watt star on their roster. They have been included in few playoff projections.
Yet the team's owner believes the Clippers will nonetheless be must-see TV this season.
Steve Ballmer unveiled Clippers CourtVision, an augmented reality view of the team's traditional Fox Sports broadcast hailed as the first of its kind in major U.S. sports hours before the Clippers opened the regular season Wednesday against Denver.
"There will be a time when nobody watches the same event the same way and this is going to be the domino that everyone is going to look at to say this is where it happened," said Rajiv Maheswaran, the CEO of Second Spectrum, which developed CourtVision over the last four years in part through investments from Ballmer.
Second Spectrum's work is familiar to NBA fans through tracking software that uses six in-arena cameras to "see" the game in a new way through advanced analytics. CourtVision takes Second Spectrum's data and overlays them visually through graphics and animations.
Prime Ticket subscribers can hear Ralph Lawler's play-by-play call while toggling between Coach, Player and Mascot modes of the game that offer different viewing angles and audio options.
The Coach mode diagrams plays and players' movements as they happen. Player mode displays a color-coded shooting percentage for each offensive player as he moves on the floor, separating good shots (green) from fine (orange) to the bad (red). Mascot view overlays animations and graphics on the game play, such as an on-fire number 3 after a made three-pointer.
Customers able to watch Clippers broadcasts on Prime Ticket can access CourtVision, whether streaming online or through the Fox Sports app, but the technology underpinning the service is built with much grander ambitions in mind. Maheswaran said he will be very surprised if the Clippers are the only NBA team augmenting their broadcasts with CourtVision by season's end.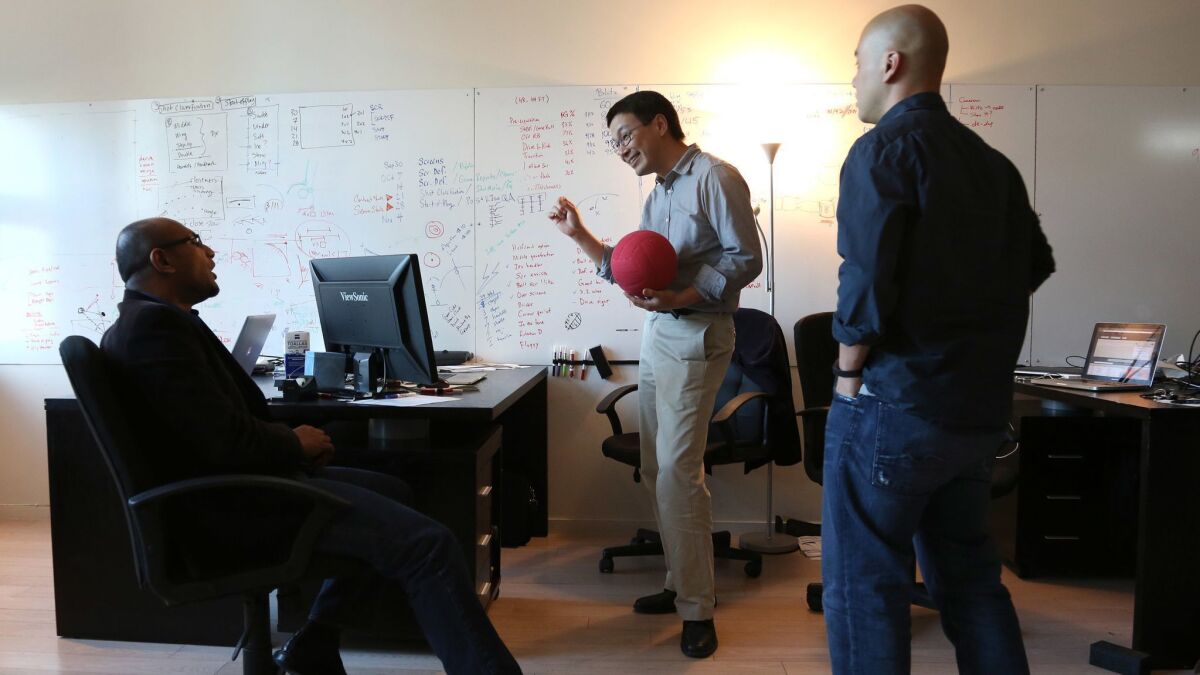 "I think the common vision is that this starts with the Clippers and we talked to [NBA commissioner] Adam Silver and he wants to start with the NBA, but we think everyone will watch sports this way," said Maheswaran, whose company also is working with soccer and hockey leagues, among others. "There will be a day where we look back and say, 'I can't imagine we all used to watch the same thing at the same time, that seems silly.' This is, I think, the start of that.
"For me this is like rolling off the first car or rolling off the first computer. It's going to get a lot better but the first one that ships, that comes off the factory line is super exciting."
Viewers have long become accustomed to broadcasts that augment the game, from football's yellow first-down line to baseball's K-Zone. CourtVision, its creators said, is a leap beyond those innovations because it understands the game through machine learning; it currently can identify nearly a dozen types of pick-and-roll plays. CourtVision is currently about two minutes behind real-time — the television broadcast is about 35 seconds behind — but that is expected to shrink.
Ballmer envisions future modes tailored for fantasy players, gamblers tracking their wagers or a view that simulates what a point guard sees as he dribbles.
Ballmer, the former CEO of Microsoft, said he began thinking of changing how fans view sports a decade ago, as the internet became a more viable option for watching videos. He bought the Clippers in 2014 and within months was in Maheswaran's former office at USC, where he taught computer science and created Second Spectrum.
"We sat down and took a look at the analytics stuff and what became clear to me was these guys had built a general-purpose platform that understood a lot about the game of basketball," Ballmer said. "I said, hmm, maybe with these guys we can actually not only transform analytics but transform the consumption and viewing process."
Twitter: @andrewgreif
---
Get our high school sports newsletter
Prep Rally is devoted to the SoCal high school sports experience, bringing you scores, stories and a behind-the-scenes look at what makes prep sports so popular.
You may occasionally receive promotional content from the Los Angeles Times.