Rookie guard Shai Gilgeous-Alexander is already a role player Clippers can count on
Ever since he was selected 11th overall in the 2018 NBA draft, Shai Gilgeous-Alexander has worked on his fundamentals. Releasing his shot at the highest point. Running the pick and roll. Using his 6-foot-6 frame to get to his spots on the court.
He also has practiced using a turn signal properly, merging onto highways and parallel parking.
Born in Toronto before playing high school and college ball in Tennessee and Kentucky, the 20-year-old Clippers guard has spent the first four months of his professional career pursuing two accomplishments — a place in an NBA rotation and a California driver's license. Gilgeous-Alexander possesses an instructional permit but has yet to take the test required for a license.
"I've driven in rush hour a lot," he said, "and it makes me not want to drive."
Getting behind the wheel amid L.A.'s intimidating tangle of highways and congestion is a more frustrating experience, he said, but "point guard in the NBA is definitely harder." He has discovered both require patience and preparation.
Although Gilgeous-Alexander can't yet drive by himself, he already has been tossed the proverbial keys to the Clippers offense. Technically a reserve, he plays nearly 25 minutes per game and those minutes have increasingly come in crucial situations.
Among rookies averaging at least 15 minutes of playing time per game, he ranks first in defensive win shares, second in assist percentage (19.7%), fifth in net rating (plus-9.4) and seventh in effective field-goal shooting (52.1%).
"He's just a really good player," coach Doc Rivers said. "I think defensively he's far ahead of the game, offensively he just plays at an NBA tempo. You rarely see, especially at the point guard spot, I think it's so much harder, a guy that kind of maintains his speed. There was one game I thought he got sped up a little bit, but overall he stays within his ability and he knows who he is."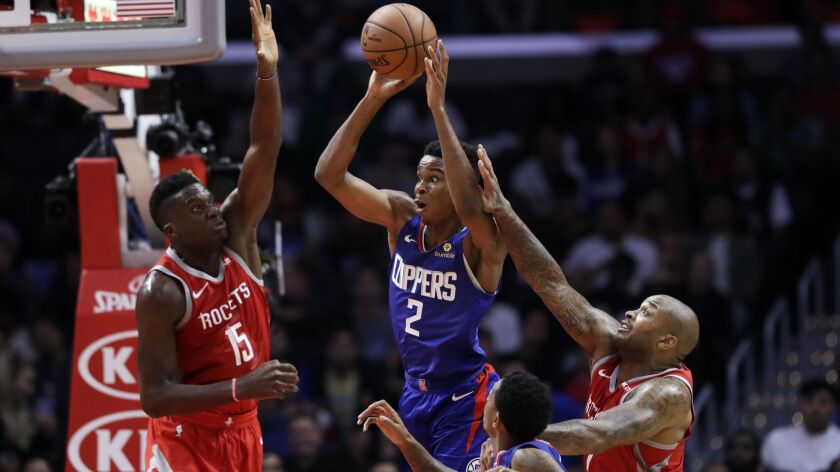 The player Gilgeous-Alexander dreams of becoming, Clippers assistant Sam Cassell said, is "one of the best point guards in the game one day." Cassell, in turn, has taken it upon himself to show Gilgeous-Alexander how to avoid the potholes of an NBA career.
Cassell, a former Clippers point guard, has tutored the next generation. He coached Washington's backcourt of John Wall and Bradley Beal, mentored former Clippers guard Austin Rivers and now can be seen nearby Clippers rookies Gilgeous-Alexander and Jerome Robinson before nearly every shootaround and practice, emphasizing working out at a speed that simulates a game.
Cassell draws from his experience playing in NBA backcourts for 15 seasons — a career Gilgeous-Alexander, who was born five years into it, knew little about before their work began.
Loud and gregarious, Cassell is a three-time NBA champion and "never fails to let me hear about it," Gilgeous-Alexander said.
Said Rivers: "Sam talks a lot."
Gilgeous-Alexander listens.
"Obviously, he was really good at the position and has done it for a long time," Gilgeous-Alexander said. "He's a genuine guy. Always tells me what I need to hear and not what I want to hear."
Cassell views Gilgeous-Alexander and Robinson as new projects who are willing subjects. Together, they drill how to scout opponents' tendencies and play with energy every game, Gilgeous-Alexander said.
"You can get on Shai, you can be mad at him or say he ain't doing something but he don't take that as negative," Cassell said. "He takes it as a building block. He takes it and learns from it. Whenever you're teaching him he's going to turn around and put it in the next game. That's unique. That's very unique. That don't happen too often. It may take a couple days to do it, but he does it right away."
He displayed that early in the preseason while attacking the rim against the defense of Lakers center JaVale McGee. With each drive he slightly altered the release angle of his shot to avoid the 7-footer's length and shot-blocking ability.
Defenders are kept off-balance by an arsenal of hesitation dribbles and shimmies. With a spin in the lane Sunday against Houston, Gilgeous-Alexander shook Carmelo Anthony for a turnaround jumper. Later in the game, he guarded reigning league MVP James Harden and in doing so accepted one of the NBA's ultimate challenges.
"Rookies don't do that," Cassell said. "You don't see too many rookies right now that can guard James Harden."
Assistant Rex Kalamian, who runs the Clippers defense, persuaded Rivers on the sideline that Gilgeous-Alexander was ready for the job. Through four games, opponents have made 31.9% of their shots from the field against the defense of Gilgeous-Alexander's 7-foot wingspan, according to Second Spectrum.
"I love him," New Orleans coach Alvin Gentry said. "I think he's a really cool customer under pressure and I don't think anyone really takes him out of his game. He's got good size and he's going to get better."
As Gilgeous-Alexander improves, his role will grow accordingly. The rookie, multiple Clippers said, has the green light.
Twitter: @andrewgreif
---
Get our high school sports newsletter
Prep Rally is devoted to the SoCal high school sports experience, bringing you scores, stories and a behind-the-scenes look at what makes prep sports so popular.
You may occasionally receive promotional content from the Los Angeles Times.