Clippers President Gillian Zucker seen as good fit for team on upswing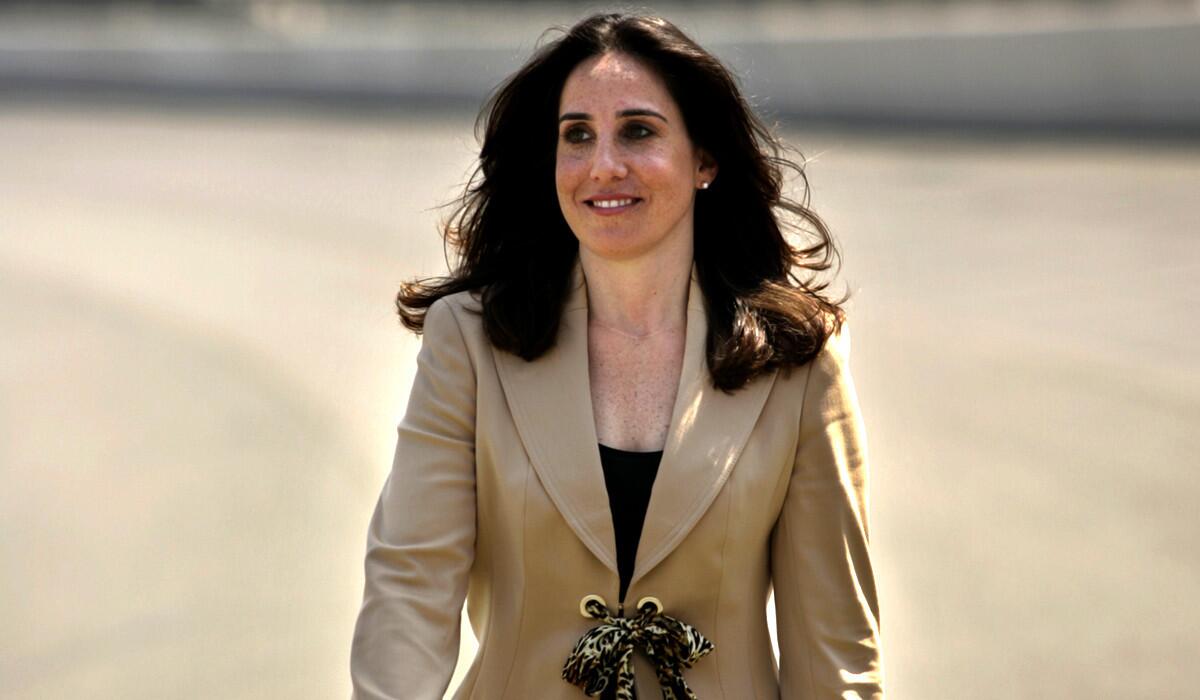 Gillian Zucker isn't easily intimidated.
When Dale Earnhardt Jr. once attributed sagging auto racing attendance in Southern California to a Hollywood crowd that "could care less," the motorsports executive zinged the famed NASCAR driver.
"I don't tell him how to drive his car," Zucker said at the time. "I don't expect him to tell me how to run my racetrack."
Zucker traded in fast cars for NBA superstars on Thursday, becoming the Clippers' new president of business operations. She is the only female chief executive or president in major U.S. professional sports besides the Lakers' Jeanie Buss.
Zucker, 45, represents Steve Ballmer's first major hire as owner of the Clippers since purchasing the team in mid-August.
Ballmer made it clear he wanted someone to run the team's business operations full time. Ballmer will cast the team's vote as governor in all league matters and Coach Doc Rivers will continue to run the team's basketball operations.
Zucker assumes the role long held by Andy Roeser, who was nudged out by the NBA last spring after releasing a statement in support of Donald Sterling at a time when the embattled owner was under fire for making disparaging comments about black people.
She spent the last nine years as president of Auto Club Speedway in Fontana, the largest racetrack on the West Coast. Zucker was named one of the five most powerful women in motorsports by MSN and Fox.
"Her passion is contagious," former IndyCar Chief Executive Randy Bernard once said of Zucker. "She's one of the best promoters in motorsports."
Zucker used aggressive promotions aimed at children and minority groups, along with a variety of ticket packages, to boost sales and attendance at Auto Club Speedway. She ran all aspects of the Speedway's business, including operations, ticketing, finance, communications and marketing.
Now she takes command of an NBA franchise on the upswing. The Clippers have sold out 145 consecutive home games at Staples Center and feature one of the most dynamic rosters in the league, their slow start this season notwithstanding.
"What an exciting time to be part of the L.A. Clippers," Zucker said in a statement. "There's something special happening in this organization that has captured the attention of Los Angeles, the NBA and the nation. Steve Ballmer's energy and enthusiasm is contagious and inspiring. We are just getting started."
"I am extremely happy to add a leader like Gillian to our team," Ballmer said in a statement. "Her clear and creative business vision, innovative approach to marketing and experience working in the Los Angeles sports market make her the perfect fit to lead the Clippers during this transcendent time."
Zucker also served on the International Speedway Corp. executive management team and oversaw the company's Chicagoland and Kansas speedways. She previously worked as assistant general manager of the Durham Bulls, a triple-A minor league baseball team.
During her reign at Auto Club Speedway, Zucker was known as a demanding boss, a relentless promoter and an eternal optimist even as the speedway endured turbulent times.
When she arrived in 2005, the track was holding two races a year in NASCAR's premier Sprint Cup Series. But she assumed control just as NASCAR's popularity was about to peak and the U.S. economy was headed toward a severe recession.
The recession was especially acute in Inland Empire cities near Zucker's track. Attendance at Auto Club Speedway quickly fell off, and NASCAR took one of Zucker's Cup races away starting in 2011, with much of the finger-pointing aimed at Zucker for being unable to generate a larger audience.
The woes at the Fontana track spread nationwide, with speedways from coast to coast struggling with empty seats. Many tracks have since reduced capacity, including Auto Club Speedway, which has gone from 92,000 to 68,000 seats.
Yet after she was left with only one NASCAR Cup race, Zucker aggressively courted the Verizon IndyCar Series to return to her track, which it did with a race in 2012 after a seven-year absence.
"Gillian has worked tirelessly over the past nine years at Auto Club Speedway, raising the profile of NASCAR in the L.A. market," said John Saunders, president of the International Speedway Corp., which oversees Auto Club Speedway. "We are proud of her accomplishments in the motorsports industry and appreciate the leadership and hard work invested in our company."
Zucker missed IndyCar's return to her track because doctors located a benign brain tumor that required surgery. She was back on the job a few months later.
Ken Clapp, a longtime NASCAR executive and consultant to Auto Club Speedway, said Zucker "certainly earned my respect" as her tenure there grew, partly because "she realized she had to ask people lots of questions to be successful."
"She's very smart," Clapp said, while adding that it took Zucker a while to fully understand the challenges of selling racing in Southern California, amid the many other sports and entertainment choices. "All of a sudden you're in one of the biggest markets in the world, and it's tough," he said.
International Speedway has begun the process of finding a replacement for Zucker at its Fontana track.
Twitter: @latbbolch
Twitter: @PeltzLATimes
Get our high school sports newsletter
Prep Rally is devoted to the SoCal high school sports experience, bringing you scores, stories and a behind-the-scenes look at what makes prep sports so popular.
You may occasionally receive promotional content from the Los Angeles Times.