Clippers beat the best in the West with a 112-107 overtime victory against the Grizzlies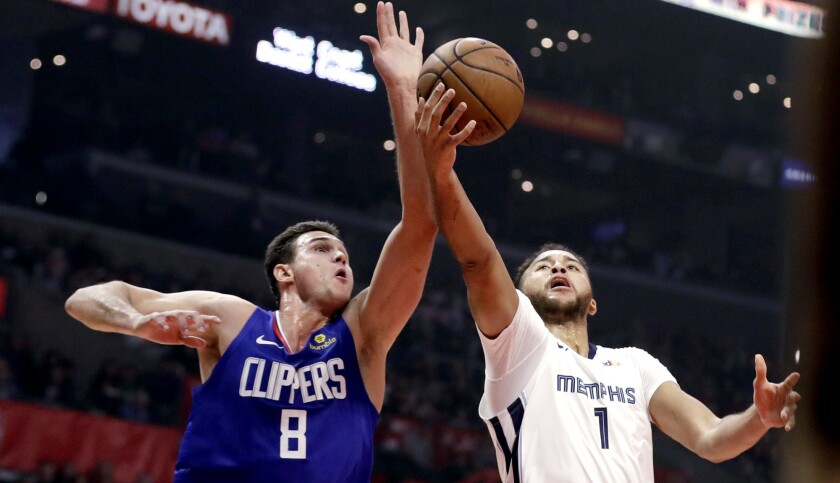 As Danilo Gallinari stepped to the free-throw line preparing to shoot the first of three shots Friday afternoon at Staples Center, Clippers forward Montrezl Harrell and Memphis' JaMychal Green sidled up next to one another and started bantering.
The Clippers, after trailing by eight points with less two minutes remaining in the fourth quarter, suddenly were down three with 1.6 seconds remaining in regulation. In the stands and on the court, all eyes turned to Gallinari.
"[Green] said, 'He gonna give us one,'" Harrell said. "I said, 'You don't know Gallo. He don't miss free throws, and if he do, it's rare and this ain't one of the times where he's going to miss.'"
Gallinari made his teammate look smart.
A 95.5% free-throw shooter entering Friday, Gallinari made all three shots to tie the score and send the game into overtime, where the Clippers finished off Memphis 112-107 when Avery Bradley stripped the ball from Garrett Temple as he went up to attempt what would have been a tying three-pointer.
"Those moments define what kind of player you are," Gallinari said. "I like when those moments come."
The Clippers (12-6) as a whole are becoming a team to fear in such moments. They beat Milwaukee, one of the Eastern Conference's top teams, in overtime on Nov. 10. Two days later, they beat reigning NBA champion Golden State in overtime. The held off San Antonio on Nov. 15, then rallied from double-digit deficits to topple Brooklyn and Memphis in the last week.
That made a defeat in Washington on Tuesday, after holding a 24-point lead, even more head-scratching — and Friday's bounce-back victory that much more satisfying. The Grizzlies (12-6) entered riding a five-game winning streak and holding the best winning percentage in the Western Conference. Now they're just the latest to wonder how the Clippers pulled out a victory that appeared all but gone.
"What I loved about this game, for me, was this was a frustrating game for our guys, because things were not going our way," coach Doc Rivers said. "You can feel that at halftime and instead of going away from the game, they actually went and attacked the game with even more vigor. That says a lot about your character of your team."
Gallinari had 20 points and nine rebounds, Harrell came off the bench to score a team-high 22 and grab 11 rebounds, and Lou Williams added 15 points.
The victory was the Clippers' eighth consecutive at home and momentarily moved them into a tie atop the Western Conference with Portland and Memphis. None of it would have happened without a second-half run and two foul calls that Grizzlies coach J.B. Bickerstaff vehemently argued.
The Grizzlies led by eight at halftime after shooting 53% and slowing the game's pace to a crawl.
"We weren't scoring, so we weren't playing defense," Rivers said. "We said we're making zero offensive adjustments, we're just playing harder defense and if we get stops we'll score."
The Clippers outscored Memphis 31-18 in the third quarter, but the charge appeared all for naught late in the fourth, as Grizzlies veterans Marc Gasol (27 points, 13 rebounds, seven assists) and Mike Conley (20 points) combined to score seven points in a row to push their team's lead to 93-85 with 3:26 left.
Conley was looking for a dagger from the perimeter less than 30 seconds later when he was called for an offensive foul, his sixth, after dribbling into Bradley.
"His sixth foul was a joke," Bickerstaff said.
He was none happier with the foul that led to Gallinari's tying free throws in the final seconds. Gallinari, who made five of his eight three-pointers, leaned into Gasol and Green with three seconds left as he shot from behind the arc. Bickerstaff appeared apoplectic on the sideline.
"We went back and looked at it," he said, "and Marc's in legal guarding position."
The call put Gallinari in position to swing the momentum back toward the Clippers. He delivered late and so did Bradley in overtime by stripping Temple with 5.3 seconds left and making two free throws afterward.
"We just keep growing," Rivers said. "We're going to get so much better."
Twitter: @andrewgreif
---
Get the latest on L.A.'s teams in the daily Sports Report newsletter.
You may occasionally receive promotional content from the Los Angeles Times.