Tobias Harris' jumper gives Clippers a 117-115 comeback win over the Hornets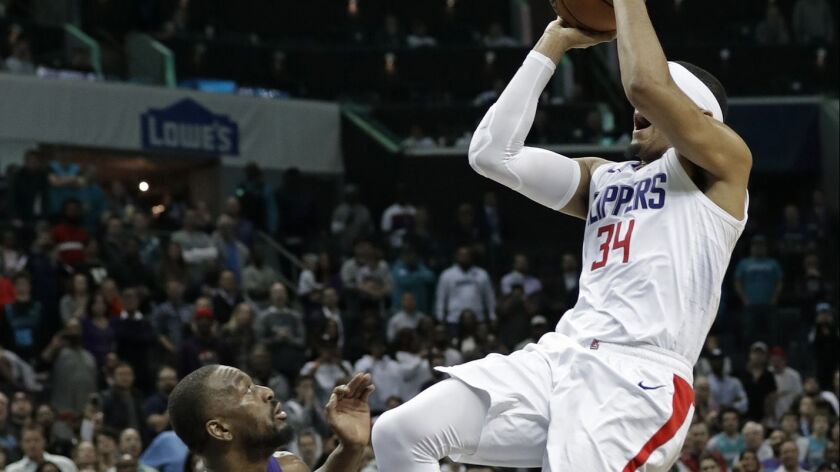 Reporting from Charlotte, N.C. —
Tobias Harris was not voted an All-Star reserve by NBA coaches and won't return to Spectrum Center next week for the league's All-Star festivities.
Harris, who was bitterly disappointed not to make his first All-Star team, found a way to make his mark in Charlotte, N.C., nonetheless.
With a brother and sister watching from the crowd, Harris took two dribbles to his left and made a game-winning fade-away jump shot with four seconds remaining in the fourth quarter of Tuesday's 117-115 Clippers victory over the Hornets.
The Clippers erased a 20-point deficit in the game's final 15 minutes only three days after completing a 25-point comeback in Detroit, the largest regular-season rally in team history.
"Lordy, lordy," coach Doc Rivers said afterward, his tie loosened and collar unbuttoned. "It's the comeback trip."
Finishing that comeback rested on a strategy they hadn't practiced and making the kinds of three-pointers they'd missed in droves only two days earlier. Yet, it worked.
Lou Williams also had a rooting section there. Family and friends, who filled a van and drove Monday from Atlanta to watch him play, witnessed him score 15 consecutive points in a stretch spanning the third and fourth quarters to will his team back into the game. He finished with 31 points, six assists and only one turnover in nearly 32 minutes.
No one could stop him, including after the game. Singing "slippery," he quickly exited the locker room with a beat in his step before reuniting with those who'd made the trip.
Sign up for our daily sports newsletter »
Harris, playing with a hurt right shoulder, had 34 points.
"We had some big resilience to come out here and get this win," Harris said.
It kept the Clippers (30-25) one game ahead of Sacramento for the eighth and final playoff spot in the Western Conference.
The Hornets had two chances to tie or take the lead in the final seconds, but were first forced to take a timeout when they couldn't inbound the ball inside their half of the court. On the second try, reserve Sindarius Thornwell denied Charlotte All-Star Kemba Walker the ball, and Marvin Williams missed everything on his potential game-winning three-pointer.
Standing near the Clippers' bench, Walker bent over at the waist as he watched the shot fall short. Jumping, celebrating Clippers surrounded him.
Walker had scored 25 points in the first half and his team, which was reported before tipoff to be in trade talks with Memphis to acquire Marc Gasol, hardly played like a distracted group wondering who might stay and who might go. (Hornets coach James Borrego demurred when asked about the reported trade afterward.) The Hornets turned the ball over only twice in the first half and led by five at halftime.
Walker scored only seven points after that as the Clippers veered from their game plan and instead trapped him before he could penetrate the defense. Reserves Thornwell and Mike Scott blitzed him most often, and whenever he passed, it fell to his teammates to make the shots he couldn't take.
For a while, they did. In just five minutes during the third quarter, the Hornets turned a six-point lead into 18. It wasn't a sustainable offense over two quarters, however.
The Hornets (26-27) shot 40% after halftime.
"It just messed them up," said Scott, who scored nine points. "We saw he was killing, he was comfortable so we just switched it up. Let's blitz him, let's get him uncomfortable, let's get the ball out of his hands. It worked."
Thornwell and Scott "saved the game for us," Rivers said. "I know Tobias had a lot of points for us and so did Lou but without those two guys, we don't win the game. There's no doubt about it."
One game after making a season-low two three-pointers in Toronto, the Clippers matched their season high of 18 threes. Harris made six of the seven he attempted and Williams five of his six. Their 75% shooting from deep is the second-highest percentage in a single game in NBA history for teams with more than 20 attempts, according to Stats LLC.
"We were shooting 77%at one point and I said, 'We should shoot more,'" Harris said. "We should just be pulling up from anywhere."
Williams did, from 27 feet with six minutes remaining in the fourth quarter, for a 103-102 lead -- his team's first since seven minutes were left before halftime.
"I think a 20-point lead in the NBA has always been something that's not what you call 'safe,'" Hornets guard Jeremy Lamb said. "You can't just go up 20 and stop playing."
The same is true of teams trailing by 20. Down that many Monday, the Clippers were just getting started.
Twitter: @andrewgreif
---
Get our high school sports newsletter
Prep Rally is devoted to the SoCal high school sports experience, bringing you scores, stories and a behind-the-scenes look at what makes prep sports so popular.
You may occasionally receive promotional content from the Los Angeles Times.