Newsletter: Clippers! Team still feels good about their playoff chances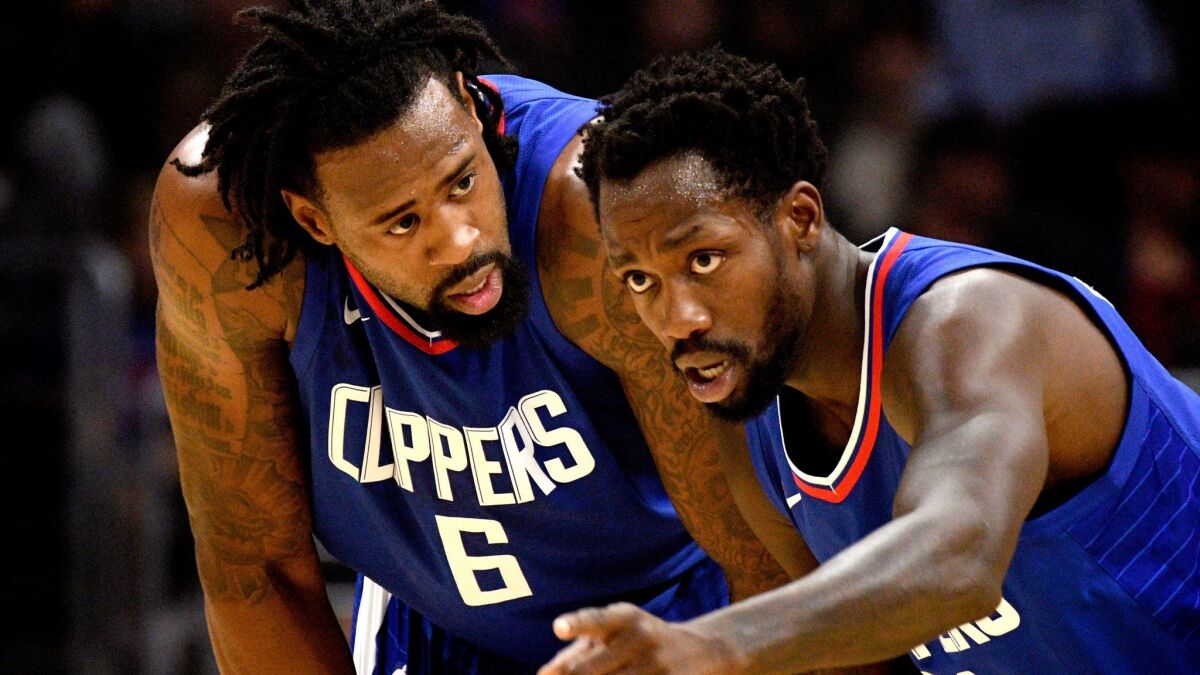 Hi, my name is Broderick Turner, and welcome back to the Los Angeles Times' Clippers newsletter.
The Clippers refuse to think they are delusional just because they still believe the playoffs are in reach.
Oh, they understand that injuries have ravaged them this season and made the task of reaching their goal arduous. But the Clippers are willing to accept the challenge before them, no matter how difficult it may be.
Besides, they have been to the playoffs the last six consecutive seasons and they don't want that to stop just because they can't stay healthy.
"Yeah, we believe we can make the playoffs, because if we don't have no belief, then we shouldn't be playing," DeAndre Jordan said. "I know for me — I feel like I can speak for everybody — we're not going to give up. I don't know how many games we're out right now. I don't even look at that. ... I just try to focus on us winning the game each day."
Even at 14-19, the Clippers don't view that as the end of their season.
Yes, they are below .500, but they can see the teams ahead of them in the Western Conference standings and are sure they can get one of the top eight postseason spots.
The Clippers are three games behind the eighth-seeded Portland Trail Blazers despite a turbulent season and are 3 1/2 games behind the seventh-seeded New Orleans Pelicans in spite of all the trying times they have faced.
"Everything will fall in place," Jordan said. "I'm still playing hard. We're still playing hard. The season is still early."
Indeed, it's still December, giving the Clippers three-plus months to make a move.
But they can't wait any longer.
"This is a time for us to get back into that playoff picture," Austin Rivers said. "We can't sleep on nobody because we need every win to get back into the picture, right? So, I don't care if their record is below .500 or above .500. A game is a game. We need every single one that we can get."
The Clippers are five games below .500, so they can't take any game or team for granted. They have 23 games until the All-Star break and the schedule is somewhat favorable for them. Twelve of the teams they face during this period are below .500.
"That don't mean [anything] because we've got a losing record and we're a good team," Jordan said, smiling. "I think it's important that we get on a winning streak, especially with us being home so much, because the NBA gave us a pretty [messed-up] schedule the past month and a half. But everybody has a bad schedule. We've got to take advantage of the games we have here at home and catch up on our rest and win the games that we're supposed to win."
The Clippers' cause will be helped when Blake Griffin returns from a sprained left medial collateral ligament injury to his knee, and that could be as soon as Friday night against the Lakers.
And they can take comfort in knowing that they have just two back-to-back sets over the next 23 games.
"We've got plenty of games left in the season," Rivers said. "But you can't keep using that, because if you are using that, the games run out and the season is over with. So, we've got to start capitalizing now and get as many wins as possible and take every team serious."
In case you missed it
Blake Griffin could return Friday against the Lakers.
A new dynamic duo emerges for the Clippers.
Rookie point guard Jawun Evans brings defensive intensity that the Clippers need.
Up next
(All times Pacific)
Friday at Lakers, 7:30 p.m.
Sunday vs. Charlotte, 4 p.m.
Tuesday vs. Memphis, 7:30 p.m., NBA-TV
And finally
We'd love for you to subscribe or to spread the word and ask your friends to subscribe. It's free! Click here to subscribe.
Have a comment or something you'd like to see in a future Clippers newsletter? Email me and follow me on Twitter: @BA_Turner.
---
Get our high school sports newsletter
Prep Rally is devoted to the SoCal high school sports experience, bringing you scores, stories and a behind-the-scenes look at what makes prep sports so popular.
You may occasionally receive promotional content from the Los Angeles Times.